JetBlue sometimes gets forgotten in the mix of big airlines, but with its top-notch customer service and regular deals, it's a great option for many flyers. Currently the JetBlue Plus Card is offering a 30,000 Point sign up bonus after you spend $1,000 within 90 days of opening the card. With this card, you can earn 6X points on JetBlue purchases, 2X points at restaurants and grocery stores, and 1X for all other purchases.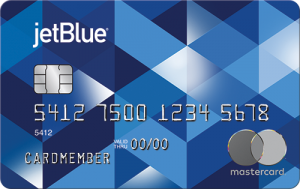 The card does have a $99 annual fee, but also some unique perks. First, you get a free checked bag with the card, and second you'll get 5,000 points each year on your account anniversary. You can stretch these points quite a long way.
After meeting the minimum spend of $1,000 within 90 days, you will have earned a minimum of 31,000 JetBlue points. What can you do with 31,000 JetBlue points? Well, I'm glad you asked! Here are 10 impressive trips, in no particular order, that you can take with just 1 sign up bonus.
Disney
Many folks are interested in going to Disneyland or Disney World (here's our guide on how to go for free), but are deterred by the price of airfare to Orlando or the Los Angeles area. With the JetBlue Plus Card's bonus, you may be able to fly to those cities for $11.20 per person. That's amazing! Here are just a few examples:
New York to Orlando
If your travel plans take you to Orlando to Disney World, this sign up bonus is more than enough to fly you round trip from New York to Orlando.
Buffalo to Los Angeles
If you'd rather go to Disneyland instead, you can fly from Buffalo to Los Angeles for 18,700 JetBlue points.

Austin to Orlando
With one sign up bonus, two adults can travel round trip from Austin to Orlando.  That way you can enjoy the happiest place on earth with someone else!
Coast-to-Coast Flights
If your travel needs take you from one end of the country to the other, the card's sign up bonus can help you get there.  Flying from one coast to the other can be very expensive, but with this sign up bonus you're covered. Here are a few examples of what's possible for transcontinental flights:
Seattle to Boston
If you live on the west coast but are a die hard Red Sox fan, you can catch a game at Fenway without breaking the bank.  Here is a round trip flight from Seattle to Boston.
Boston to Long Beach
If you're wanting to escape the brutal cold from the northeast during winter, this could be a very inexpensive escape for you.  Enjoy some surf and sunshine in Long Beach, California with one sign up bonus.  You could also squeeze in Disneyland on this trip!
International Routes
JetBlue offers several international routes that are very appealing.  You can fly to destinations in Mexico, the Caribbean, Central America and even South America for very little points. Here are some international examples:
Boston to Turks and Caicos
Here's an example of a round trip flight from Boston to Providenciales. Please note that taxes and fees for international flights are higher than those on domestic flights. However that is a small price to pay for international travel.

Orlando to Costa Rica
Take that special someone to Costa Rica. Costa Rica is a small country but it has so much to offer. For less that 27,000 points, two adults can fly round trip from Orlando to San Jose, Costa Rica.
Fort Lauderdale to Mexico City
What if there are more people in your party? The more the merrier says JetBlue! With one sign up bonus, four adults can fly round trip from Fort Lauderdale to Mexico City. That's an amazing value!
Let's Get Creative
If we think outside of the box a little bit, this one sign up bonus can take us to more than one destination.  JetBlue allows one way flights and you're able to book them with points as well.  Here are a couple of itineraries you can piece together for an incredible trip.
New York to Fort Lauderdale to Cartagena
Being able to book one way flights and a flexible schedule will allow you to book two destinations before heading back home.  You can fly from New York to Fort Lauderdale and spend a few days there.  Then you can hop on a plane from Fort Lauderdale to Cartagena, Colombia to enjoy their beaches for a few days.  Then you can fly back home to New York once you have the perfect tan.  Here is how each of those segments would look.

So for 26,000 points and about $110 in fees, you can soak in the sun in Florida and Colombia!
New York to San Juan to Punta Cana
Here is another interesting option.  As JetBlue expands their international footprint, they also offer some direct flights within the Caribbean.  Get your dancing shoes ready as it is possible to fly from New York to San Juan, Puerto Rico to enjoy their rich history and learn how to salsa for a few days.  Then you can fly from San Juan to Punta Cana, Dominican Republic to slow it down a bit with some bachata!  This is how you could piece this trip together.
For just 22,100 points and about $110 you'd be able to fly to both Puerto Rico and the Dominican Republic!
Conclusion
There are a lot of possibilities with the JetBlue Plus Card's sign up bonus.  With some strategic spending to maximize your point earning potential, you could easily take another person with you on the trips highlighted above.  Whether your intent is to fly within the United States, hop around Caribbean islands or explore South America, the JetBlue Plus Card can get you to your destination for pennies on the dollar.  Where will JetBlue take you?
Richmond Savers has partnered with CardRatings for our coverage of credit card products. Richmond Savers and CardRatings may receive a commission from card issuers.