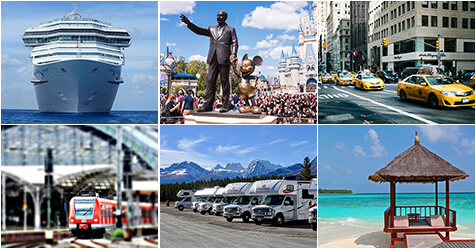 If you're thinking about applying for the Barclaycard Arrival Plus, you're probably planning how you might use those miles. And if you already have the card, you've probably started earning miles quickly. And those miles may be burning a hole in your pocket, especially if you earned the signup bonus.
Luckily, you have many options to choose from when it comes to redeeming your miles. In this post I'll show you a few of my favorite was to redeem these miles.
Rules for Successful Travel Statement Credit Redemptions
Travel statement credits are the most lucrative way to redeem your Barclaycard miles. That said, there are some ground rules. In order to redeem for any of the travel categories below, you must have a single charge of at least $100. That allows you to redeem the minimum 10,000 miles for a travel credit.
If you don't have enough miles to completely cover a travel purchase, that's OK. Redemptions increase in 2,500-mile increments between 10,000 miles and 200,000 miles. Lastly, make sure to request a travel statement credit redemption within 120 days of the purchase to successfully redeem your miles.
And if you haven't gotten the card or the signup bonus yet, keep in mind that travel purchases that are part of your minimum spend can be used for redemptions!
All-Inclusive Resorts
If you've ever wanted to visit an all-inclusive resort, your Barclaycard miles can help defray the cost. Whether you want to visit an all-inclusive in the Caribbean such as the Holiday Inn Resort in Montego Bay, Jamaica or you'd rather head to a Hawaiian all-inclusive resort, your miles can be redeemed at a one cent per mile value.
All-inclusive resorts can be pricey, so your miles can definitely help offset the bill. These charges should code as hotel charges, which are covered under Barlcaycard's travel statement credit rules.
Extra Hotel Experiences
While you can redeem Barclaycard miles for hotel stays, why stop there? Many hotels add all costs charged to your room to your final bill which is usually coded as a hotel transaction. For instance, if you visit the Hyatt Tamaya Resort and Spa in New Mexico, you'll find multiple golf courses, horseback rides, and other unique experiences. When you're able to book these to your room, or charge them under the hotel's main billing code, you'll be able to redeem the purchases with your miles.
This same concept applies to other hotel food and service offerings billed to your room. This gives you plenty of additional options to redeem your miles.
Trains in Europe
If you're visiting Europe, chances are you'll take a few train rides to explore the continent. Thankfully, charges coded as trains qualify as travel purchases when you're redeeming your Barclaycard miles.
Europe's trains are quite convenient and give you a chance to view the beautiful scenery without the headaches of renting a car and traveling on foreign roads. If you ask me, it's a great way to redeem your miles.
Trains at Home
If your travel budget can't handle visiting Europe, trains in the United States qualify for travel redemption as well. While the United States is far behind Europe when it comes to train travel, you can still find plenty of scenic train routes.
Consider Amtrak's Coast Starlight route from Seattle to Los Angeles or Amtrak's Adirondack route from New York to Montreal. Just make sure you're up for an adventure and research your trip thoroughly before you buy your tickets.
Cruise Vacations
Cruising is my family's favorite vacation. We're super grateful that cruise line purchases qualify for travel statement credits. They've offset large portions of our cruise bills. While most cruise lines will qualify for redemption, the Disney cruise line offers one of the best family experiences around.
My wife and I hope to take our son on a Disney cruise when he's a bit older, but for now we stick with Carnival when we use our Barclaycard miles. Any charges to pay for the cruise fare or charged through the cruise lines for onboard activities should qualify. Purchases made off the ship or through local vendors may not.
Waterpark Resorts
Barclaycard doesn't consider amusement parks to be a travel expense. Major bummer. But while traditional waterparks may not qualify for travel statement credit redemption, you can often use your Barclaycard miles for waterpark resorts if you stay on site. Fortunately, if you book a room at Great Wolf Lodge as shown in this guide, your charges will be billed as a resort or hotel, not an amusement. The waterpark is included in your stay, so bring the family and enjoy a visit courtesy of your miles.
Disney Park Tickets
You would think Disney theme park tickets don't qualify for travel statement credits, either. Thankfully, there is a work around. Using the strategy detailed here, you can purchase Disney park tickets through UndercoverTourist.com, an official authorized Disney ticket reseller. Since UndercoverTourist.com purchases are coded as travel, you can then use your miles to pay for your Disney tickets.
Car Rentals
Already have a trip planned with free flights and hotels using other cards but don't have a rental car lined up yet? Car rentals are another category Barclaycard considers a travel purchase. Simply book and pay for your car rental with your Barclaycard.
Once the charge hits your statement, file for a travel statement credit within 120 days to reduce your bill. Just make sure your rental is over $100, as purchases under $100 do not qualify for travel statement credits.
Campgrounds
If you like camping the old-fashioned way or prefer glamping with an RV, fifth wheel or pop up camper, the fees you pay to stay at campgrounds usually qualify for travel statement credits if your charge is $100 or more. Disney even has campgrounds you can stay at when visiting the most magical place on Earth if you're brave enough to weather the elements in Florida and pay the Disney premium.
Cash Back and Gift Cards
Note: It looks like this option may no longer be available for this card! While you can redeem your miles for cash back or gift cards starting at just $25, we definitely discourage it. Cash back and gift card redemptions result in a per mile value of just half a cent per mile. Why waste your miles at half the travel redemption rate when you could redeem for one of the many travel purchases above and get a penny of value per mile?
Barclaycard miles are very versatile if you know how to use them. While we've listed quite a few ways you can use your miles, always research your specific trip to see if there are other creative ways you can get purchases to code as travel. If you can find a way, you'll be able to use your miles at the higher travel redemption rate.
Richmond Savers has partnered with CardRatings for our coverage of credit card products. Richmond Savers and CardRatings may receive a commission from card issuers.