Update:  This sign-up for this promotion has now ended!  It was a limited promotion and they already reached maximum capacity.  If you managed to sign up before it closed, you still have until 12/31/13 to make your $75 worth of Amazon purchases.
We thought the American Express Small Business Saturday promotion was great, but they've managed to top themselves with this newest promotion for their cardholders:
Spend $75 at Amazon.com by 12/31/13 on your Amex card and get a $25 statement credit to your Amex account!
How to Enroll
The first thing you must do is register your Amex card at this enrollment link, which is free and takes about 30 seconds.  You will then receive a $25 statement credit (free money!) when you spend at least $75 at Amazon.com on that credit card by December 31, 2013.  This is a full 33% discount on $75 spent at Amazon, just free from Amex!

The even better news:  You can register every single American Express card you have for this promotion, including authorized user cards!  So for instance, Laura and I have five total Amex accounts and we each have a card for each account for a total of ten Amex cards.  We registered all ten, so we are eligible for $250 free if we spend $750 at Amazon by 12/31/13.
This would normally be extremely difficult to do considering it is already 12/2, but the thing that makes this doable for us is that you can purchase a $75 Amazon.com gift card with each credit card to be sent to you via email, and then you just apply the $75 to your account.  Once purchased and applied to your account, the gift card balance never expires!  You'll just have this pot of money sitting in your Amazon account and every subsequent purchase will draw down this balance automatically.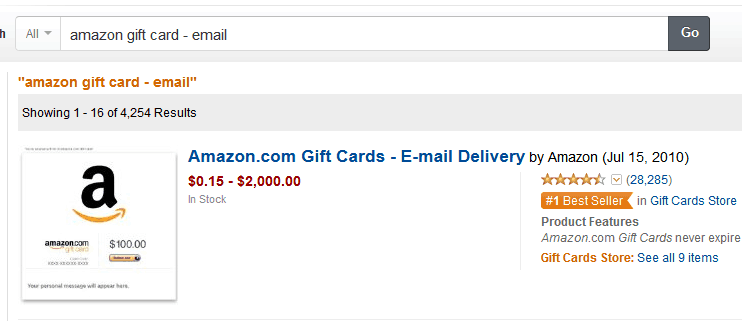 Just purchase a $75 "Amazon Gift Card – Email" with your Amex card and send it to your own email account.  In a few minutes your activation email will arrive and you just click on "Your Account" and then "Apply a Gift Card to Your Account."  It's that easy!
You will have to purchase a distinct $75 gift card for each Amex credit card you registered for this promotion in order to take full advantage of the discount.
We actually just did this with all 10 of our accounts and we now have a $750 Amazon gift card balance which will probably last us all of 2014.  This is an example of what we've previously discussed on the site:  By having money saved up, you are able to take advantage of significant savings that aren't available to people who have to stress about every single dollar.
Sure, we don't particularly love spending $750 now (this is really only $500 out of pocket now, since these statement credits will likely apply before we have to pay our cards off for a net of $500 spent for a $750 account balance at Amazon), but it is such an easy decision because we're getting a 33% discount on all our 2014 Amazon shopping!
Link to Amazon Search Results for "Amazon Gift Card – Email"
We want to give a big thanks for this tip to Daraius from one of our favorite sites, Million Mile Secrets (link to his article about this promotion, but we highly suggest you check out his entire site on travel rewards).  Thanks!
Richmond Savers has partnered with CardRatings for our coverage of credit card products. Richmond Savers and CardRatings may receive a commission from card issuers.