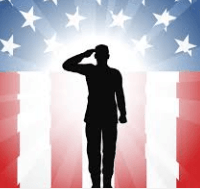 American Express has a wonderful benefit associated with the Servicemembers Civil Relief Act (SCRA): They waive the annual fee on every single one of their credit cards for all active duty military personnel and their spouses!  While this is true for every Amex card, it is an especially valuable perk on the exclusive The Platinum Card® from American Express.
We wrote about this several years ago, when we discovered it to be one of the best perks in all of travel rewards. Since then, some other issuers have jumped on board to offer waived fees on top travel cards to active duty military members, too. That's great–and certainly benefits service members even more! But we have to give a special nod to Amex for being pioneers in offering this benefit, going above and beyond what SCRA requires. AND we think the deal on the Amex Platinum card is the overall best available to active duty military. Yes, the Amex program is still going strong in 2020, so this remains a great option for active duty service members and their spouses.
SCRA Background
In 2003, the US Congress passed the Servicemembers Civil Relief Act (SCRA), which Military.com describes as follows: "The SCRA provides a wide range of protections for individuals entering, called to active duty in the military, or deployed servicemembers. It is intended to postpone or suspend certain civil obligations to enable service members to devote full attention to duty and relieve stress on the family members of those deployed servicemembers."
Many of these protections are aimed at credit card interest rates and fees, and as part of the response, American Express also took the additional (and impressive) step of eliminating all annual fees on their credit cards for active duty military members.
I would highly suggest that military members use this incredible perk to open some top-tier credit cards that might otherwise be out of reach because of high annual fees, namely The Platinum Card® from American Express. And it's always good to have a complementary card for regular spending, which is where the Blue Cash Preferred® Card from American Express might come into play for those with spouses.
Platinum Card Benefits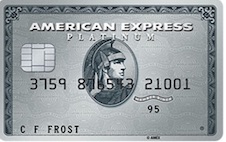 Normally, The Platinum Card® from American Express is truly an exclusive card because it has a $550 annual fee that is (for everyone else) not waived. However, this is an opportunity for military members to have the most exclusive card around for $0 in annual fees.  There are many benefits, but some of our favorites include:
The Membership Rewards points you earn transfer to a number of partners including Delta, Jetblue and our personal favorite British Airways (see our article on maximizing British Airways Avios).
$200

each calendar year

 completely free airport reimbursement for items including baggage fees, change fees, in-flight food and drinks, airport lounge passes, and seat assignment fees.
$200 worth of Uber credits each year! You'll get $15 for US rides each month, plus a $20 bonus in December. That brings the total possible savings to $200!
Fee credit (every four years) for Global Entry or TSA Pre✓™ which help you speed through security.
Complimentary access to the American Express Global Lounge Collection
Marriott Bonvoy Gold Elite and Hilton Gold Status automatically
You also earn 5x points for all flights booked directly with airlines or through American Express Travel (Starting 1/1/2021:  earn 5x points on up to $500,000 of these purchases annually)
This card has a welcome offer of 75,000 Membership Rewards points when you spend $5,000 in the first 6 months your account is open. Terms apply.
Blue Cash Preferred Benefits
I highly recommend taking advantage of the Platinum card first, but if you have a spouse it's a good idea to add the Blue Cash Preferred® Card from American Express to your portfolio. Its grocery rewards are unmatched, and you'll get to bypass the $95 annual fee.
Here are some benefits (terms apply):
Earn $250 back after you spend $1,000 in the first three months.
Six percent cash back at US supermarkets (up to $6,000). Many reports online show that commissaries are reported as "supermarkets" and thus receive 6% cash back. Pro tip: not only can you use this on groceries, but since most stores sell gift cards these days it's a good card to buy gift cards for additional savings at other stores or restaurants.
Three percent back at US gas stations and on .
Earn six percent back on select US streaming services
Earn three percent back on ground transit (like bus, train, ferry)
This is a great card for your everyday grocery and gas spending, which tends to be a big portion of a monthly budget. You're getting a great deal on this card without an annual fee.
Getting the Fees Waived
In order to have American Express apply your active duty military eligibility to waive the annual fees you need to call them (the number on the back of your card or 1-800-253-1720) and inform them you are serving on active duty and you'd like to request that they designate your account in accordance with the SCRA.
It is conceivable that the phone representative will not have heard of this program, in which case you should ask to speak to a supervisor.  You will have to answer a handful of questions about your personal military situation and once American Express verifies this information (many report 4-8 weeks as the normal processing time) you will receive a 'secure message' on your account login stating you've been approved and all your fees will be waived.
Firsthand Experience with this Amex Benefit
My friend Derek is an active duty Army major and he opened The Platinum Card® from American Express and I wanted to report his firsthand experience getting the fees waived. He initially called right after he received the card, and they told him he needed to wait until the $450 charge posted to his account before they could initiate the process. (This was back when the fee was $450 instead of the $550 it is today).
When the annual fee did hit his account, he called and the initial American Express representative he spoke with knew exactly what he was referring to, and she asked him some very basic questions (officer or enlisted?  year of commission or enlisted?); the entire call took less than 5 minutes.  They told him it would take 45-60 days to process (they have to verify with their DoD database) and the $450 would credit to his account.  He did have to pay the $450 out of pocket and was reimbursed for it within 2 months, so the net cost was $0 for this and all future years.
This perk has only gotten even more valuable over time, as the annual fee is now $550!
Update 2:  Another Army officer I'm working with opened this card and this was his experience:  "Amex handled my request within 2 days. Never even charged me outright- worked seamlessly."
Learn more about The Platinum Card® from American Express below

Learn more about the Blue Cash Preferred® Card from American Express below

Important Note:
If you're a military member and want to maximize these benefits, be sure to check out all of the AMEX deals on our
credit cards page
.
Richmond Savers has partnered with CardRatings for our coverage of credit card products. Richmond Savers and CardRatings may receive a commission from card issuers.