When doing research to cut costs for a trip to Disney, you may run across offers for the Disney Visa credit cards. Naturally, you might think that these cards would be a great deal for Disney expenses. After all, they have Mickey's picture printed on them. But are these cards (the Disney Premier Visa Card and the Disney Visa Card) actually worth it?
Here at Richmond Savers, we've written a ton about how to visit Disney World on the cheap with credit card rewards.  But we get questions all the time about these Disney Visa cards. It seems like on a weekly basis someone will ask about whether these cards are a good deal, and we've heard from a few people who have had good experiences with them.
But with all that said, the cards actually aren't a very good deal in our opinion. That's because their savings potential is quite low, and there are other cards that can make a much bigger impact on your Disney trip (ie save you more money), and they don't really require any more effort or strategy. Let's take a closer look.
What Do Disney Credit Cards Offer?
With the Disney Premier Visa Card, you'd earn a $200 Disney gift card after spending $500 on the card within the first 3 months. Spending bonuses include 2% Disney Rewards Dollars for every dollar spent at gas stations, grocery stores, restaurants and most Disney locations, then 1% Disney Rewards Dollars everywhere else. This card comes with a $49 annual fee.
The Disney Visa Card, has no annual fee. You'd earn a $50 Disney gift card after your first purchase on the card. You earn 1% Disney Rewards Dollars on all purchases.
You can redeem Disney Rewards Dollars toward Disney theme park tickets, resort stays, dining, souvenirs, costumes, movies and more. Another way you could use Disney Rewards Dollars is for statement credits towards airline ticket purchases. Lastly, each Disney Rewards Dollar is equal to a $1 statement credit, minimum of $50.
There are also some perks that you get with the card, such as special financing on select Disney vacation packages, discounts on select dining locations and discounts on merchandise purchases of $50 or more. Another perk is that you get cardmember exclusive photo opportunities with Disney or Star Wars characters, held in private locations at Disneyland or Disney World.
We'll dive more into the specifics of looking at if this is actually a good deal, but I want to pause for a second and talk about the photos. Yes, this is a really cool perk that you can take these exclusive photos. Let's be honest, seeing and interacting with the characters is half the fun at Disney World. And we've talked to some people who like these cards exactly for this reason. But once you compare this card to some of the better deals out there, you may realize that you'd be sacrificing a lot of value to get one of these Disney cards instead of a better rewards card.
How Do These Cards Compare: Buying Tickets
Using current prices, it will cost you $1,190 to buy 3-day Disney tickets for a family of four (assuming 2 adults and 2 children ages 3-9). Using the redemption values mentioned above, you'd have to spend $51,950 at gas stations, grocery stores, restaurants or Disney locations on the Disney Premier Visa Card to earn enough Disney Rewards Dollars to offset those tickets! That's because you'd get a $200 bonus and then earn essentially 2 percent on the other purchases.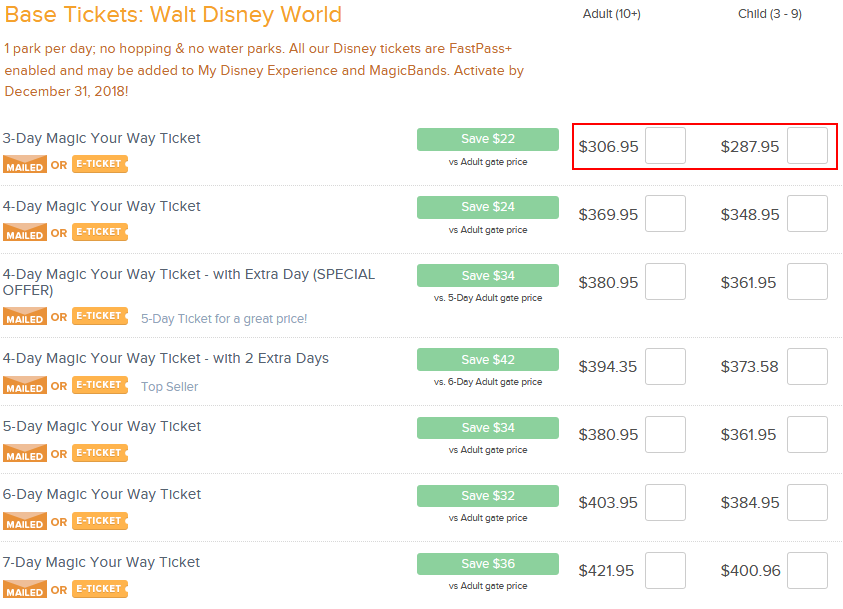 For the Disney Visa Card (version without an annual fee) you'd have to spend $114,000 to earn enough points to fully offset your ticket purchase! That's because that card has a lower bonus and only earns 1 percent on all purchases. WOW! As you can see, this is not a very efficient way to save a substantial amount of money on a Disney vacation, because it would require way too much spending.
Better Method
If you change your strategy, and sign up for 2 of the Barclaycard Arrival Plus cards (one for each spouse), and spend $6,000 on both cards to meet the minimum spend, you'll earn about $1,176 in travel credits that you could use towards your tickets.  That's a much more manageable number, and almost knocks out the ticket costs in full!
What about Hotels and Flights?
Hotels and flights are the other big expenses on most people's Disney vacation. Again, the Disney Visa cards won't help much. In the Richmond Savers Disney Guide, you'll see that the bonus from the Starwood Preferred Guest® Credit Card from American Express can be used to get a free hotel room for the week.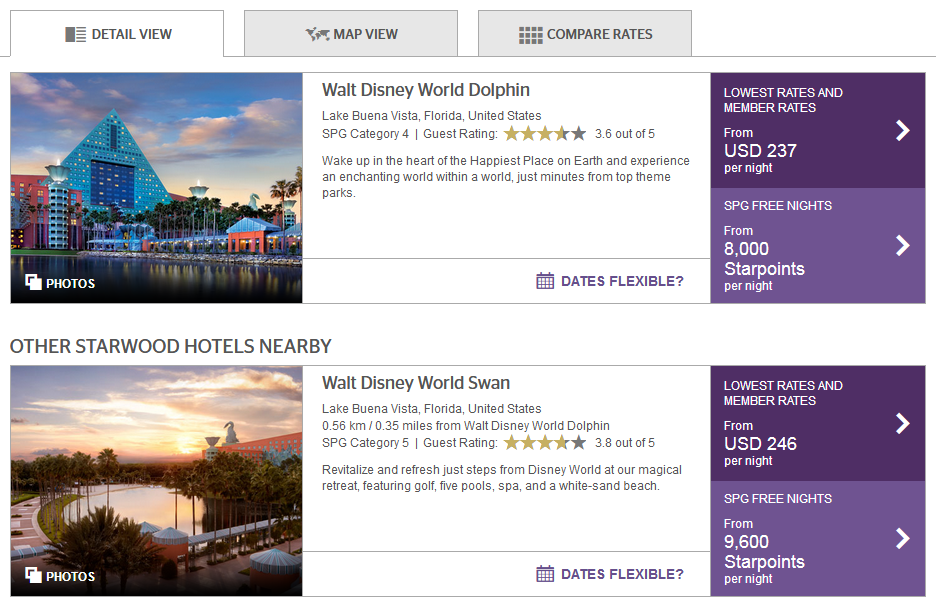 Again, that's just one credit card (one per spouse). Compare that to the Disney Premier Visa Card, which only earns a small $200 bonus (worth just $150 when you account for the fee). You likely couldn't book a Disney hotel for even just one night for $150.
The same concept applies to flights. You're probably looking at 1-2 signup bonuses, and you can fly the family to Orlando for free. That's a much better deal than the small earnings from the Disney cards.
Would You Ever Use a Disney Visa Card?
Let's be honest, the Disney credit cards really aren't a great option for maximizing your savings on a Disney World vacation. But, never say never. There are at least a few instances when it might make sense to get one. Here are a few examples of when it's not a bad idea:
If you already have the other top travel cards and aren't eligible for more (ie. you're over Chase's 5/24 rule and already have the Arrival Plus)
If you've already planned a cheap or free Disney vacation, and you want to use these cards only to supplement the savings you already have
If you're a total minimalist who doesn't enjoy credit card rewards and think you will only use this one card for a single trip to Disney
Similar to the above point, if you don't think you can/will spend much money in the upcoming time period (three months), you might like the fact that the card gives a small bonus on such a small spending requirement
Very few people will fall into one of these categories. There are so many offers and simple strategies that will stretch your dollar further and make your Disney vacation more affordable. If you want to save even more on your Disney vacation and map out a plan to make it as cheap as possible, then download this free checklist. On the other hand, if you opt for a Disney Visa card, please let us know about your experience in the comments below!
Richmond Savers has partnered with CardRatings for our coverage of credit card products. Richmond Savers and CardRatings may receive a commission from card issuers.