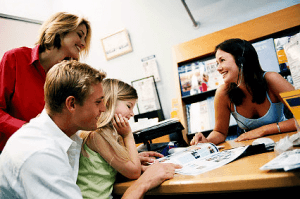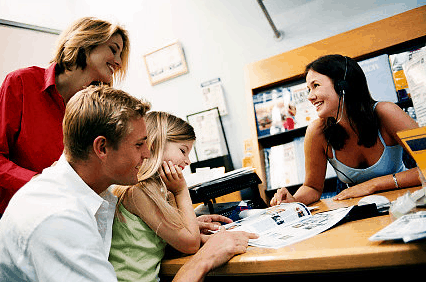 Are you using a travel agent to book your family vacation?
If so you're way ahead of the game as you're likely already saving big off of a trip you could book on your own.
But if you think that locks you out of the additional huge savings from using rewards points, we're here to show you how easy it can be to save even more.  Follow the four quick steps below to save $560+ on your vacation!
A Travel Rewards Credit Card to the Rescue
The most flexible of all travel rewards credit cards are known as the "fixed value" credit cards where you use these cards to pay for your travel expense and then you log into your card account after the fact to redeem your "miles" for a statement credit reducing your credit card bill.
It could not be easier to do this and "travel agencies and tour operators" are considered travel expenses for our favorite 'fixed value' credit card: the Capital One Venture.
Step-by-step Instructions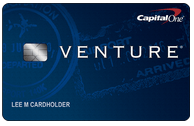 The Capital One Venture makes this process very easy. Here's all you need to do:
Open a Capital One Venture card.  It should arrive in the mail in a few business days.
Visit or call your travel agent and pay for your vacation with your Capital One Venture.
Reach the $3,000 total minimum spending requirement on the credit card (be sure to pay your credit card off on time and in full every month).  The vacation you booked can be part of this minimum spending requirement, so this will likely get you most or all of the way to the $3,000 spending requirement to trigger your early spending bonus.
Log into your credit card online account and you should see a minimum of 56,000 Venture Miles (bonus details below).  You have up to 90 after the fact to redeem these miles against the "travel expense" for at least $560 off your credit card bill.
That's like getting a HUGE discount on your $3,000 vacation just by being smart and using this one credit card to simply pay for your vacation!
Simple as can be.
Bonus and Other Card Perks
The Capital One Venture early spending bonus is 50,000 miles when you spend $3,000 in the first three months. Because you'll earn 2 points per dollar spent, this means that the bonus is really worth a total of 56,000 points, which is valued at $560! There is a $95 annual fee which is waived the first year. These miles are INCREDIBLY easy to use, as I explain below…
Let's talk more about why this card is so easy-to-use and great for certain types of travel:
You can "erase" travel expenses by redeeming miles.
This generic "travel" redemption gives you lots of flexibility and allows for using points in situations where you wouldn't be able to otherwise.
No minimum redemption. You can redeem for a $5 Uber ride if you want to.
You can partially redeem expenses. (Example: redeem $100 from a $200 hotel stay). There is a minimum for partial redemptions of $25 (2,500 miles).
As you can see, there are lots of great perks here. Again, this is great for beginners, but it's equally great for anyone whose plans involve general travel that can't be redeemed with other point programs. For now, this is absolutely the top fixed-value card.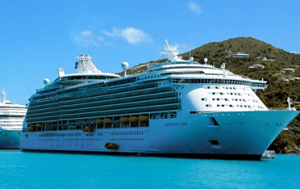 Since you have up to 90 days after the travel purchase to redeem your miles back against the travel expense, so that gives you time to accumulate even more points.
Keep in mind that each adult can open up a credit card in their name and SSN to further increase the savings. If you each open one of these cards, you would need to split the travel expense across the two credit cards, but that shouldn't be a problem since you likely will pay for your vacation in installments, or your friendly travel agent would almost certainly let you pay for the trip with two credit cards.
That will net you at least $1,120 off this vacation through your travel agent!
As one last reassurance, you should know that in the merchant category code listing, "Travel Agencies and Tour Operators" are listed as code 4722; I've spoken with numerous travel agencies and I have yet to find one that isn't coded as 4722. Again, the Capital One Venture is a perfect solution here.