Credit card rewards aren't a one-size-fits-all strategy. In fact, there are probably as many unique ways to earn rewards across different cards as there are people.
Some folks prefer to work on minimum spend for new bonuses as frequently as possible. Others stick to just a handful of their favorite cards. And some maintain a large portfolio of cards in order to take advantage of as many category bonuses as possible.
And that's exactly what this post is all about–category bonuses and earning the highest percentage possible on every dollar you spend. Now, this isn't to say that if you pursue category bonuses you can't also pursue signup bonuses and be simultaneously working on minimum spend.
What We'll Cover
Use the links below to jump ahead to a section.
When I started researching this topic, I was surprised by how many cards I was finding that offered really good deals–but I had never heard of them before! I hope you'll find this guide helpful, and that you'll discover some new cards to add to your portfolio too.
Methodology
I just want to say a couple of quick things about this list. First, it's accurate as of the time it was published. If you pursue one of these cards, be sure to double check all current deals, terms, and conditions.
Also, note that I excluded any cards with rotating categories. Those cards can definitely open up other saving opportunities, but they can also be less predictable.
A few cards in this list however do offer a list of categories that you choose from each quarter, but you can pick the same categories every quarter–so they aren't really rotating. To be fair, those categories could change at the end of the year, so that's something to be aware of–but the list here is hopefully more stable for your long-term planning.
Also, please know that we do have affiliate links for some cards listed here, but many cards are linked to their public offer (and aren't affiliate links at all). Thanks for your support if you do use any of our links!
Groceries
The Blue Cash Preferred® Card from American Express is hands down the best card for groceries. The annual fee is $0 for the first year then $95. If you have even an average level of spending each month at supermarkets, then this card will pay for itself easily, even with the fee. (see rates and fees)
It earns 6% back at US supermarkets on up to $6,000 in spending. If your family spends more than $6K on groceries, you and your spouse might both want to carry this card. There's also typically a generous welcome offer available. The offer right now $300 after spending $3,000 in the first six months.
Because its bonus on gas purchases is also competitive (3 percent at US gas stations), this is a great card for simplicity (as opposed to getting a separate gas and grocery card). It's one of my favorite cards personally (as you can see in this review), and I think it's a great fit for many, many people. Terms apply.
Dining
There are a few popular cards that earn 3x points on dining, but Capital One recently introduced a new product specifically for the purpose of getting cash back on your dining purchases. That card is the Capital One Savor Cash Rewards Credit Card.
This card provides 4 percent back on dining expenses and entertainment expenses, 2 percent at grocery stores, and 1 percent on everything else. Not only that, but there's a $300 cash bonus after you spend $3,000 in the first three months. There isn't an annual fee in the first year, but it's $95 after that.
Keep it in your wallet for whenever you're eating out, and you'll rack up some significant savings over time. It's a pretty solid deal vs. other cards that earn dining bonuses. Most other cards that earn 3 percent on dining are affiliated with extraneous partner programs and/or require membership (ie Navy Federal Go Rewards). And with this card available, you don't have to waste a category slot on a different card, like the Huntington Voice mentioned below.
Utilities (Including Cable and Internet)
Utilities are often a popular category for meeting minimum spend, or just paying via bank account–either because of fees or the lack of a "pay by credit card" option. This is particularly true for gas, water, and electricity–but not typically an issue for Internet, home phone and cable, etc.
You may want to consider The Huntington Voice Credit Card. For this card, you'll choose one 3% category each quarter, from the following list: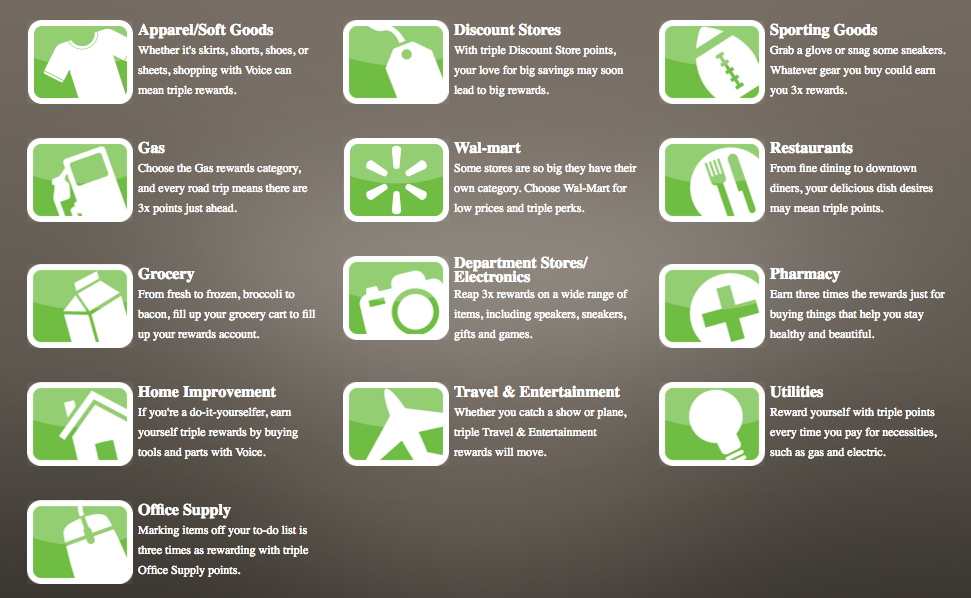 If it's utilities, you're after just select that option each quarter. There's no annual fee, so this could be a solid option.
Also, keep in mind that some utilities, like cable and Internet in particular, can earn higher category bonuses on the top business credit cards. So be sure to check out those deals.
Mortgage/Housing
If you've decided to pay your mortgage via credit card, likely through Plastiq, there doesn't appear to necessarily be a "best" card to do so. This strategy is likely best used for meeting minimum spend, or pursuing the highest baseline earnings card you have (ie 2-3% back) that can offset the Plastiq fee.
Insurance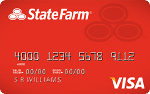 This is a tricky category, because there isn't a card we know of that gives a special percentage bonus to "insurance" payments. But some insurance companies offer their own products. For instance, State Farm customers may be familiar with a State Farm credit card that offers three percent cash back.
Products like that can be a good deal, because the cash back is essentially like an additional discount on the insurance. The counter argument, though, is that insurance is a popular option for helping with minimum spend requirements, so I imagine some people won't want to give up that option.
Gyms and other Fitness Centers
Lots of "savers" don't have gym memberships, but I'm one who still does! My gym membership is that one big "hobby" expense in my budget each month. So I was pleased to find a way to save 5 percent.
The U.S. Bank Cash+™ Visa® Card allows you to select two categories each quarter that will earn 5 percent back. Gym memberships is one of the categories, and the only catch seems to be that you would need to re-select the category every quarter.
It looks like most, if not all, major gym chains should be accepted. This essentially just comes down to how the merchant is coded. It would be very interesting to know what other than a "gym" might count as a qualified recreational facility. Perhaps community pools and the like would work. Here's some language from US Bank:
"Purchases at recreational facilities that do not require membership, such as golf driving ranges, baseball batting cages and ski slopes, do not qualify. In addition, purchases made at fitness centers outside of your membership fee, like personal training or fitness classes, may not be included."
Cell Phone
The US Bank Cash+ comes through again as the best personal card in this category. Cell phones are listed as a 5% category option. Remember you only get two from that list.
———-
Other business cards have favorable cell phone bonuses as well, so be sure to check out our best business card deals.
Netflix, Hulu, or Other Streaming Services
The Huntington Voice card could be a good option here, but I've heard mixed results. I read in a forum (which sadly I can't find again, else I'd post a link) that Netflix and Hulu were counting on the card as utilities. That would be a big win, since the streaming services are small costs but could be bundled in with utilities savings.
However, when I spoke with a rep at Huntington, I was told that streaming services would likely only count toward the "Entertainment" category. That would be a bummer, but the rep was not 100% certain. It would be great to have some data points on this!
There have also been some data points that Netflix and other streaming services do count as utilities on some of the business cards that earn a high utilities bonus.
Gas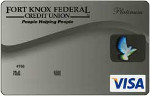 Surprisingly, the best deal on gas comes from the Fort Knox Federal Credit Union VISA® Platinum Card. With this card, you'll earn 5 percent cash back on gas purchases with no limit.
Another solid option is a credit card affiliated with your warehouse club (like Sam's Club). Those cards often allow high earnings on gas sold by the wholesale club, whereas general gas credit cards exclude warehouse clubs from the category bonus.
Lastly, the Blue Cash Preferred® Card from American Express offers 3 percent back on purchases at US gas stations, which isn't bad if you're already using that card for groceries and don't want a separate card for gas.
Popular Retailers: Target, Amazon, Wal-Mart, etc.
If you find that you do most of your shipping at a particular store, then it can be a good idea to earn a high percentage at that store. Just remember that you might be able to buy discounted gift cards for a better savings rate than the credit card bonus would earn. And remember that there is a finite number of credit cards you can open, so you may not want to sacrifice some of the better signup bonuses or other deals to pursue store cards.
That said, here's a quick fire list of some popular stores and the best deals:
Amazon (5%) – two options, as seen here
Target (5%) – Target REDcard (5%)
Wal-Mart (3%) – The Huntington Voice Card offers Wal-Mart as a category for 3 percent back
Sam's Club (3%) – Ironically, the Sam's Club MasterCard® only earns 1 percent at Sam's Club. You might consider the Infirst Federal Credit Union Visa Rewards Credit Card, which earns 2 percent back on all warehouse clubs.
Department stores in general (5%) – Us Bank Cash+ offers department stores as a 5% category. But other categories are likely more lucrative.
Recap
As you can see, there are a TON of options to optimize your spending. Please share which cards you think are most valuable, and let us know if you like the idea of mixing in this strategy with pursuing minimum spend. Also, I'm sure we missed some things. It would be great if folks would share any great offers we missed, along with any data points worth adding.
To see the rates and fees for the American Express cards featured, please visit the following links: Blue Cash Preferred® Card from American Express: See Rates and Fees
Richmond Savers has partnered with CardRatings for our coverage of credit card products. Richmond Savers and CardRatings may receive a commission from card issuers.