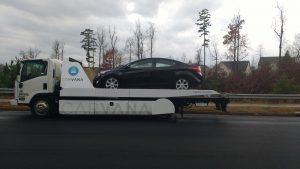 I recently totaled my car, which prompted me to start looking for a new ride. I did a ton of research into the cars I was considering and into the dealerships in my area. After doing my homework, I bought a car online from Carvana and had it delivered to my door.
It was such a great experience on several levels (price, customer service, and convenience), that I wanted to share. Carvana is in no way compensating me for this review, nor do they even know I am writing it. So this is a completely unfiltered review of my experience. It's a long read, so feel free to skip to the conclusion.
Some Background
I'm not a "car guy." At all. I've never driven a stick shift and I couldn't tell you what "GT" stands for. On top of that, I don't like to spend money (especially on something that's guaranteed to lose value) and I'm a slow decision maker. When you combine all of these, you'll quickly realize why buying a car is one of my least favorite things, and is something I think of as a necessary evil.
Also, I always buy used cars. One time, my Dad and I were moments away from signing the dotted line on a new Toyota, which would have had a $300+ monthly payment, when I got cold feet and walked out. That was my "aha" moment that buying new cars just isn't for me. I don't mean to reignite one of the classic personal finance debates, but for me I'll probably only ever purchase used vehicles.
How My Search Unfolded
Originally, I wasn't sure exactly what type of car I wanted. Since I'll be in law school next year, and in an area known for a few big snowfalls each season, I planned to get a Subaru Outback or Forester with all wheel drive. I quickly realized that wasn't going to be worth the expense, and that an investment in good winter tires might be more valuable than having AWD. Plus, I can make do with a smaller sedan. That's actually preferable since the next few summers may require me to commute long distances, so fuel economy is also very important. I'll spare you too many more details into my thought process, but I narrowed the search down to a Honda Civic, Toyota Prius or Hyundai Elantra.
My Problem
After several weeks of searching, I had yet to find a great deal in my area for one of the cars I was hoping to purchase. All the deals were in Richmond or Northern Virginia, which would require me to drive several hours. If I ended up not liking the car or wanted to check out a variety of options, this could take, at best, an entire day or, at worst, several days of going back and forth to the various dealerships. That simply was not worth my time. On top of that, it was hard to vet the dealerships. Some of the "deals" I saw online were with smaller car dealers, and I wasn't sure how good of an experience I should expect as opposed to a big, traditional dealership (but let's be honest, that's often not a good experience either).
Enter Carvana
I first heard about Carvana when I saw one of their catchy commercials, featuring the tagline "That didn't suck." That resonated with me, because last time I bought a car at a dealership, I felt like they virtually held me hostage in an effort to sell me warranties I didn't want, and they didn't take "no" for an answer gently. On top of that, they charged me an outrageous dealer fee of over $500.
As I looked into Carvana, I could see that they really are trying to make car buying a much more pleasant experience.They have a few physical locations (at least in Atlanta and Nashville, though I couldn't find an exhaustive list), but their bread and butter seems to be the online buying and delivery process.
That's right, you can search their full inventory online, pick a car and have it delivered to your home, assuming you are in one of their "delivery regions." Or if you prefer, you can pick it up at one of their locations. They even offer a $200 travel credit for you to fly to a location to pick up your car and drive it home the same day. Oh, and there is no "Dealership Fee," so you'll just pay the price they show, plus the taxes and title fee.
I know what you're thinking…
My gut reaction was "Who in their right mind would buy a car without seeing it first?" but Carvana addresses this concern in a few very clever ways. First, they only sell accident-free cars. And, since their cars are relatively new I'm willing to bet that many have only had one owner (that was true for the car I purchased). They also give the cars a 150-point inspection, state inspection, and an oil change to make sure everything is in safe working order (I'm guessing other dealerships do this as well). Then, there's the Carvana website. It's AMAZING. They document everything that's wrong with the car in a slick and intuitive 360 degree view. You can check out the car in every angle and zoom in to see scratches and other minor imperfections.
Lastly, they offer a 7-day no-questions-asked money back guarantee. This means that you can test drive the car to make sure it's a good fit for you. But more importantly, it gives you time to take it to a trusted mechanic to ensure that nothing is obviously wrong. I'm terrible with cars, remember? So this was a crucial step for me. Oh, and even once the seven-day period is over, a Carvana 100-day warranty kicks in.
My Purchase
Carvana claims that customers save an average of $1,681 vs. blue book value, and I wanted to land a great deal. I found that many of the more popular models weren't as deeply discounted, though. Quite a few cars I looked at were only $500 to $700 cheaper than the blue book value, but your mileage may vary here (pun intended). However, there were still some great deals and an even better deal on Black Friday. From Black Friday to Cyber Monday, Carvana offered $1,000 off every car in their inventory. They've done this several years now, and hopefully the trend will continue because it's a great sale. If you can't wait until (next) Black Friday, check Reddit and you can land a referral code to take $500 off your purchase (some states, including Virginia, are excluded though).
I decided that I wanted my car's interior to have some conveniences, such as leather seats (which make cleanup easier with a toddler) and a rearview camera. While I'm usually not willing to spend extra on these "wants," I realized that it's totally worth it if I'm going to keep the car for a long time. After all, I'm not one of those people who gets a new car every few years. I'm absolutely hoping to keep this for 10 or more years to come. And, I had been saving my money and had driven a "beater" for many years, so these minor luxuries are something I've been planning for via my saving. And, I'll potentially be spending significant time in my car on long commutes, making these features even more worthwhile.
I realized I could get these extras at a much cheaper price in the Hyundai Elantra than the Civic or Prius, and I'd still retain good fuel economy. So, I purchased a 2013 Hyundai Elantra Limited, with just over 30,000 miles for $12,500 which was $2,168 below blue book value. On top of all the great perks from Carvana, I also inherited 28 remaining months of manufacturer's warranty, which I'm really excited about.
My car was delivered on time, about six days after I ordered it (things might have been slower due to the Black Friday sale). If there's one "negative" at all, it's that I feel like you need to show some initiative once you purchase the car online. Give them a call and just check in on the process. Everything went smoothly for me, but I feel like I was getting lots of automated communication, and checking in was reassuring. Plus, it prevented a few potential hiccups, so I highly recommend you reach out to their customer service during the process.
Overall I couldn't be happier with the whole experience. The folks at Carvana had noticed that the car had some white "overspray" on the hood, though it was barely noticeable, and they paid for me to get it buffed out. On top of that, they paid to replace one of the key fobs, since there was only one when I purchased the car. At every touch point, they addressed my concerns above and beyond what I would have ever imagined. The delivery only took about 10 minutes and couldn't have been easier. There's honestly no comparison between how easy this was and how frustrating a big dealership can be. Not only did I get a good deal on the car, but I probably saved a few hundred dollars worth of my time.
Some Final Thoughts
Here's a quick recap of my Carvana experience, plus a few other considerations and caveats. This post was already getting long, so I'll just leave them here as bullet points. Feel free to ask me any other questions, or call Carvana customer service–they are great!
Buy a car online and have it delivered to your house, or fly to a Carvana location to pick it up (they reimburse up to $200 for travel).
It's a great way to save time vs. driving to a bunch of dealerships, and it's virtually risk-free given the free 7-day return policy.
Their website gives you additional confidence, because you can see virtually every nook and cranny of the car, including any imperfections.
All cars are accident free, and I'm guessing that most are one-owner.
Carvana offers a pretty sweet referral code program that takes $500 off your purchase. If you can get a code (try reddit), that would provide some awesome additional savings (not available in some states, including Virginia).
I was lucky that I didn't need a car right away since I work from home. If you need a car immediately but don't live near a Carvana delivery zone, it might not be your best option.
Carvana doesn't accept credit cards, which was one big bummer because I prefer to earn points on car purchases, but there's a catch…
If you finance with Carvana you can make loan payments with a credit card for a small fee ($4.50) per transaction. So, you could potentially meet minimum spend on card(s) or just earn points by first financing and then paying off the vehicle. This is a little bit of a hassle, but actually may be more favorable than trying to use a credit card at a traditional dealership with a limit of say $3,000.
Carvana pointed out an imperfection with my car that I wouldn't have noticed–and paid to fix it. How amazing is that?
Richmond Savers has partnered with CardRatings for our coverage of credit card products. Richmond Savers and CardRatings may receive a commission from card issuers.