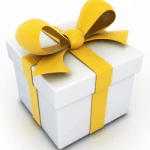 Laura and I do not exchange presents for any major holiday.  I know this might sound odd, and we might appear cold and heartless to some, but it is just something we don't do.
We seriously have every material possession that we want in life, so our mental "must-buy list" contains exactly zero items.  We're not secretly longing for an iPad, big TV, new clothes, granite countertops, or whatever else people spend their money on.
If there's something we want enough to buy during the year, we buy it.
So the idea of each of us spending hundreds of dollars on each other for the five major gift-giving dates throughout the year (Valentine's day, Mother's/Father's day, birthday, anniversary and Christmas) seems insane.
Have You Added it All Up?
I don't think most people sit back and realize how much they are spending each year on presents for their significant other!  Let's say you average $200 for each of those occasions, which isn't unrealistic as an average (some would be more, some less):  Each of you is spending $1,000 per year on the other person.
That's $2,000 of after-tax money (so something like $2,700 of your actual pre-tax salary) you're spending each year buying the other person jewelry, gadgets and golf clubs that they don't need just because 'society says' we have to do that in order to love each other.
Laura and I love each other greatly.  We're happy together and as a family.  These useless presents have no bearing on our happiness at all, and we sure don't miss them.
Alternative "Gifts"
Instead of presents, we'll go out to dinner at a nice restaurant once or twice a year or go skiing or to a winery or something like that. We're buying a real experience and time together, not just another piece of jewelry or some gadget that the other person doesn't need.
So many people have trouble saving money, yet they lavish each other with gifts to show they care.  Why not take most of that money and pay down debt or increase your emergency savings instead?  I assure you the reduced stress and financial well-being will be the best present you can give each other!
So just stop the materialistic madness and make time to sit down with your significant other to discuss your gift-giving strategy for 2014 and beyond.
Richmond Savers has partnered with CardRatings for our coverage of credit card products. Richmond Savers and CardRatings may receive a commission from card issuers.