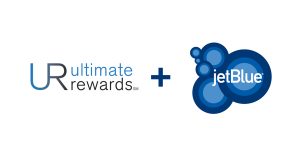 Chase has just announced the addition of JetBlue as a transfer partner—and this may be really big news for your travel plans. Let's dig into the details.
What this Means
Now that JetBlue is a transfer partner, you can transfer (or "convert") your Ultimate Rewards into JetBlue's "TrueBlue" points. This transfer happens at a 1:1 ratio, so for example 10,000 Ultimate Rewards would become 10,000 TrueBlue points. Pretty simple right? JetBlue now joins the likes of Southwest, United, Virgin Atlantic and British Airways as a smart option for travelers who want to redeem flights at good value.
Why this is Big News
This move is actually a pretty big deal, especially for JetBlue fans, for a few different reasons. Here are the two that strike me as most significant.
It Makes Up for Mediocre Signup Bonuses
First, The JetBlue credit cards have typically had pretty low signup bonuses. This has made it difficult for JetBlue travelers to score really good deals from the branded credit card alone. Unlike other airline credit cards whose signup bonuses provide for significant points that can be used for impressive family trips, JetBlue's bonuses have made it tough to string together a worthwhile redemption. Now, points earned on a signup bonus, or from regular spending on a JetBlue card can be supplemented. This gives new value to the JetBlue cards.
East Coast Hubs (Especially Orlando)
Because JetBlue has a few East Coast hubs, this should prove to provide some great deals for East Coast travelers. While there are many great routes and destinations, we are particularly excited about Orlando. Folks going to Disney World for free, can use this strategy to fly for free to Orlando. In the case of Orlando, this approach is a nice supplement to the Southwest cards from Chase. This is probably true for many other routes too: flyers now have a meaningful choice between Southwest and JetBlue redemptions, and could even use Southwest for one-way and JetBlue for the other one-way ticket. These sorts of arrangements should be easy to find and are valuable, especially when you're in a pinch.
Overall this is a very nice development that should bring some good benefits to lots of people. Do you have plans to take advantage of this new travel partner? Let us know in the comments below.
Richmond Savers has partnered with CardRatings for our coverage of credit card products. Richmond Savers and CardRatings may receive a commission from card issuers.