Who We Are
Family run
We're Brad and Laura Barrett, a husband-and-wife team who stumbled onto a unique way to get to Disney World for almost no cost. We love taking trips with our two daughters—especially when we find easy ways to dramatically cut out travel costs.
We formed Richmond Savers to share this knowledge with families like ours and build a community of travel value fanatics.
Experienced
We've made the Disney World trip already. You're applying to follow the same program that we—and dozens of other financially responsible families—have already taken. Our program has been featured in The New York Times, CBS and NBC. This is the real deal.
Financial experts
As Certified Public Accountants (CPAs) in Virginia, we've leveraged our training and real-world experience to make travel more affordable for families like you. We won't recommend any tips or advice that will jeopardize your sound financial standing.
---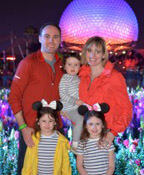 Who You Are
Financially responsible
We're looking for families to participate in the Keys to the Kingdom Challenge who pay their credit cards off each month and who have credit scores of at least 700. It's important we state this from the get-go; we don't want to lead folks on who might not be the right fit for our program.
Accountable
The Keys to the Magic Kingdom Program can take nearly a year. We want families who have the focus and discipline to see their goal through to the finish line. Because we're only taking on 500 families, it's important that we get 100% participation — and it's only fair to those who weren't selected.
Flexible
In addition to opening up some new credit cards that will unlock the rewards that will fuel your free travel, you'll need to allocate your regular spending (groceries, bills, etc.) to these cards each month.
Passionate
This is going to be exciting, right? Right?! We want you to get pumped up by the fact that you're going to Disney World with your family — and you're paying almost nothing. Zippo.
---
What We'll Provide Participants
The step-by-step guide
Technically, this is all you need to make your Disney dreams come true. We provide detailed step-step directions for exactly which new credit cards you'll need to apply for and how each is used toward covering the costs of your airfare to Orlando, onsite luxury Disney hotel and park tickets. In total, it's more than $4,000 in savings. Think of it as your park map before your park map.
One-on-one encouragement & assistance
We've got ears — and we're here to help you make your dreams come true! We'll personally follow up, track your progress, answer your questions and make sure you're moving forward with the plan.
Video tutorials
Sure, it's one thing to tell you how to hitch a free ride to Disney via travel rewards. But it's another thing to show you. We'll demonstrate in a series of videos how to point and click your way there.
Tracking spreadsheet
We're accountants, remember? This is the exact same Excel spreadsheet that proved to be pivotal in managing our cards and points en route to Disney World. And we're sharing it with you.
Private Facebook group
This is a great forum to gain peer support, report milestones you've reached, and build a solid foundation for holding each other accountable throughout the ramp-up for your grand getaway. Plus, we'll be in there to help facilitate the discussion and answer your questions.
---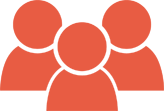 What We'll Expect from Participants
Positive energy & attitude
Remember, this is free! And this is Disney World!! Jumping through a few wide hoops is a small price to pay—and one of the only prices you'll have to pay. Period.
Social media engagement & referrals
In order to keep this as a free program, we ask that all participants share their progress on Facebook and other platforms so that naturally, we'll have referrals interested in our next Keys to the Magic Kingdom Challenge.