We opened our Lending Club peer-to-peer lending account exactly one year ago, so now is a good time to assess our early performance and reflect on where this fits into our short and long-term investing strategy.  If you aren't familiar with Lending Club or P2P lending in general, we suggest you read our article entitled Lending Club for Fun and Profit, where we describe the concept and our strategy to maximize returns.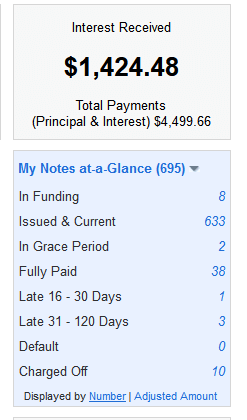 After the first year, we've earned an "Adjusted Net Annualized Return" of 12.44% — which we are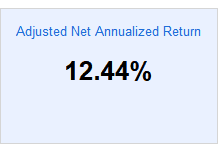 quite pleased with!  This money was sitting in our online savings account previously earning well under 1%, so this represents a huge net gain for us.
This "adjusted" NAR is a new update to LC's account summary page and it paints a more accurate picture of your true return, as it shows a reduction to NAR for any loans currently in the grace period or any further stage of late payment status.
As you can see on the left, we do already have 10 notes that have been charged off after becoming 120+ days late and we currently have 4 notes at least 16 days late.  All these notes were in the very early stages of their repayment period, so each represents a loss of $20+ of principal per note (out of $25 originally).
Because we now only invest in C-G grade loans (higher risk but significantly higher returns than the top rated A and B loans) we fully expect to have a number of loans charged off, so this is not terribly concerning.  When you purchase these loans, Lending Club gives you an expected default rate for each category, and we mentally prepared ourselves to easily expect 5%-10% of our loans to eventually default.
Do What's Right for You
If the thought of loaning someone your hard earned money and having them essentially run away with it (sometimes in the first month or two) is just horrible for you, then this is not the right investment for your own portfolio or psychological well-being!
The only other alternative is to invest in only A grade loans, where the defaults will be significantly reduced; there will still be defaults and you are limiting your upside dramatically since the actual stated interest rates of the loans are only ~7% to begin with.  When you look at the stats over Lending Club's first $3 billion of loans, Grades C-F are your best bets for total returns, so those are the grades we look to invest solely in.
One Caveat
Overall we are very happy with our Lending Club investment, but here is our main concern:
Lending Club is doing phenomenally well these days and the demand for low grade loans far exceeds the supply, so it is extremely competitive to get your share of any of these loans.  LC adds new loans four times per day (9am EST, 1pm EST, 5pm EST and 9pm EST) and you basically have to sit there refreshing your browser to see when the new set of loans gets loaded and then you hurry to get invested before the loans fill up.  LC needs to add an automatic investment option and come up with some fair way to allocate these available high-demand loans.
That said, once you are invested in a loan, you're in it for 3 or 5 years, so this is not a major issue once you're already invested.  But whenever we add money, it is difficult and time-consuming to get fully invested.
I do still think this is a great investment and I'm almost certain that we'll earn a long-term annual return of 5%-10%, but I'd like to see it play out over the 2014 before I really consider adding more funds to our account.
Link:  Click here to open a Lending Club investing account or a Lending Club IRA
Richmond Savers has partnered with CardRatings for our coverage of credit card products. Richmond Savers and CardRatings may receive a commission from card issuers.