Note: this article discusses a change made to the Hyatt credit card at a point in time in the past. We are leaving the article published in case folks want to read about how it changed. However, the card has experienced further changes and this post is OUTDATED. Be sure to check out the current off on our cards page.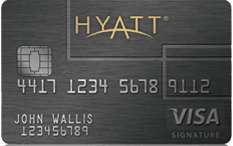 Almost immediately after I published my trip report, from a free stay at the Hyatt Tamaya Resort in New Mexico, I learned that rules on The Hyatt Credit Card are changing. Luckily, these rule changes won't affect the anniversary night(s), which are how I landed that trip for free.
Hyatt Credit Card Perks
Those anniversary nights aren't the only additional perk to the card (aside from the sign up bonus–but more on that in a minure). Other perks are that you'll receive free World of Hyatt Discoverist status (free Internet, late checkout, and upgrades when available), and most notably that the card doesn't appear to be subjected to Chase's 5/24 rule.
Many bloggers have written and gathered data finding that people who are over 5/24 (that's 5 new credit cards in the last 24 months) get approved for this card. That's huge, because it means that you can still get this great deal, even if you've taken advantage of many other offers already. Plus, if you aren't yet 5/24, you can plan ahead with the knowledge that it makes sense to save this card for after you reach 5/24 status.
What's Changing?
Ok, ready for the bad news? One of the signature perks on this card has been for years that new cardholders get a signup bonus of two free nights at any Hyatt property in the world. This is worth an insane value–since you could book places like Park Hyatt Paris, where rooms are typically $900-$1000.
In terms of points, a hotel like the Park Hyatt Paris goes for a baseline of 30,000 points. So you'd need at least 60,000 points typically to book two nights there.
On June 29, 2017, the signup bonus is changing dramatically. Rather than offering two free nights, the bonus will be for 40,000 points. As you can see, getting two free nights to a Category 7 hotel is no longer a possibility from the signup bonus. However, you could still get two free nights at a Category 5 hotel, according to this redemption chart from the Hyatt website.
While on the surface this might seem like a lower offer, there's actually some room for debate. And, the answer will really come down to how you travel and what you hope to get with your points. If you don't yet have this card, you might want to take a minute and decide whether to apply for the current offer (you'd have until June 28) or wait for the new offer on June 29.
Why It May Be a Good Change
Ok, if you're the kind of traveller who uses points solely to upgrade your experience (fly first class, stay in top-shelf luxury hotels, etc.) then you might interpret this change as a negative one. In that case, you will need to act quickly and apply for the card by June 28.
On the other hand, if you are someone who likes flexible points that can be stretched further, you might see this as a positive change. First, you should know that the anniversary nights (which are being phased out) expire after one year. The points, however, won't expire (unless your account remains inactive for twenty-four consecutive months) which makes them inherently more flexible.
On top of that, these points could theoretically earn EIGHT free nights at Hyatt Category 1 properties. So in one sense, this new offer is worth four times as much as the previous offer. No, not in dollar value, but in real value of nights received.
On my trip to New Mexico, I didn't just stay at a resort with my anniversary nights, I also stayed at two different Hyatt Place hotels. In my opinion, they are some of the nicer, low-end hotel properties. They are the perfect properties for staying near the airport before a flight, or for staying off the interstate on long road trips.
Having eight of those free nights is probably a great deal for many, many people. And if that's the case for you, you'll want to apply on or after June 29. And, you'll still get a taste of luxury with your anniversary redemptions!
Richmond Savers has partnered with CardRatings for our coverage of credit card products. Richmond Savers and CardRatings may receive a commission from card issuers.