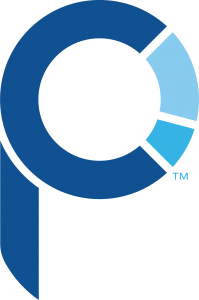 When you're working toward financial independence, you're going to want to keep track of your net worth. After all, this is the magic number! Your net worth essentially represents how financially healthy you are and determines your flexibility. Only with a solid net worth could you retire early, for example.
One problem with tracking net worth is that in today's world our accounts are all over the place. You may have multiple bank accounts, 401(k)s, IRAs, HSAs, other investments, and credit cards. It's tough to keep tabs on where your net worth stands across all these various places.
This is exactly the problem that Personal Capital solves, and it's a must-have tool for financial organization. The best (and most astonishing) part is that it's 100% free to use. Let's take a closer look at the tools you get access to with a free account.
What is Personal Capital?
Personal Capital is a slick, easy-to-use program that allows you to sync all your financial accounts for the purpose of measuring and monitoring your financial growth. Once you have added your accounts, the tracking is as easy as using this graph which will show your growth over time: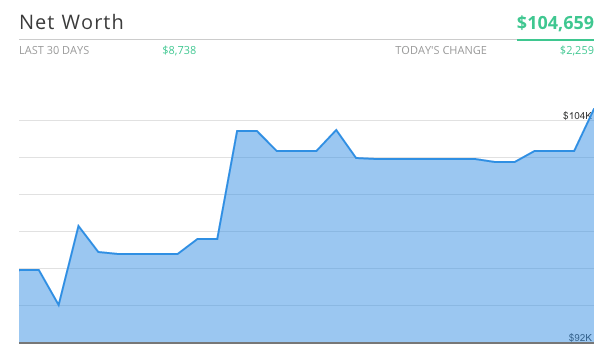 If you used Personal Capital simply as a way to view this chart and keep tabs on your net worth, that would be a win, but the tool actually has even more capabilities.
Cash Flow and Email Updates
Another simple graph within the tool shows your monthly cash flow (income vs. expenses). This is very helpful for when you want a quick high-level overview of your monthly budget.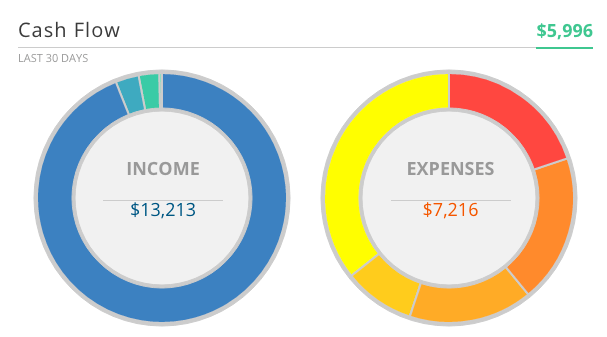 For those who want a very detailed look at all the inner workings of their budget, you'll likely want to supplement Personal Capital with Mint.com (both are great at different things). But this cash flow interface is great for quick updates. And there is a detailed pie chart interface that shows your spending by category.
On a similar note, Personal Capital will send you occasional emails with updates on your net worth worth (specifically your "portfolio" value). This is actually one of my favorite perks. They send these emails just frequently enough so that they are helpful but not annoying.
Sometimes, I simply read the email subject without even opening it. It's amazing to be working around the house, when my phone buzzes to tell me "Your portfolio is up 0.44% this week!." But if you dig into those emails, there are also lots of great insights, all without having to log in to the site or app.
You Index™ vs. Major Market Indexes
You might be noticing a trend here–Personal Capital is great about giving you quick bits of information OR allowing you to dig deeper. The You Index™ is another great example. This simply shows how well your portfolio is doing vs. major indexes like the S&P 500.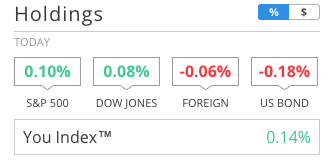 Again, this is a great way to get some quick information, or you can do a deeper analysis in the "Performance" section of the tool.
Financial Advisor Support
If you'd like, Personal Capital can connect you with a financial advisor to help plan your investments. This is how the tool makes money, but it's 100% optional. Personally, I don't want a financial advisor, and instead I choose to leverage some of Personal Capital's tools (more below).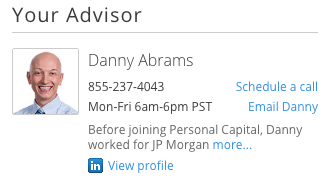 Suite of Tools
In addition to all the tracking, Personal Capital offers some great tools to help you plan and optimize your investment strategy. One of my favorites is the Fee Analyzer, which helps you assess how much money you are losing to investment fees.
This is really helpful information, and can help identify some easy ways to reshuffle your investments to accounts with lower expense ratios. One cool feature of the tool is that it doesn't just show these fees in dollars–it shows them as years taken off your retirement. That message hits home!
Two other helpful tools, especially for anyone new to investing (or who takes a more hands off approach) are the Retirement Planner and Investment Checkup. Together, these tools help you identify ideal allocations and an investment plan based on your contribution estimates and risk tolerance. Both include very helpful visual aids, and are good exercises to get a better sense of your goals and tweaks that you can make to ensure they are achievable.
Recap
Personal Capital is an amazing tool. It seriously blows my mind that you can use something so powerful and helpful without paying a cent. If you haven't already, I encourage you to check it out and get started with a free account.