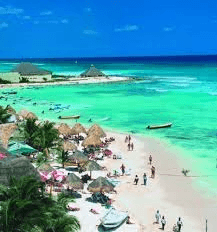 With all of the different types of credit card rewards to choose from, it truly becomes overwhelming at times.  That's because there are literally dozens of co-branded credit cards that offer hotel loyalty points, airline miles, and even cash-back. However, most travel rewards enthusiasts will agree that the most valuable points are ones that can be transferred. This post will explain a few of the most popular rewards programs with transferable points, and some of the best ways to use them. Let's start with my favorite transferable points: Chase Ultimate Rewards.
Chase Ultimate Rewards
Chase Ultimate rewards points are my favorite points to earn. Why? Because there are so many options they can be almost anything you want them to be! For starters, you can redeem Ultimate Rewards points for cash back at .01 cent apiece. What that means is that 40,000 Ultimate Rewards points can become a $400 statement credit if that's what you want. Not bad. However, there are far more lucrative ways to use your Ultimate Rewards points, and most of them involve transferring your points to another loyalty program. For example, Ultimate Rewards points transfer at a 1:1 ratio to these airlines:
British Airways
United
Singapore Airlines
Virgin Atlantic
Southwest
Korean Air
Ultimate Rewards points can also become hotel loyalty points by transferring 1:1 to the following programs:
IHG Rewards Club
Hyatt Gold Passport
Marriott Rewards
Ritz-Carlton Rewards
The fact that Chase Ultimate Rewards points transfer to so many partners is good news for several reasons. First, the added flexibility means that you aren't tied down to using them in any particular way. Second, you can typically transfer points in increments as small as 1,000 points, which means that you can use your Ultimate Rewards balance to top off other balances as needed.
For example, if I were running 2,000 Avios short of a redemption I wanted, I could simply transfer 2,000 UR points to British Airways.
Our favorite transfer partners for the best values are: United, British Airways, Southwest and Hyatt.
Note: Also, keep in mind that you can book travel directly through the Chase Ultimate Rewards website which can be a great (or less than ideal) value depending on what you're booking.  This gets you 1.25 cents per point, so this is definitely a better option than just getting the 1 cent per point statement credit, but still not nearly as good (in most cases) as transferring the points to a partner hotel/airline.
American Express Membership Rewards
American Express offers a transferable program for its participants called Membership Rewards. Just like Ultimate Rewards points, Membership Rewards points transfer out to a wide range of airlines and hotel loyalty programs. For example, Membership Rewards points transfer out to some of the most popular airline programs, including:
Delta Skymiles
Aeromexico
Frontier Airlines
Jetblue
Virgin Atlantic
Virgin America
British Airways
Air Canada
Hawaiian Airlines
Singapore Airlines Krisflyer
Iberia
Asia Miles
Membership Rewards points also transfer to the following hotel loyalty programs:
Best Western Rewards
Hilton HHonors
Starwood Preferred Guest (you need 3 MR points per 1 Starpoint)
Choice Privileges
Just like with Ultimate Rewards points, you don't have to transfer your entire balance out either. You can simply rack up as many Membership Rewards points as you can, then use them to top off balances as it suits you. Keep in mind, you can also book your travel directly through the American Express Membership Rewards website and use your points that way instead, but again, the transfer option is usually best.
Starwood Preferred Guest
Starwood Preferred Guest points are certainly different than Ultimate Rewards points or Membership rewards since they are hotel loyalty points themselves. However, I thought it would be wise to include them on this list since they transfer out to so many airline partners.
Transferring SPG points to airlines also comes with an added bonus. For every 20,000 SPG points you transfer to an airline, you get a 5,000 bonus. So, transferring 40,000 SPG points, for example, would net you 50,000 airline miles. I like it. Keep in mind, the 5,000 bonus is only good for airlines that allow you to transfer points at a 1:1 ratio. For airlines that do not, the bonus is adjusted accordingly. For now, you can transfer your SPG points to the following airlines. Brace yourself, there are quite a few!
| | |
| --- | --- |
| Frequent Flyer Program | Exchange Ratio (Starpoints : Miles) |
| Aeromexico Club Premier | 1:1 |
| Aeroplan/Air Canada | 1:1 |
| Air Berlin | 1:1 |
| Air China Companion | 1:1 |
| Air New Zealand & Air Points | 65:1 |
| Alaska Airlines Mileage Plan | 1:1 |
| Alitalia MilleMiglia | 1:1 |
| All Nippon Airways (ANA) Mileage Club | 1:1 |
| American Airlines AAdvantage | 1:1 |
| Asia Miles | 1:1 |
| Asiana Airlines | 1:1 |
| British Airways Executive Club | 1:1 |
| China Eastern Airlines | 1:1 |
| China Southern Airlines' Sky Pearl Club | 1:1 |
| Delta Air Lines SkyMiles | 1:1 |
| Emirates Skywards | 1:1 |
| Etihad Airways | 1:1 |
| Flying Blue | 1:1 |
| Gol Smiles | 2:1 |
| Hainan Airlines | 1:1 |
| Hawaiian Airlines | 1:1 |
| Japan Airlines (JAL) Mileage Bank | 1:1 |
| LAN Airlines LANPASS Kms | 1:1.5 |
| Miles and More | 1:1 |
| Qatar Airways | 1:1 |
| Saudi Arabian Airlines Alfursan | 1:1 |
| Singapore Airlines KrisFlyer | 1:1 |
| Thai Airways International Royal Orchid Plus | 1:1 |
| US Airways Dividend Miles | 1:1 |
| United Mileage Plus | 2:1 |
| Virgin Atlantic Flying Club | 1:1 |
| Virgin Australia | 1:1 |
Transferable Points Rule the Game
When it comes to earning points and miles, transferable options rule the game. That's because they don't tie you down to using a specific program, airline, or hotel. Instead, they allow you to use the points and miles you've accrued to design the type of vacation you want. And to me, that's what this hobby is all about in the first place.
Which points are your favorite to earn?  Why?
About the Author:
Holly Johnson is a wife, mother of two, and frugal lifestyle enthusiast. She is the co-founder of
Club Thrifty
and a staff writer at Get Rich Slowly, Frugal Travel Guy, and U.S. News and World Report's "My Money Blog." Holly has been featured in the Wall Street Journal, Kiplinger Personal Finance, Fox Business, and Daily Finance.
Richmond Savers has partnered with CardRatings for our coverage of credit card products. Richmond Savers and CardRatings may receive a commission from card issuers.