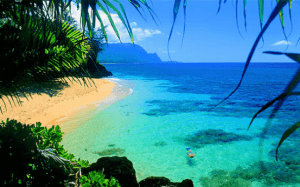 We love reader success stories at Richmond Savers and this is one of our all-time favorites!  I started corresponding with Shevaughn at the end of March 2015 about her May 2016 wedding and honeymoon in Hawaii.
At first I could tell she wasn't sure if this travel rewards strategy was really going to work, but she kept asking questions and educating herself and with a little bit of guidance and support was able to put together an incredible trip of a lifetime to Hawaii.
Just under one year later they have the entire vacation booked and by their calculations they saved over $8,600 on this trip!!  That's money they would have spent on their honeymoon that is now safely tucked away in their bank account.  Here's Shevaughn explaining how they did it:
Shevaughn:
Our wedding and honeymoon trip to Hawaii will be 11 nights total and we'll be visiting the Islands of Oahu, Kauai and Maui.
Following Brad's advice earned us two round-trip flights and 11 nights free hotel nights for ourselves and we were also able to fly Tracy's niece to Hawaii using points.
So altogether we earned three round-trip flights plus 11 free nights!! Here's how we did it:
The first card Tracy and I each applied for was the Chase Sapphire Preferred® Card. I earned a total of 49,380 points and Tracy earned 50,646.
We transferred a total of 70,000 Ultimate Rewards points to our account at Singapore Airlines and this was enough for two round-trip flights from the continental US to Hawaii.
We knew this was one of Brad's best ways to get to Hawaii with miles (a 'sweet spot' as he likes to call it) as you can fly on United Airlines planes using Singapore Airlines miles and it actually costs less than if you were using United miles (would have been 90,000 total United miles for the same flights). We live near a United hub, so this was perfect for us.
We also used Chase points to get a one-way ticket for Tracy's niece on United with the remaining points.
The second card we both applied for was the Starwood Preferred Guest® Credit Card from American Express. With the bonus at the time we opened it plus extra points for spending we each earned slightly over 30,000 points for a total of just over 60,000 Starpoints.
We redeemed Starpoints at the following hotels:
Sheraton Princess Kaiulani Honolulu: 2 free nights
St Regis Princeville Resort: 1 free night  (this is possibly the nicest hotel in all of Hawaii, so we splurged and spent a lot of points here for the experience!)
The third card we both applied for was the Hyatt Visa Signature® Card: When we opened it, the bonus on each card after we hit our spending requirement was two free nights at any Hyatt property.
We redeemed our four total free Hyatt nights at the following:
Grand Hyatt Kauai: 2 free nights
Hyatt Regency Maui: 2 free nights
Note: the following section makes reference to Citi/Hilton cards that are no longer available. If you're looking for a Hilton card, you might try the Hilton Honors™ Surpass® Card from American Express (see our review here).
I applied for a Citi® Hilton HHonors™ Visa Signature® Card and with the bonus that was in place at the time I earned over 75,000 points and redeemed some of the points at the following hotel:
Double Tree Alana Waikiki Honolulu: 2 free nights
I also applied for the Citi® Hilton HHonors™ Reserve Card and after the spending requirement I received 2 free weekend nights at any Hilton and booked at the following property:
Grand Wailea-Waldorf Astoria Resort: 2 free nights in Maui
I applied for the Citi AA credit card and earned a total of 54,454 AA miles. We used these miles to pay for the return ticket for Tracy's niece and we still have AA miles remaining.
This experience was mind blowing! Just one year ago we started this journey and I have to admit, I was a little hesitant at first when my friend Cheryl introduced me to you and your site.
I'm so glad I gave it a try and signed up for your free coaching as we think we saved $8,600 using these rewards points! My view on traveling has completely changed and I have been sharing my experience with others. You have been a blessing to me, Tracy and everyone in the travel rewards world!! Thank you for all that you do!
Thank you,
Shevaughn & Tracy
Richmond Savers has partnered with CardRatings for our coverage of credit card products. Richmond Savers and CardRatings may receive a commission from card issuers.