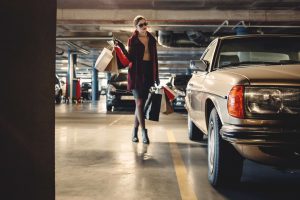 Many savvy online shoppers are familiar with gift card exchange websites, also known as "gift card resellers." These sites are often a great opportunity to save money on big purchases, since you can get an extra discount. Getting the card on sale doesn't prevent you from using other coupons to stack your savings, and it doesn't close the door to earning credit card points or meeting a minimum spend requirement. On top of that, gift card exchange sites often have great customer service and quality control to make sure you get what you pay for.
These sites offer a great strategy to save money and earn points. I'm going to explain a great plan of attack for you to stack savings (double, triple, or even quadruple dip!) with a popular gift card site, and it's a very simple method to follow. Before we go any further I'll also just give you a quick heads up, that we aren't using affiliate links in this post.
Here's the gist of what we'll cover, and the FOUR money saving tactics that you'll be able to use at the same time (we'll cover it all in more detail throughout the post):
1) Go through a cashback portal
2) Buy a discounted gift card with a credit card
3) Go through a cashback portal and use the gift card to make your purchase
4) Factor in the earnings on your credit card
Quick Primer on Raise.com
One of the best gift card resellers is Raise.com. It's got a slick interface, great customer service, a wide selection of gift cards, and they frequently have sales on already discounted cards. We'll be talking primarily about buying gift cards here, but it's a decent option for selling any unwanted cards you have, too.
It works similar to StubHub when selling tickets, where you need to consider the price other sellers priced their similar tickets. As long as the price you set on the gift cards doesn't exceed the value of the card, you set the price you want.  When your card sells, Raise.com collects their 15% commission from the sale, then charges $1 or 1% fee to ship it if it's a physical gift card.
The level of discount can vary significantly by retailer. Cards for Target or Walmart are usually 1 or 2 percent, while some department stores might have discounted gift cards on raise.com for 5, 10, or even 15+ percent off.
Meeting Minimum Spend
Meeting minimum spend can be tough sometimes if you have a card you're working on but don't have a ton of spending you need to do right away. On the other hand, minimum spend can also be a trap that causes you to spend more money than you really need to. This gift card strategy could come in handy for solving these problems.
Let's say for example that you need to spend $500 more to meet your minimum spend, but there isn't anything that you need at the moment. Well, if a Walmart gift card is available on Raise.com and you always do your grocery shopping at Walmart, then you have the perfect solution. Buy the gift card now to meet your minimum, and then use it later as you need.
…And Saving More Money with a Cashback Portal
Whether or not you're buying a gift card to make an immediate purchase, or you're just getting the gift card to meet your minimum spend, you'll want to save as much money as you can. Obviously, you're saving by buying a discounted gift card (which effectively works like a coupon), but you can sweeten the deal, by saving even more through a cashback portal like Ebates.
Here's an example…
Let's say that your fridge goes out and you need to get a new one. Since you're a credit card rewards aficionado, you'll put this big purchase on a new credit card so that you can get a sweet bonus. That makes an unexpected appliance replacement less painful, right?>
But instead of just heading to Sears and paying for your new fridge with your new credit card, you can take a couple more steps in order to increase your savings.
First you'd check out which cashback portal is paying more for purchases on Raise.com. We've given Ebates as an example, but you could check others, too. As you see below, some offer 2 percent back!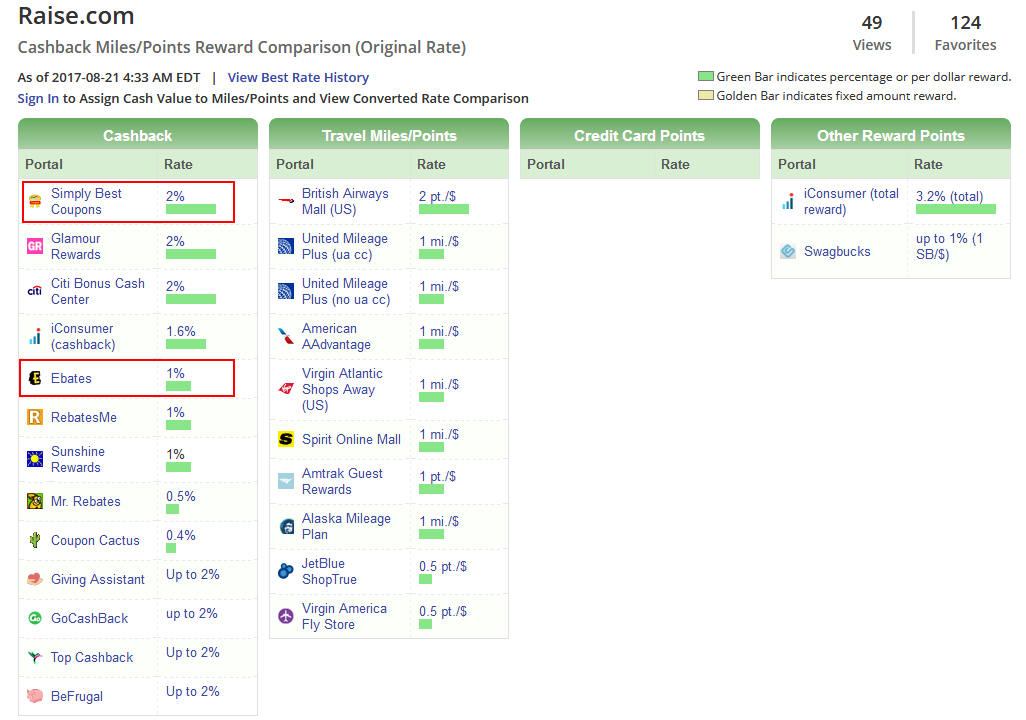 Once you select your desired portal, and are directed to Raise.com, you'll simple search for the store that you'd like to buy a gift card for. In this example we'll search for Sears gift cards. Once you find the gift cards, buy the one(s) needed for your new refrigerator, with the credit card you're trying to meet minimum spend on.
After you've bought the gift cards and they're ready to use, you have one more option to add some savings if you're willing/able to order the item online instead of going to the store. Check to see which cashback portal is paying more for purchases at Sears.com. Once you select your desired portal, and are directed to Sears.com, just find the item you need and add it to your cart. Then pay for your item with the gift cards you purchased. Boom! Major savings!
Let's just quickly recap all the points where you save money with this method…
when using a cashback portal to visit a gift card exchange site
when buying the gift cards at a discount
when using a cashback portal to buy the item with the gift cards
when you factor in the savings/earnings from using the purchase to meet the minimum spend on a new bonus
What To Watch Out For
There are a couple of things to keep in mind when making purchases with this method. The first thing is to make sure you know whether you're buying an e-gift card or a physical gift card. Sometimes both options are available, but sometimes e-gift cards can only be used online. This could affect your strategy if you were planning on going to the actual store to make a purchase.
If buying physical gift cards, be aware of the shipping times for your card to arrive. This is important in case you are wanting to take advantage of a limited time sale or if you're on a time crunch for your minimum spend requirement.
Another thing to keep in mind is the limit of gift cards one may use to make a purchase, whether it's online or at the store. Some stores may place a limit on how many gift cards you can use on a purchase. It's good to know this before you make your gift card purchases. You don't want to be stuck with gift cards that you can't use.
On a similar note, plan carefully so you don't buy more gift card funds than you need. It's better to have fewer funds than you need (you can pay the difference with your credit card) than to have more and have them go unused (especially if you buy the cards for a store where you don't shop regularly).
Conclusion
Meeting the minimum spend on your new credit card could be a daunting task. However with a few extra steps in the buying process, using cash back portals and gift card sites, you could save some money on your purchases while still working towards meeting the minimum spend on your new card.
Richmond Savers has partnered with CardRatings for our coverage of credit card products. Richmond Savers and CardRatings may receive a commission from card issuers.