We've written extensively about how to take your family to Disney World for free using credit card rewards, and we've helped thousands of families take this dream trip. You can download this free checklist for the full plan, but we want this post to focus specifically on getting the park tickets. We were so excited when we found a great way to get free Walt Disney World park tickets for our family vacation and wanted to show you exactly how to do this for your family trip.
With this plan, you and a spouse will be able to open one new credit card, earn the early spending bonus and easily redeem those miles on for $660 off your Walt Disney World tickets. No blackout dates or frustrations with these miles! You and your spouse can BOTH do this, for a total savings of $1,320.
We already tested this out personally so all you have to do is follow these step-by-step instructions to save big on your Disney trip.
---
Step 1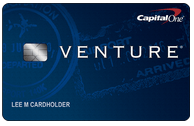 The first thing to do is open a Capital One Venture Rewards Credit Card You'll earn 60,000 miles if you spend $3,000 on purchases in the first 3 months. The $95 annual fee applies. The redemptions on this card are incredibly simple. Just reimburse yourself for qualifying travel expenses (by "erasing" them). Because you'll also earn points on the minimum spend, the bonus is worth $660 of flexible travel!
Step 2
When your new credit card arrives, go to UndercoverTourist.com's Disney World park tickets page. They are an official authorized reseller of Disney World tickets and this charge counts as a "travel expense" that you can erase with your Venture Miles. This is critical to know as buying from Disney will not count as a travel expense.

Purchase your Disney World park tickets at Undercover Tourist and pay for them with your Venture card.
Step 3
The Disney World tickets you bought count as part of the $3,000 minimum spending requirement on this card, so you're a good part of the way there already. You then just put your normal spending on this card until you get to $3,000 in total in the first 3 months (and you are of course paying your credit card off on time and in full every month!) and Capital One will award you the 60,000 mile bonus.
When you log into your account, you'll see the charge from Undercover Tourist, which you can erase within 90 days of the purchase date.
This will show up as a $660 statement credit in the next few days and reduce the amount you owe on your credit card, essentially making $660 of your WDW park tickets completely free!
Just like that you saved $660 from this one credit card!
Laura and I each opened a card with this same method so we saved over $1,000 in total on our Disney World tickets. We just split the ticket purchase across these two credit cards (free shipping!).
Disney World, Here We Come!
Now you know how to land free tickets to Disney World, so what are you waiting for? We hope you have an awesome vacation. And if you want more help visiting Disney on the cheap, be sure to download our free checklist and read our full guide.
Richmond Savers has partnered with CardRatings for our coverage of credit card products. Richmond Savers and CardRatings may receive a commission from card issuers.