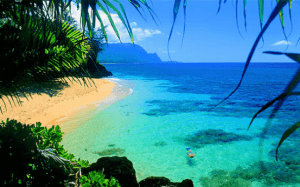 Note: this article makes reference to an old version of the Hyatt credit card. We are leaving the article published as it documents how we planned a trip at a point in time. Please know that the Hyatt bonus structure is now much different, and the card has been changed to "The World of Hyatt Credit Card." It also mentions the Starwood Preferred Guest card, which is no longer available. Again, we left this intact as it was a trip report, but the info is OUTDATED. Be sure to check our cards page for the most recent offer information.
We took a 12-night honeymoon to the islands of Maui and Kauai and it was unquestionably the best trip of our lives! If you're planning your honeymoon (2nd honeymoon, long vacation, etc.), we hope Hawaii is at or near the top of your list as it's a wonderful 'trip of a lifetime.'
At around $500 a night for most of the popular resorts, the hotel alone can easily cost you $5,000-$7,000 for a 10-14 night trip, and the flights can cost about $1,000 round-trip per person, which on top of the wedding you just paid for can be almost impossible for most couples.
What most people don't realize is there are thousands of travelers taking advantage of the huge travel rewards point bonuses the credit card companies offer in order to travel the world for free.
What You'll Get
This will allow you to take a 10+ day trip to Hawaii and pay very little for your luxury resort hotel and airfare. We wish we had this knowledge before our honeymoon, which would have saved us thousands of dollars! Luckily we found out about this concept a few years ago and we are taking our family to Disney World for free next year.
Laura and I are both Certified Public Accountants (CPAs) and we thought this sounded a little crazy the first time we heard about it, so we completely understand if you're wondering right now if this is legitimate. We've earned hundreds of thousands of airline and hotel miles over the past 3 years just by putting our normal spending on specific credit cards and paying them off in full every month, so we know this is the real deal.
How You'll Get It
In summary, what you're doing is simply opening up a few specific credit cards that offer huge travel rewards bonuses, putting your normal spending (in this case your massive wedding expense) on the credit cards to reach the minimum spending requirement for each card and then taking the bonuses you earned from each card to book your airplane tickets and 10+ free nights in Hawaii.
So instead of cutting a huge check directly to a caterer for your wedding, you'll just put it on your credit cards and then cut the check to the credit card company. And for that one difference you'll get your honeymoon for (nearly) free!
There's a lot of detail which we describe at length below, but let's just show how easy this can be with an example:
Example: 5 Nights Kauai and 6 Nights Maui
In this example you'll stay 6 nights at the brand-new Andaz Maui at Wailea for six nights. This hotel costs $750 a night, so 6 nights would normally cost you $4,500! This is true luxury most of us will never experience for zero dollars out of pocket.
You'll also stay 5 nights at the Sheraton Kauai Resort on the popular Poipu section of Kauai. This hotel starts at $300 a night, so this is a minimum of $1,500 worth of value.
That normally would be $6,000 in cash to stay those 11 nights.
To get them for free, you and your spouse-to-be have to open a combined five credit cards, all of which have the annual fee waived for the first year (so this will cost you $0) and put a total of $12,000 on the five cards we're picking out in order to meet the sum of the minimum spending requirements.
Keep in mind that this is $12,000 you are already spending on your wedding, and since you'll pay it off in full every month you will not incur any interest expense at all. This will not really impact your credit rating beyond a few point temporary drop; we've opened numerous cards in the past few years and our credit score hasn't dropped more than a handful of points at any given time (and is now up over where we started!).
So in this example you're getting $6,000 worth of Hawaiian hotels just for using the right credit cards and having happened upon this article!
Here are the cards you'll need for this example (note: the Hyatt Credit Card signup bonus has since changed and now offers a points bonus instead of the 2 flat free nights):
Spouse 1: Starwood Preferred Guest® Credit Card from American Express
Spouse 2: Starwood Preferred Guest® Credit Card from American Express
Spouse 1: Chase Sapphire Preferred® Card
Spouse 1: Hyatt Visa Signature® Card
Spouse 2: Hyatt Visa Signature® Card
As we describe below, after earning the welcome offer by spending $3,000 in the first three months (annual fee of $95 waived the first year) on each credit card, the two Starwood Preferred Guest® Credit Card from American Express accounts will earn you at least 56,000 Starpoints total which is enough for 5 free nights at the Sheraton Kauai Resort.
You'll each get two free night certificates to use to reserve the Andaz Maui at Wailea (or any other Hyatt) just for opening the Hyatt Visa Signature® Card and meeting the spending requirement of $2,000 in the first 3 months ($75 annual fee).
Your Chase Ultimate Rewards points transfer to Hyatt so you could use 50,000 points to book two additional nights at the Andaz Maui.
It's really that easy!
How to Earn Free Nights at Hyatt Hotels in Hawaii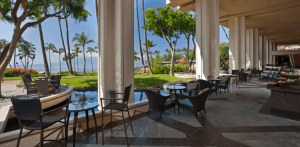 As you can see from the above Hyatt Hotels list in Hawaii, the most desirable Hyatt Hotels in Hawaii are either 20,000 points per night or 25,000 points per night.
The Chase Ultimate Rewards points that are earned on the Chase Sapphire Preferred Card, Chase Sapphire Reserve and Chase Ink Business Preferred Credit Card are all transferable directly to Hyatt to book these hotels.
Your Ultimate Rewards points will have to be transferred to your Hyatt Gold Passport account (open for free here). You simply login to your Chase account, go to the Ultimate Rewards Portal and click "transfer points to travel partners" and then click on the Hyatt Gold Passport logo. You'll enter your Hyatt account number and the number of points you want to transfer and Chase will send these points to your Hyatt account.
Then you just login to your Hyatt account and book your hotel stay. It really is that easy!
An interesting note is that any of your family members or friends can also open these Chase cards and transfer you their points (Hyatt account to Hyatt account) so you can book more honeymoon nights in Hawaii! Talk about a great wedding or engagement present that will cost them nothing! Here's the link for the transfer form, which needs to be signed and either faxed or emailed in (and for some odd reason you can only receive points once per 30 days, so this will take a bit of planning if you have multiple people sending you these points as gifts).
The second way to get free nights at Hyatt Hotels is through the Hyatt Visa Signature® Card. You can open one of these cards and when you spend $2,000 on the card in the first 3 months the account is open ($75 annual fee) you will get two free nights each at any of their properties in the world after reaching the minimum spending requirement.  So this is another four free nights if you each opened that card and reached the bonus requirements.
Getting Free Airline Tickets to Hawaii
One of our big themes here at RichmondSavers.com is simplicity, so we try not to needlessly complicate our lives. A lot of people feel that frequent flyer miles are incredibly difficult to use, so we often try to focus on the hotels as they are the 'low hanging fruit' of the travel rewards concept.
That said, we feel that using United Airlines to fly to Hawaii from the continental United States is a nice way to book your ticket in a relatively stress-free manner.
United has a great search functionality for their awards tickets right from the homepage at United.com. Just click on 'awards tickets' and without logging in or having miles in an account you can see all their award ticket availability!
We mocked up flights from New York, Washington and Chicago to both Honolulu and there was quite a bit of award flight availability to the point where we consider this a viable option to get to Hawaii for free with very little hassle. We strongly suspect there are slightly lower-mile redemption options available on other airlines, but this doesn't seem unreasonable at all considering the ease with which you can earn and redeem United miles:
Round-trip from either NY, DC or Chicago to Honolulu: 45,000 miles per person
United is yet another transfer partner of Chase Ultimate Rewards, so if you want to use 90,000 points for round-trip flights that can be a very economical thing to do considering flights to Hawaii are quite expensive.
Similar to Hyatt point transfers, you'll just login to your Ultimate Rewards portal and click "transfer points to travel partners" and then click on United's logo.
You'll need a United frequent flyer account which you can setup here for free, and then once your miles appear in your United account you can book your flights for free.
Richmond Savers has partnered with CardRatings for our coverage of credit card products. Richmond Savers and CardRatings may receive a commission from card issuers.