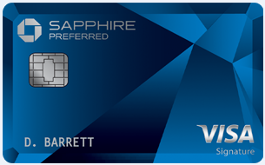 If I had to pick the single most essential travel rewards credit card, the Chase Sapphire Preferred Card would unquestionably top the list. Simply put, if you are serious about getting started traveling the world with rewards points & miles, you are going to want this credit card.
Click here to learn more about this card.
Here are the details:
Earn 60,000 Ultimate Rewards points after reaching the minimum spending requirement of $4,000 in the first 3 months the account is open
You'll earn at least 4,000 points for your $4,000 worth of spending, making the bonus worth at least 64,000 points
Earn 2x points on travel and dining at restaurants
$95 annual fee
$0 foreign transaction fees
Additional benefits such as Trip Cancellation/Trip Interruption Insurance and an Auto Rental Collision Damage Waiver
How to Redeem Ultimate Rewards Points for Maximum Value
We want to help you maximize the ultra-valuable Chase Ultimate Rewards points you earn from the Chase Sapphire Preferred Card so we'll look at your three main Chase Ultimate Rewards redemption options and then focus on #3 which is where the REAL magic happens!
(Note: Here's a prior article we wrote with step-by-step picture tutorials on how to actually redeem these Ultimate Rewards points.)
For the sake of this article we'll assume you hit all the bonus requirements and continue using your card and you now have 60,000 Chase Ultimate Rewards (60K is a nice easy round number compared to the 64K you'll actually have):
Redemption Options:
Get Cash Back:  You can always redeem your Ultimate Rewards points at a cash value of 1 cent per point, so your 60,000 points = $600 cash back.
Travel Booked through the Chase Ultimate Rewards portal:  Chase allows you to book travel directly through their booking portal.  The value is 1.25 cents per point, so your 60,000 points = $750 of travel.
Transfer your points to one of Chase's 13 airline & hotel partners.  These transfer partners include:

Aer Lingus AerClub
British Airways Avios
Emirates Skywards
Flying Blue AIR FRANCE KLM
Iberia Plus
JetBlue TrueBlue
Singapore Airlines Krisflyer
Southwest Rapid Rewards
United MileagePlus
Virgin Atlantic Flying Club
IHG Rewards Club
Marriott Rewards
World of Hyatt

The potential value of these points when transferred is significant and in some cases exceeds $1,500-$2,000 depending on your exact redemption.  For example:

60,000 points when transferred to United Airlines is enough for a round-trip Saver Economy award flight to Europe!   All for 60,000 United miles and some unavoidable taxes & fees (usually under $150 for an international economy award).
60,000 points when transferred to Hyatt Hotels is enough for 12 free nights ($0 fees!) at a Category 1 hotel or 2 free nights at a luxury Category 7 hotel like the Park Hyatt New York (often over $700/night!). We have a Category 1 Hyatt Place near our home in Richmond and our family often stays there during visits to town; the hotel is lovely and would normally cost about $130 per night, so 12 nights = $1,560 of free nights from one credit card bonus.
60,000 points when transferred to British Airways is enough for eight one-way flights in the US (and Americas generally) on American Airlines for direct flights that are under 1,150 miles one-way in distance.  Examples: NYC to Miami, Chicago to Dallas, NYC to Bermuda, and hundreds more.
60,000 points when transferred to Southwest will earn you approximately $900 in Southwest flights. We value Southwest award flights for their amazing availability and flexibility to cancel/change your flights for $0 in fees.

There are many other 'sweet spot' redemptions you can make with your Chase Ultimate Rewards such as transferring them to Singapore Airlines, British Airways or United redemptions to Hawaii.

Incredible Flexibility of Chase Ultimate Rewards

As you can see, Chase Ultimate Rewards points from the Chase Sapphire Preferred Card provide you an incredible amount of flexibility with different redemption options, but there are additional ways to earn Ultimate Rewards and other strategies we want to pass along:

1) Ultimate Rewards Earning Options

Current Chase Credit cards that earn Ultimate Rewards points:

Chase Sapphire Preferred (transferable)
Chase Sapphire Reserve (transferable)
Chase Ink Business Preferred credit card (transferable)
Chase Ink Business Cash
Chase Ink Business Unlimited
Chase Freedom Flex
Chase Freedom Unlimited

Chase Sapphire Preferred Card, Sapphire Reserve and Chase Ink Business Preferred Credit Card are often considered "premium" cards because the Ultimate Rewards points you earn from them come with the ability to transfer to airline/hotel partners (#3 in our redemption list above).

If you have the Chase Freedom Flex, Freedom Unlimited, Ink Business Cash or Ink Business Unlimited you normally cannot transfer those Ultimate Rewards points to partner airlines & hotels.

However, the big bonus is that if you have one of the premium credit cards as well, you can combine your non-transferable Ultimate Rewards into your account with either Chase Sapphire Preferred, Sapphire Reserve or Chase Ink Business Preferred Credit Card points so they ALL become the more valuable transferable points.

2) Preserving Flexibility: Keep them in your Chase Account

Chase Ultimate Rewards points sit in your Chase account and they do not expire as long as your credit card is open and in good standing.

The transfers to airline/hotel award partners are generally instantaneous, so you want to keep them in your Chase account until you are 100% certain you are going to book an award flight/night and then and only then do you transfer them and book your trip.

Once the points are transferred to a partner airline/hotel they can never be sent back to Chase, so you want to be certain you will use them at the partner you transfer them to.

It's also important to point out that you can transfer in increments of 1,000 points and you do not need to transfer your points all to one partner.  For instance, if you wanted to take a weekend trip you could theoretically transfer some points to Southwest to book flights and some to Hyatt to book hotel nights and leave the remaining points in your Chase account.

4) Extending Point Expiration Dates

If you have points in an airline/hotel rewards program account they are subject to the expiration policy of that rewards program.  Depending on the program, most allow for 12-36 months with "zero account activity" before the entire set of points expire.

One of the easiest ways to get "account activity" is to transfer in the smallest possible number of points from Chase Ultimate Rewards.  You can transfer 1,000 Chase points to your airline/hotel account and this will 'reset the expiration clock' for all the points you have in that account (Singapore Airlines is the only exception we know of where this doesn't work).

Summary

We highly recommend Chase Ultimate Rewards points for those who are looking for a well-rounded and flexible travel rewards strategy and there's no better choice to get started than with the Chase Sapphire Preferred Card.
Richmond Savers has partnered with CardRatings for our coverage of credit card products. Richmond Savers and CardRatings may receive a commission from card issuers.