When we think about what makes a good travel rewards credit card, a few features come to mind. We usually look for some combination of the following: a generous signup bonus, a reasonable annual fee (preferably waived the first year), flexible redemptions, and any additional perks (lounge access, for example).
But let's be honest there aren't many great travel cards without an annual fee. That's where the Discover it® Miles – Unlimited 1.5x Rewards Card comes into play. We've already talked about why it's secretly the best cash back credit card, but it's also the best fee-free travel card you'll find. Let's take a closer look.
Travel Perks for the Discover it® Miles – Unlimited 1.5x Rewards Card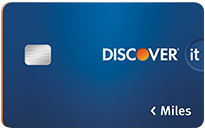 Since the card comes without an annual fee there's also no traditional signup bonus, but the card makes up for this in a few awesome ways:
Discover offers baseline earnings of 1.5 percent, but it matches your rewards for the first year of card membership. This means that 1.5 percent is essentially doubled for the first year. In other words, you earn 3 miles for every dollar spent in the first year, though you don't get the second half of these earnings (the matched 1.5 percent) until the end of the year.
Discover allows you to redeem for any expense that's coded as travel. There are lots of little travel costs that you couldn't redeem with other rewards, so this card will complement the other big players in your wallet. For example, you could use the Discover it® Miles – Unlimited 1.5x Rewards Card to cover your cabs, ubers or rental cars.
There's also no minimum redemption amount. Combined with the point above, the card is perfectly suited for covering little odds and ends. You can redeem a travel credit for as little as one mile.
You'll receive a free $30 wifi credit each year. It works for any airline and is a great free perk.
When you take all of these features into account, it's hard to find a reason not to add the card to your portfolio. The free wifi credit alone makes it worth having.
Part of a Bigger Travel Strategy
Of course this probably shouldn't be the only travel card in your portfolio. It won't replace cards with great signup bonuses and high percentage category bonuses (in other words, you probably won't give up any Chase cards to make room for this one).
But it definitely plays a role within a broader strategy. If you aren't working on a minimum spending requirement, then you should absolutely use this card for all purchases that don't earn a category bonus higher than 3 percent.
Once you accumulate points on this card, the redemption flexibility is going to take some of the headache out of your travel plans. How often do we cover the airfare and hotels, but forget to budget for Uber rides or silly things like in-flight wifi? Those are some of the annoying little costs that we sometimes end up paying for out-of-pocket, which keeps our travel less "free" than we would like. Even if we have cards with flexible redemption options, sometimes the minimum requirements keep us from taking advantage as much as we'd like.
Discover definitely realized this pain point and made this card to address it. Of course, you can still use this card to earn free flights or nights, but your best bet just might be to keep it on hand for all the odds and ends you'll encounter along the way.
Bottom Line
This is a great card to add to your portfolio, and there's pretty much no risk in doing so given the lack of an annual fee. The first year provides significant value due to Discover's match, and the ability to redeem for as little as one mile makes it the perfect complement to other cards. Oh, and the free wifi credit isn't a bad deal either. A card that promises to give you an annual $30 credit without asking a fee in return is a pretty sweet deal.
Richmond Savers has partnered with CardRatings for our coverage of credit card products. Richmond Savers and CardRatings may receive a commission from card issuers.