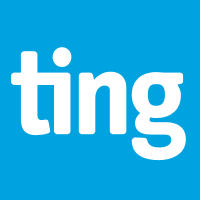 I consider myself pretty knowledgeable about low-cost cell phone plans. After all, I've managed to pay less than $30 per month for six years or so now. But I learned recently about a company that hadn't been on my radar before–and they offer some pretty sweet deals.
That company is Ting Mobile. It's funny, I first heard of their high-speed fiber Internet, because Charlottesville is one of the first cities where they launched, and we've seen LOTS of ads for Ting. But, it took me a while to discover that they are also offering cell phone service. I want to use this post to take a closer look at Ting's cell phone plans, and I'll share where the real sweet spots are hiding so that you can get the most value. I'll also explain where Ting differs from other low-cost carriers, like Republic Wireless.
You should know that I tested the service for a couple months, so that I could speak from actual experience. Also, keep in mind that if you decide to sign up with Ting, we have a special deal (through our link), that will save you $25. Alright, let's dive in.
The Basics
Ting is in many ways similar to other low-cost cell providers, but it also differs in a few key ways. Here are some basic facts about Ting:
They use a "bucket" pricing system, where you pay tiered rates based on how much data/talk/text you use.
They use a CDMA and a GSM network. The CDMA network is Sprint (like many other low-cost carriers), but it's really cool that they offer both.
You can bring your own device.
It's easy for multiple lines to share talk/text/data.
They report that the average bill is $23 per month, though it could be much lower.
The customer service is AWESOME.
Ok, so those are some basics, now let's look a bit more closely at the details.
Pricing
Ok, to be honest I didn't love the look of Ting's pricing model at first, but the more I've thought about it, the more it has grown on me. What I didn't like is that it can be hard to predict how much usage to expect for a given month. And, for things like text messages, I honestly have no idea how many I send/receive. We're kind of spoiled in today's world with "unlimited talk & text," so I wasn't sure that I wanted to have to start keeping track of that.
But then I started to look at it differently. First, I realized that I don't talk more than 1,000 minutes per month typically, or send/receive more than 500 text messages. Those are both big wins for this pricing model. But also, I think this is easy to turn into a game. Like I said, I don't usually worry about talk/text because it's "free," but now that I am being charged for it, I can start to think more strategically. It would be very easy to, for example, use Skype or Google Hangouts on wifi to talk to family, thus reducing your minutes. The same is easy to do with texts. For instance, my wife and I almost exclusively "text" over Google Hangouts, which won't count as data or a text message if we're on wifi. You get the idea, there are lots of opportunities to save using this model.
For one person…
If I kept a Ting plan long-term, my estimated baseline pricing would be about $28 per month. That's one line, with 500 minutes, 100 texts, and 500MB of data.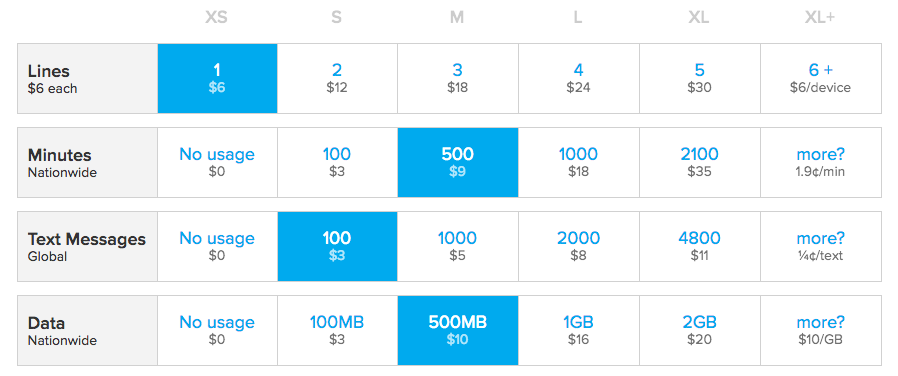 But, after the first month or so, I would be measuring and optimizing how much talk/text/data I use to drive this down even further. Driving this down to $15 per month (100 minutes, 100 texts, and 100MB of data) definitely seems doable and would be a great goal.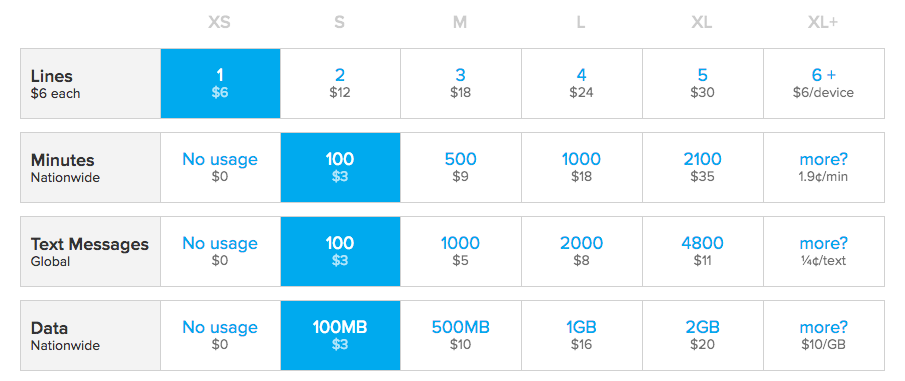 Multiple people on the same account
I think that Ting's biggest asset is that multiple lines can share the "buckets." This is huge, because of how the buckets scale up in size (for example, the jump from 100 texts to 1,000 texts is quite large), but the extra line fee is only $6. To me, this is the real sweet spot for Ting. Put multiple people on the plan, and you can save big time.
Not only that, but there's a very unique perk hiding here as well. Since Ting offers both a CDMA and GSM network, both types of phones can coexist under the same plan. So, if you have a Verizon phone (CDMA) and your spouse has an AT&T phone (GSM), you could both bring your devices to Ting, and share a plan! That's super convenient, and would save you the price of a new phone.
If my wife and I were to share a Ting plan, I'd estimate that a baseline price would be $42 per month (total, so $21 per line)–that would include 500 minutes, 1,000 texts and 1GB of data.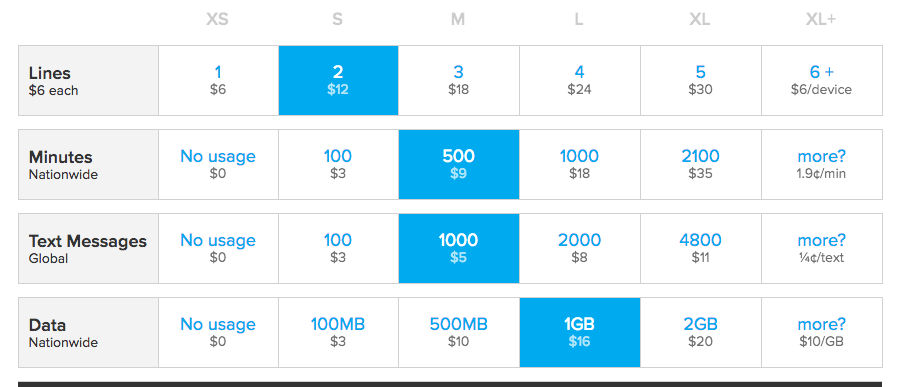 My wife is a bigger data user and texter than I am (some of that is due to her line of work), but I'm guessing we could still optimize and cut back. I don't see us going lower than $34 per month ($17 per line), and that would happen if we had a light texting month (100) and could each use very little data (500 MB). It's definitely doable.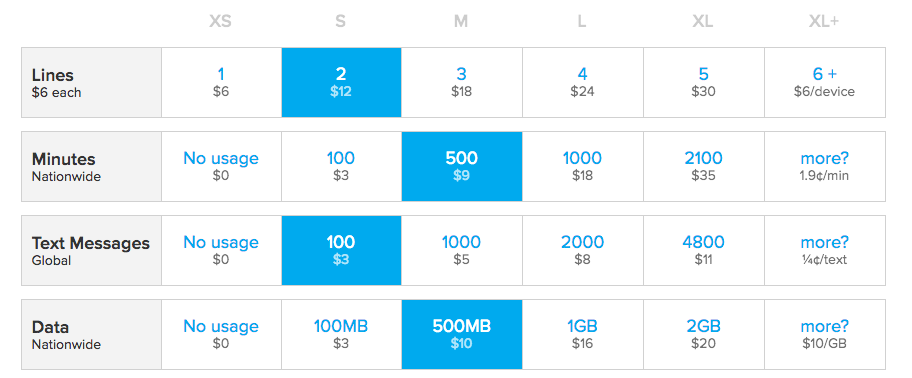 The ideal Ting user
After looking at the pricing model, I think many, many people can use Ting Mobile and save gobs and gobs of money over the traditional providers. But a few groups come to mind that could really take advantage of the pricing. Those are kids/teenagers and the elderly.
Parents, if your young children or teenagers need a phone primarily to text or call you (ie "Hey Mom, please come pick me up from practice because we ended early"), then this could be the perfect option. You might turn off data completely and explain to them that the phone is only for this type of critical communication. If that works for your family, the bill will be incredibly cheap with Ting, and even with multiple kids you'll take advantage of the low cost per line.
On a similar note, elderly folks who use their phones in a limited fashion will find the plans to be useful. The phone is there when you need it, but isn't costing you a fortune for minutes/texts/data that you'll never need or use.
A Word about International Travel
If you're someone who does a lot of international travel, then Ting can be a smart move for a few reasons. The main reason is that if you're frequently abroad, then that means you aren't using your phone domestically as much. So why pay for service that you aren't using? Ting's pricing model could be a perfect fit for you. Another reason is that Ting's network is quite favorable for international travelers, due to its flexibility. If you have a GSM phone, Ting will offer International Roaming at rates as low as $0.30 per minute. They actually outline the costs for every country. But whether you have a GSM or CDMA, your best bet (and what Ting recommends) is to get a local SIM card while abroad.
So it's that simple, plug in a SIM while you're abroad and then return to business as usual when you return home. Even folks who live abroad but frequently visit the US, like my brother who lives in China, can take advantage of Ting, using the Ting service as their "local SIM."
My Experience
I've used the Ting service personally, and found it to be incredibly smooth and reliable. The call quality was better and more consistent than other low-costs providers that I've used, and I liked the flexibility of the network. Being able to bring my own device is a must-have, and I also have a strong preference for good customer service, which is another area where Ting goes above and beyond. I wouldn't hesitate to recommend Ting to anyone whose usage aligns well with the pricing structure. I may not recommend it to a super-user, like a corporate executive who is on their cell phone all the time, but for a general user who is willing to gamify their cell phone experience in order to save some cash, this is absolutely a great opportunity.
Customer Service
I'd be crazy not to mention the customer service at Ting. Unlike almost everywhere else, when you call Ting you get an answer. A real, human voice answers the phone. That is such a big WIN, because when I have an issue with my cell phone it's often the sort of thing that I want to resolve as quickly as possible. The Ting reps are amazing, and I was actually shocked at just how knowledgeable they are about even the most technical details regarding the phones and networks. If you ever have to call them, you will be in good hands.
Ting vs. Republic Wireless
You may know that we are huge fans of Republic Wireless here at Richmond Savers, but now you can definitely add Ting to that list. We will be adding Ting as a recommended resource in our Toolkit, and I don't think you can go wrong with either of these providers. At some point, we could probably do an entire post comparing these two services. But, I'll try to summarize a few quick thoughts on the differences. A lot of this will come down to personal preferences and context:
Republic may have better baseline pricing for a single line, but you can save more with Ting by "gaming" your usage to keep prices low.
In many cases Ting will be cheaper for users with multiple lines (particularly users who won't use much, like kids/elderly).
Ting gets the nod in customer service, because humans are reachable by phone.
Republic's use of wifi calling allows you to get more for less, but Ting's dual-network flexibility will be a big advantage for some users.
Bottom Line
Well there you have it–that's Ting Mobile in a nutshell. If you think it could be a good fit, I hope you will check it out to learn more. Remember to use our sign up link, which will save you $25. Regardless of whether you use Ting or Republic, the important thing is that you aren't paying gobs of money to a traditional provider. This could be some serious low-hanging fruit in your budget, and this one change alone might be the easiest way to save hundreds of dollars in a single year.
Richmond Savers has partnered with CardRatings for our coverage of credit card products. Richmond Savers and CardRatings may receive a commission from card issuers.