Have you heard of Swagbucks? It finds its way onto most "how to make money online" lists, but I had never actually given it a try. That's mainly because I assumed that it was either too good to be true or just would require too much time and effort.
But I have some good news! One of our readers submitted this helpful guide on how to make the most of Swagbucks by only spending five minutes a day. This is perfect, because most of us won't have too much time to invest in it, and five minutes is pretty easy to pull off while watching TV or doing chores around the house. If you follow this guide, you'll earn at least a $25 gift card in the first month, and at least enough points for another gift card every 35 days afterward. Of course you can scale this up or down as you see fit:
Step 1: Sign Up with a New Email Address
When you sign up for Swagbucks, you'll probably want to use a new email address, because if you later sign up for offers to get more points you will receive quite a bit of mail. The easiest way to keep up with this is to use your normal email address but add "points" to the address. So, for example, rather than brad@… you would use bradpoints@…
Step 2: 60 Points from Swagbucks Video Apps
There are six Swagbucks video apps that provide easy ways to accumulate points. They are called SBTV, EntertaiNow, Indymusic, MovieClips, Sportly and Lifestylz. You can play these throughout the day. While they sometimes get stuck on an advertisement, they generally play on without your guidance.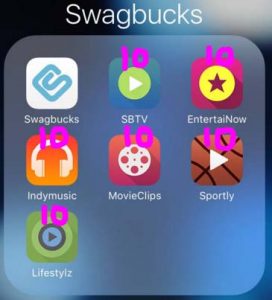 SBTV
This app will earn 2SB for every 6 videos watched, for a total of 10SB a day. To make this go faster, look in the "Home & Garden" section in the menu and look for "10 second tip…." videos. Add them to your Favorites list by placing your finger on that video and pulling to the left, then let go. Then play your Favorites list, even if it's only one video.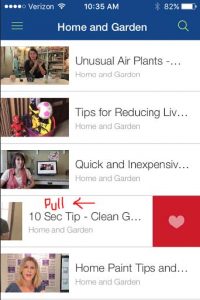 Other Video Apps
EntertaiNow, Indymusic, MovieClips, Sportly and Lifestylz all earn 2SB for every 15 videos played, for a max of 10SB each. Again, you can add short videos to your favorites list to make this go faster. Lifestylz has a Home & Garden section, so look for those 10 second videos there. The others all have "Short Clips," filled with comedians. There is usually someone in there who is less than 20 seconds. Some of the apps have "TV Spots," and there are lots of short clips in there. You will start recognizing them and making a favorites list fast.
Step 3: 10 POINTS from Swagasaurus
On the computer go to "PLAY" on the left. Scroll all the way down and pick "Swagasaurus."
You will earn 2SB every other game. You don't have to even "play" the game (though it is quite fun), and you could just let the dinosaur run off the cliff. Your score makes no difference here in earning SBs. You can play and earn 10SB a day.
Step 4:­ 1-4 POINTS from To Do List
On the left side of the screen, you will see a To Do List, which will give you 1 to 4 points for completing at least 6 of the 8 items. Complete all 8 items on your to do list, and you'll receive an additional and even bigger SB Bonus! Keep in mind, you may also get points from the tasks themselves.
Redeem Your Gift Card
If You follow just the first 4 steps above each day for one month, you'll end up with at least 2,220 points (74 x 30). That's perfect, because in the first month you only need 2,200 Swagbucks to earn a $25 gift card. After that, you'll need 2,500 SBs, which will take just a few more days to earn. Or, you can follow the additional tips below to earn a few more points each day.
Extra Tip #1: Bonus Points from Daily Goals
At the top of your screen, make sure you click "Daily Goals" and "enroll" in them. Each day they will give you a bonus if you reach the first Blue Goal. Once that is hit, a higher Red Goal is set. If you reach that also, then you get that higher bonus instead of the Blue Goal bonus (It's usually about 10% of your goal).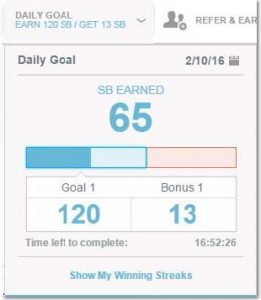 You will be alerted to claim these points at the beginning of the following month, as one lump sum. Also notice the "Winning Streaks" in that Daily Goal drop down. You can earn bonuses based on 7, 14, 21 or whole month streaks of hitting Daily Goals. It's not cumulative. You will earn the points based on the highest goal you reach (300 max, not the sum of all levels).
Extra Tip #2: Swagbucks Search Engine
I made Swagbucks my search engine by visiting http://www.swagbucks.com/default­your­search. That's a preference­ but I have earned 160pts over two weeks from this alone. I usually try searching in the morning and get 4­8 SBs awarded after a few searches. Once I get that award, I am happy and just try later in the day again for another award of 4­8 SBs on average. Try to leave about 30 seconds between searches. Even if you aren't comfortable with it being your default search engine, you can always just go to Swagbucks and search in their search bar for the same results.
Extra Tip #3: Surveys
I know lots of people want to avoid surveys because they are much more hands on. But if you get lucky and qualify for some nice-sized surveys, you can rack points up fast. That said, they can also be frustrating when you go through so many questions and then you get booted for not fitting their criteria or they fill all the openings mid­ survey and you get booted. I do try them every day and when my patience is gone, I try again the next day. Make sure you sign up for getting surveys sent to your inbox (you'll do that on the right side of the "Answer" homepage).
They will send you emails for surveys you prequalify for, so in most of those cases it's a guarantee that you'll get to complete it and earn the SBs. I have found these more in my email, and not my Swagbucks account inbox, but there may be a setting to change that.
Extra Tip #4: "Laptop Guy"
He's not always around but you can look for "Laptop Guy" on the homepage, or when you click on "My Account" he may pop up in the banner at the top.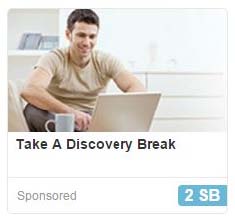 You just click "next" every 20 seconds or so, which is incredibly easy to do while watching TV or doing work on the computer. Sometimes it only allows you to go through once (2 SB), but other times you can get loads of points out of it. I got 50SB once from him and only stopped because I had to go to bed!
Extra Tip #5: Sponsored Videos: 2 or 3SB
This is similar to the tip above where you just click through every so many seconds. The number of times you can keep cycling through depends, but I just go until they say there is no more content. You'll typically earn 2 or 3 SB doing this. These are the two pictures to look for specifically on the homepage.

Extra Tip #6: Peanut Labs Offers
Click "Answer," then "Peanut Labs," and scroll down to the list and sort by "Lowest Reward." You'll earn an easy 1­-3 SBs for just opening a page, article, or watching a slide show.
In most cases, I've found you really don't have to click the slide shows, or answer the surveys. Just keep the page open so that the option to "continue" appears at the bottom banner and follow its directions.
Extra Tip #7: Inbox
Check your inbox on the Swagbucks site. Sort the same way as above and some of the same easy offers may be there.
Most inbox offers credit immediately and you need to do nothing. Also be on the lookout for the easy 2SB banner that sometimes pops up at the top of your inbox page.
Extra Tip #9: Two Sections to Avoid
I have learned to ignore anything from "Lifestyle Advantage," or "Free Samples." They never seem to credit but have no trouble taking all of your information in their forms!
Good Luck with Swagbucks!
I know this might seem like a lot, but even if you just earn $25 per month, that is $300 in a year. And the key is to get into a rhythm, and look for things that primarily involve mindless clicking and very little time.
We do really well because my husband has an account. So we replicate all these steps in his account, or as much as we can, to essentially earn double each day. I'd never be able to earn 200 pts/day with just my account, but it's easy for us to both earn 100 pts/day!
Are you going to give Swagbucks a try? If so, sign up here! And let us know how it goes.
Richmond Savers has partnered with CardRatings for our coverage of credit card products. Richmond Savers and CardRatings may receive a commission from card issuers.