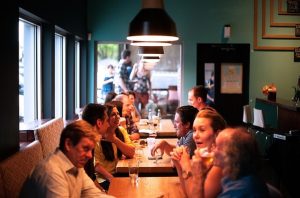 Spending money on food is a good way to burn through your budget if you aren't careful. So, we are always looking for ways to save on that expense. The most obvious strategy is to avoid eating out altogether, but even this is inevitable from time to time. After all, eating out is a fun way to relax with friends, and a good way to explore local culture (checking out all the good restaurants nearby).
So here's the best approach: spend as little as possible on dining, but when you do spend money be sure to get the best deal. Does that make sense? Well, right now there are two great deals on dining that you might want to take advantage of. Important note: The American Express offer mentioned below is now expired.
Unlimited 4 Percent Back on the Capital One Savor Cash Rewards Credit Card
This is a fairly new credit card, and it looks to be a low-maintenance way to earn more on your dining expenses!
This card provides 4 percent back on dining expenses and entertainment expenses, 2 percent at grocery stores, and 1 percent on everything else. Not only that, but there's a $300 cash bonus after you spend $3,000 in the first three months. There isn't an annual fee in the first year, but it's $95 after that.
This could be a great card to add to your portfolio, particularly if you've taken advantage of most of the high-profile signup bonuses. Keep it in your wallet for whenever you're eating out, and you'll rack up some significant savings over time.
Richmond Savers has partnered with CardRatings for our coverage of credit card products. Richmond Savers and CardRatings may receive a commission from card issuers.