A cruise is the ultimate vacation. You get to sail away to an exotic location, all while eating, drinking and playing to your heart's content. But cruises can be very expensive. Luckily, with smart use of credit card rewards and other hacks, you can save quite a bit of money on cruises. But there's one tactic that's probably best to avoid—cruise line credit cards. They just don't stack up against the better travel cards.
If you've ever been on a cruise, chances are you've seen someone trying to get you to sign up for their cruise line credit card. Every single Carnival cruise I've been on has had multiple people trying to get me to sign up. They even offer you a free cheap lanyard or a cheap string bag if you simply submit an application. Unfortunately, cruise line credit cards are rarely a good idea. Yes, they'll give you a credit limit to spend while you're on your cruise, but you'll have to pay it back, plus interest, when you get back home.
Cruise Line Credit Cards
Here are some of the more popular cruise line credit cards and how you can earn rewards with them. Keep in mind, this is just a sampling of a few popular programs–there are actually many cruise cards available. Name a cruise line and guess what–there is probably a credit card for it. But the programs are all fairly similar.
Cruise credit cards are pretty awful. Most only offer bonus points on purchases made on their cruise lines which don't cover much of a person's regular spending.
The earnings potential is very low, and doesn't come anywhere close to the value offered by the best travel rewards cards. We'll talk about a few better travel cards that are perfect for cruises at the end of the post.
Carnival World Mastercard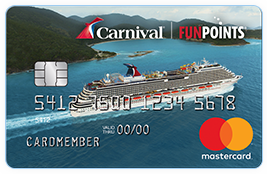 Carnival's credit card offers 2 FunPoints per dollar spent on World's Leanding Cruise Line purchases, which include a group of cruise lines Carnival owns, and 1 FunPoint on all other purchases. You'll earn 10,000 bonus FunPoints after your first non-Carnival purchase which you can use for a $100 credit toward your next cruise purchase on their participating cruise lines.
However, I was recently on a Carnival cruise that had a different sign up bonus. If you signed up onboard or took an application home, you could earn 20,000 bonus FunPoints after making your first non-Carnival purchase.
Holland America Line Rewards Visa Card
Holland America's credit card offers 2 points per dollar spent on Holland America purchases and 1 point per dollar spent on all other purchases. You can earn a bonus 5,000 points after making your first purchase which you can redeem for a $50 on board credit.
Princess Cruise Rewards Visa
The Princess Cruise Rewards Visa card offers 2 points per dollar spent on Princess purchases and one point per dollar spent on all other purchases. You can earn 10,000 bonus points after you use your card for the first time and the 10,000 points can be redeemed for a statement credit toward your next cruise purchase.
Disney Premier Visa Card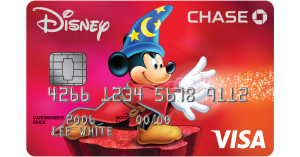 We've talked about this card before, in the context of planning a trip to Disney World. But while the Disney credit card isn't strictly a cruise credit card, you can use it for cruising as well. You'll earn 2% in Disney Rewards Dollars on purchases at gas stations, grocery stores, restaurants and most Disney locations and 1% in Disney Reward Dollars on all other purchases. You can earn a $200 statement credit by spending $500 in the first 3 months from account opening, but there is a $49 annual fee.
The card does offer special 0% promo APR financing for the first six months on select Disney vacation packages. It also offers a handful of other 10% off perks for select Disney purchases.
Why Cruise Credit Cards Don't Stack Up
Cruise credit cards are pretty awful. Most only offer bonus points on purchases made on their cruise lines which don't cover much of a person's regular spending. The signup bonuses are rather anemic compared to other travel cards, too. Sure, they could be useful as part of a larger plan to save on your cruise costs, but they should be very low on your list. You wouldn't want opening a cruise card to prevent you from being able to open better cards with higher rewards and signup bonuses, either.
Here are a couple travel credit cards that will likely earn you much more in rewards and are perfect for redeeming for cruise expenses. These cards make the process WAY simpler. Try one of these options and save $400+ on your next cruise without the hassle.
Capital One Venture Rewards Credit Card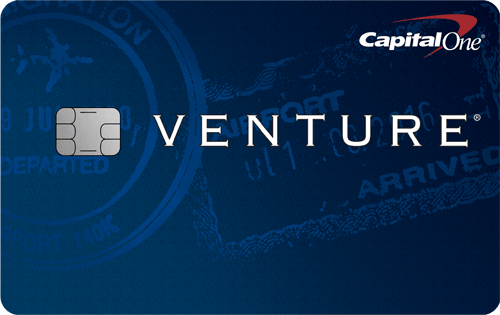 The Capital One Venture card offers 2 miles per dollar spent on all purchases which, again, is much better than any cruise credit card. The current offer is 60,000 bonus miles when you spend $3,000 on purchases in the first 3 months after you open the account. There is a $95 annual fee. The bonus is worth $600 of free, flexible travel. This is a fancy metal credit card and offers no foreign transaction fees, which can be useful when cruising.
This is a flexible option. The ease of redemption and the current high bonus, makes it a great pick for cruise enthusiasts.
Chase Ultimate Rewards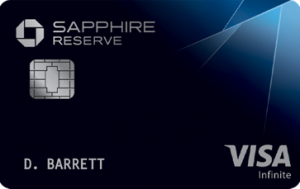 This is another great option to save on cruises. Keep in mind, there are many great ways to use these points, so you'll have to think carefully about whether a cruise redemption is the right choice. But it's certainly a great way to save, and with the right card/strategy you'll save more then the other signup bonuses.
In terms of new cards, your two best bets are the a Chase Sapphire Reserve (pictured) or the Chase Sapphire Preferred. In terms of cruise redemptions, you'll get 1.5 cent per point value if you have the Chase Sapphire Reserve card or a 1.25 cent per point value if you have the Preferred. That's a pretty good discount–if we assume the cruise is $1,000, you'd only need 66,667 Ultimate Rewards points to book for free with the Chase Sapphire Reserve.
Recap
It's clear that general travel credit cards offer much more value than almost any cruise line credit card out there. Don't get sucked in by the offers on cruise ships because you can do much better by doing just a little bit of research either before you leave or after you get home.
Richmond Savers has partnered with CardRatings for our coverage of credit card products. Richmond Savers and CardRatings may receive a commission from card issuers.