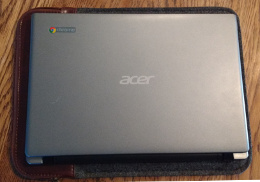 I'm writing this post from the clouds, on the way back from Havana, Cuba where I spent a week with some old and new friends. And believe it or not, at the age of 27, this was my first time traveling abroad!
As a first-timer, I gave a lot of thought to preparation for the trip. Most of that was spent thinking about what could go wrong and making a plan to address it. I quickly realized that one of the worst (financial) things that could happen to me abroad would be to have my laptop lost or stolen. When I stopped to think about it, I realized that my laptop, a souped-up Macbook Pro that used to belong to my wife who is a graphic designer, is more valuable than every other item I was packing on the trip combined.
Not only does it have financial value, but it's something I use every day for work, and of course there are some important files on the machine (even if most of them are also backed up). I realized that I needed some sort of insurance policy against potentially losing the laptop.
That insurance policy turned out to be a $60 used Chromebook.
Chromebook Advantages
I've been intrigued by the Chromebook since it hit the market, but never pulled the trigger on getting one. It's super lightweight, both in terms of size and software. With most models (or maybe all), you don't download programs to the machine, instead you use apps exclusively. That might not work for everyone, but it definitely works if you're traveling and just need to access email and basic documents and spreadsheets. All of that can be done in a web browser and alongside Google Drive.
One cool feature about Google Drive is that you can turn on offline editing, which means even if you don't have an Internet connection, you can keep working on stuff, just as if it were Microsoft Word or Microsoft Excel.
I found this setup to be ideal and super easy to use while traveling. My Chromebook model (C710) is from 2013, and isn't one that's particularly nice or advanced. In fact, I purchased it from an elderly woman, so it's very simple to use and doesn't have all the bells and whistles. Still, I got a great deal. I didn't see any used listings online for under $110 for the same laptop, but I paid $60!
Like with anything, there are degrees of quality based on various specs, but you really can't go wrong with a base model for, um, basic use.
How to Buy
I bought my Chromebook on Craigslist, and I'd say that's a natural starting place. I inspected the computer carefully, made sure I could log in in with my Google account, checked the battery life, and did a couple reboots. When that all went smoothly, I walked out thinking $60 was a steal. One great additional perk was that the previous owner hadn't taken advantage of some of the offers that came with the computer. So for example, I got a free year of 100GB of Google storage because that offer hadn't been claimed.
There are also some good places online to buy used Chromebooks. Swappa looks like one of the best options, and the laptops are inspected before they're resold.
And then of course there is Amazon in case you'd prefer to buy new. If I was buying new, I'd probably go with this Acer Chromebook 14, which has been well rated and is a good overall value (current price is $285).
Perfect for Travel
At the end of the day, this was my creative solution to a problem. I had so much peace of mind by NOT having my Macbook Pro with me, and it was nice to still have a way to check email and get a little work done. There were long periods of time when I left my Chromebook in the hotel, and others when I carried it around the city. It was perfectly fine and safe, but honestly if it had been stolen or lost I wouldn't have lost an ounce of sleep.
Luckily that didn't happen, and you can bet I'll be taking the Chromebook on my next excursion, regardless of whether it's foreign or domestic. Do you have any creative travel "insurance" stories? How do you protect your valuables?
Richmond Savers has partnered with CardRatings for our coverage of credit card products. Richmond Savers and CardRatings may receive a commission from card issuers.