Here's the thing about saving money: it needs to be as painless as possible. Otherwise, you're wasting your time, and time is money too. When it comes to apps that promise to help me save or make money, I'm immediately skeptical. Most of them are gimmicky and take way too much of my time. Things like watching videos and doing surveys to get paid definitely aren't bad ideas, but they aren't things I can easily work into my everyday workflow.
But every once in a while something comes along that is so easy and intuitive to use that it's actually worth my time, all the time. And I fold it into my daily routine in a way that consistently saves me money without costing me a lot of time. That's exactly what my wife and I have been doing with a free grocery shopping app called Ibotta, paired with our favorite credit card for groceries.
Groceries are low-hanging fruit, pun intended, in many people's budgets. It's very easy to squeeze out some noticeable savings with very little effort, and Ibotta makes it even easier.
What I love about Ibotta
Let's get this out of the way first. I don't know the official pronunciation of Ibotta, so I'm saying it like "Hey honey, I bought a ton of groceries for cheap today thanks to this sweet app." I hope that's what they're going for, because it works.
Ok, like I said, this app is so handy. And while I probably haven't yet tapped all of it's potential, there is quite a bit that I love about it. Here are some of my favorite features…
Signup Bonus
Ibotta is offering a $10 signup bonus to our readers when you
sign up with our link
and make a redemption within the first 7 days. It's super simple (just one redemption) and a good way to get a feel for the app.
It Works Nearly Everywhere
Another great thing is that the app works in SO many place. From Whole Foods, to Kroger, to 7-11, it's got you covered at a wide variety of spots. It also works for some online retailers, like Amazon, along with other physical retailers like pharmacies, clothing stores, and restaurants.One cool perk is that if you have location services turned "on" on your mobile device, Ibotta will often remind you when you arrive at a qualifying retailer, making it easy to look at available offers.
Frequently Offers Easy Money
In addition to the signup bonus, there is lots of other low-hanging fruit. You can pick up cash back with very simple promotions, like the back to school deal or a general grocery redemption. For example, I've frequently seen deals from $.025 to $1 cash back just for any grocery purchase. Here's a look at the current back to school deal to earn $5 cash back just by making one qualifying back to school purchase:
Discounts on beer?!
You don't see coupons for alcohol very often (at least I don't), but Ibotta frequently has cash back deals on beer and wine at grocery stores. It also works at some liquor stores, but your luck will vary by state.
Search By Store
You can look directly for products on Ibotta, but my favorite way to sort and plan is to search for the name of my preferred grocery store first. So, if I know I'm going to Kroger, or Costco, or wherever, I'll enter the store name in the search bar, which will bring up deals specific to that chain. This saves some potential frustration if you were to find products on sale elsewhere in the app, but they weren't available on sale at the place(s) where you actually shop.
Unlocking is Easy
So here's the thing, in theory the rebates are "locked" and you must "unlock" them to use them. Unlocking can apparently involve watching a short ad, reading a brief blurb, commenting on a product, or posting to your Facebook page. The good news, is that many rebates don't require any actions at all, in my experience. And I've only had to watch the occasional short video.
I'm not sure that I'd want to post to Facebook, but I also don't know how common that requirement is. If your experience is like mine, you shouldn't encounter those obstacles too often.
You can Scan the UPC
While it's usually obvious to tell if the item you are purchasing matches the eligible item in Ibotta, there's an easy way to double check.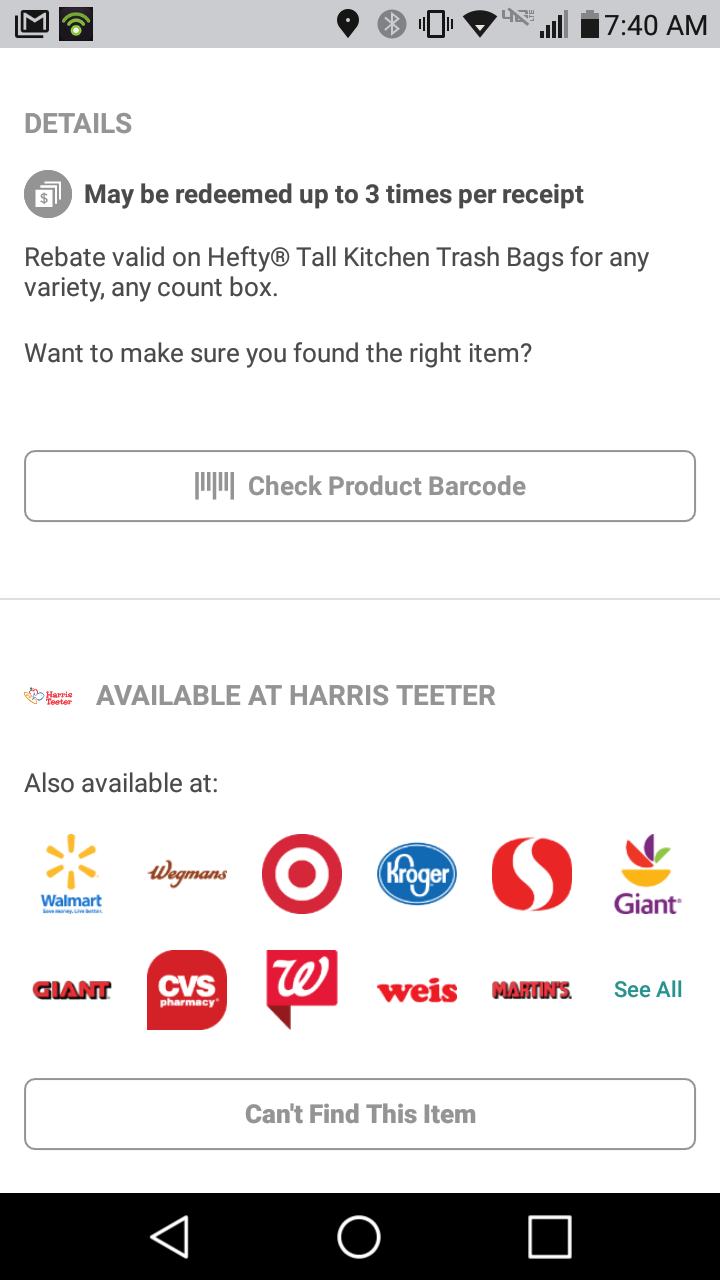 Under the item listing on a rebate page (like in the screenshot above), you'll see the option to scan the UPC code. Once you do that, Ibotta will show a green check and "Matches Offer" if it's a match.
Integration with your Loyalty Program
This is a cool feature, and one I hope Ibotta can expand. For some retailers, it allows you to sync your loyalty card with the app. This means that you can bypass the need to photograph your receipt, because the information has already been recorded.
I don't think this is a widespread feature, but it does work for Food Lion.
Easy Referrals
Once you're a user, you can share a referral link with friends and family, and you'll earn $5 when they join and make a redemption.
Quick Redemptions
You're probably screaming at the computer by now, "Yes, but how do I get paid?!?" Luckily, it's very easy. When you upload a receipt, Ibotta processes it very quickly and adds the credit to your account. Once you have $20 or more in credit, you can cash out either through Paypal or Venmo or by choosing a featured gift card. It's a painless and easy process.
General Process
Ok, so that's what I love, but let me give just a quick rundown of how the process works and cover the exact steps to take. Here it goes:
1) Download the app for free HERE. Using Our link gets you a $10 bonus with your first redemption.
2) Find your rebate(s). You can do this before heading to the store or while you're there.
3) Redeem them by clicking the + button and performing the required action (if any).
4) Purchase the items.
5) Capture and upload image(s) of your receipt, unless your loyalty card is synced.
6) Once you have at least $20, tap "Withdraw Cash" under "Account" and get paid via Paypal or Venmo, or choose a gift card.
It really is that simple. If you're interested in trying Ibotta, then register and let us know how it goes! I have really just scratched the surface in this post. There are other great features as well, like the ability to earn more with tiered bonuses and the option to form "teams" with your Facebook friends. So I'm sure you'll find lots to do and experiment with.
Why I Use Ibotta with the Blue Cash Preferred®
One more thing worth mentioning. Yes, Ibotta is a great tool. It saves time vs sifting through coupons and inventing some sort of triple stack scheme that only saves $.50 or less. But maybe the biggest change I've made to my grocery shopping is the habit of always using the Blue Cash Preferred® Card from American Express.
This card earns six percent back on grocery purchases, and that's actually a very significant savings over time, especially when I don't have to give it any thought and it's always on auto pilot. There's also a generous welcome offer and some other perks (terms apply):
Earn a welcome offer award of $300 when you spend $3,000 in the first six months
Earn six percent back on up to $6,000 in purchases at US supermarkets (excludes warehouse clubs)
Earn six percent back on select US streaming services
Earn three percent back at US gas stations
Earn three percent back on ground transit (like bus, train, ferry)
$0 annual fee the first year then $95 annual fee (see rates and fees)
All in all, this has been a go-to card for me in recent years. And I think it can make a ton of sense for many people, especially if you're currently using a 1 or 2% cash back card, which is pretty measly in comparison.
Have Any Tips?
Maybe some of you have used Ibotta before. If so, I hope you'll share some tips with the rest of us. If you haven't used it, give it a try and let us know what you think!
To see the rates and fees for the American Express cards featured, please visit the following links: Blue Cash Preferred® Card from American Express: See Rates and Fees
Richmond Savers has partnered with CardRatings for our coverage of credit card products. Richmond Savers and CardRatings may receive a commission from card issuers.