Earning credit card rewards can be quite lucrative. It isn't unheard of for people to earn thousands of dollars in rewards each year. Unfortunately, it isn't always easy to learn how to maximize your credit card rewards based on your spending. If you don't know what you're doing and don't read up on the subject, you could be missing out on some serious rewards.
In an ideal world, you'd simply have one credit card that allowed you to earn a massive amount of rewards everywhere you shop. Sadly, that will never happen as credit card companies wouldn't earn as much. Instead, credit card issuers fight for your business, trying to make their credit card your card of choice.
Some Cards Use Total Spending Tools to Show Potential Rewards
One way credit cards try to win you over is by showing you the potential rewards you could earn if you used their credit card. One popular travel credit card, the Capital One Venture (now dubbed the best fixed-value card), has an interactive tool on their website that allows you to input your monthly spending and will then calculate your yearly rewards if you use their card for all of your spending. Other card companies have similar tools, so we're just using Capital One here as an example, like in this screenshot from their website: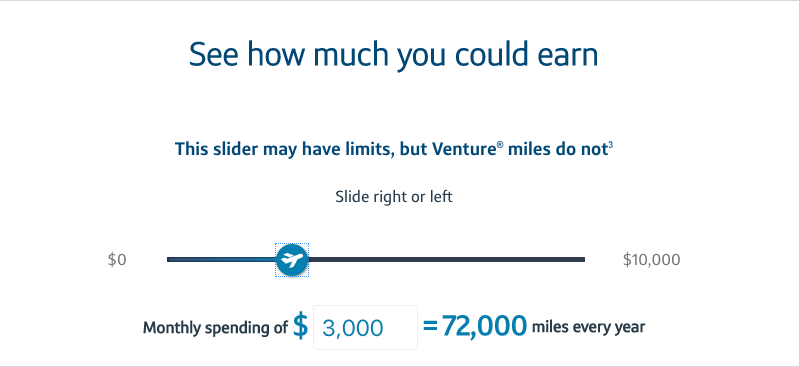 Look, the Capital One Venture is a great credit card, but not because of how much money you put on it each month.
While this large number can make choosing their card tempting, it is rarely the right choice to only use one credit card if you want to maximize your rewards. On top of that, much of a person's normal monthly spending may not be eligible to be put on a credit card in the first place. Here's why choosing a credit card based on total monthly or annual spending is a bad idea.
Bonuses Provide Amazing Value per Dollar Spent
One reason you shouldn't use monthly/annual spending calculators for credit card rewards is that sign up bonuses are lucrative. Believe it or not, some credit cards offer sign up bonuses valued at $1,000 or more.
If you work toward earning multiple signup bonuses per year, your annual spending number really has very little impact on how good of a fit a credit card will be for your personal spending…
In order to qualify for many of these bonuses, the cards require you to put a decent amount of spending on the new card in a short period of time. Sign up bonuses usually give you an insanely awesome number of points per dollar spent when you run the numbers.
Not sure how this all works? Check out our Beginner's Guide.
While some cards offer to award the bonus after your first purchase, others require $500, $1,000, $3,000 or even $5,000 or more to earn the full signup bonus. Every dollar you spend toward earning a signup bonus is one less dollar you input into the annual spending calculators to calculate rewards for other cards. If you work toward earning multiple signup bonuses per year, your annual spending number really has very little impact on how good of a fit a credit card will be for your personal spending since your spending will be split over a variety of cards rather than all on one card.
Rotating Categories or Bonus Categories Can Offer Better Returns
If the calculator you use assumes a flat rate of rewards or cash back for your spending, you can likely do better with a couple credit cards that offer rotating categories or bonus categories. For example, the Discover It Cashback Match, offers rotating categories.
For Q4, it's offering 5 percent back at Target and Amazon. This is perfect for the holidays, but even better news for new card holders. Since Discover matches the earnings from the first year, you'd effectively save 10 percent at Amazon and Target for the rest of this year as a new card holder.
Have a Fall Back Card for All Other Purchases
Even though putting all of your spending on a single credit card may not provide you the highest cash back or rewards possible, you should definitely have a fall back credit card to use. Why? You won't always be working toward earning a sign up bonus and sadly not every purchase will fall in a bonus category on one of your other credit cards.
For that reason, I always carry a credit card that offers a flat 2 percent cash back on all of my purchases. While 2 percent cash back isn't anything groundbreaking to write home about, it is double the typical 1 percent cash back you earn on all other purchases on many rewards credit cards.
But the best deal we are aware of is the Discover It Miles – Unlimited 1.5x Rewards Card. It earns 1.5 percent cash back, but in the first year your earnings are matched. So, a great plan is to open the card to take advantage of this for a year. Then, if you want, you can always substitute a flat 2 percent card.
If you're going to put a number into a rewards calculator, you really have to know how much you'll spend on that one card, not your monthly spending. That's the only way the calculators are actually useful.
Richmond Savers has partnered with CardRatings for our coverage of credit card products. Richmond Savers and CardRatings may receive a commission from card issuers.