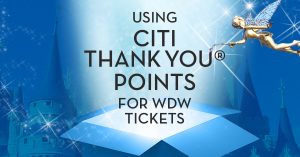 I am always on the lookout for new ways to buy Disney World tickets with points. Even though we have some tried and true methods in our full Disney guide, you might need other options for free tickets. Maybe you are taking a second free Disney trip (as many of our readers plan to do). Or, maybe you have a big family and need lots of tickets. Or maybe you already used the Barclaycard Arrival Plus and Capital One Venture for a different travel goal.
Whatever the case, we've got your back.
Booking with Citi "Cruise" Agents
I was SUPER pumped to learn a few months ago that Chase Ultimate Rewards can be used to purchase Disney World tickets. You can see that guide here. But then I got to thinking, "hmm, I wonder if Citi offers the same deal." I tried calling the Citi cruise line (this will make more sense in a second) a few times but couldn't get through because it was after hours. I wondered why their customer service hours were more limited than typical customer service reps, and then I realized that they are exactly the same hours as Chase's "cruise line."
Then I got super excited. Because I knew this was a good sign. As it turns out, Chase and Citi both use a third-party for some of their reward bookings. That third-party is called Connexions Travel, and it's one of the best things that could ever happen to Disney fans.
Booking Disney World Tickets with Citi
We don't need to get too far in the weeds, but here's the scoop: When you reach a Connexions Travel agent, they can book Walt Disney World Tickets with your Citi ThankYou Points. ALL you have to do is call the main Citi Redemptions number at 1-800-842-6596 and go through the prompts. You'll probably get a general redemptions agent first. Then you should say, "Please connect me to a cruise agent." That is the MOST IMPORTANT part. You must speak to a "cruise agent" (this will be the Connexions Travel agent) specifically. If you talk to any other agent at Citi, they are going to tell you that they don't offer Disney tickets.
That's when you know this is an awesome secret–even Citi reps don't know about it!
Redemption Rates
Right now, the best deal is the Citi ThankYou Premier card because it has a generous signup bonus AND the points are more valuable. If you have a Premier card, then you can redeem your points at a rate of 1.25. If you have Citi ThankYou Points without a Premier card, then you redeem at a 1:1 rate.
Here's an example. At the time of writing, a 3-day Adult Park Hopper ticket is $370 on the Disney World website. So here's how many ThankYou Points it would cost:
Cost with Premier card: 29,600 points
Cost without Premier card: 37,000 points
This is great, because for less than 60,000 ThankYou Points, you could have two 3-day Park Hopper tickets. And if you wanted 2-day instead, or even a 3-day basic ticket, you could get either of those for less than the 50,000 points offered by the current signup bonus.
Which Tickets are Offered
Citi keeps it really simple here. The agent will redeem your ticket(s) using what's available on the Disney website. This makes planning very easy, and you can even take advantage of any special sales Disney is offering when you go to book. Also, it means there aren't blackout dates or inventory concerns unless Disney were to sell out!
So if you're looking for another great option for Disney tickets, check out the Citi ThankYou Premier, with a current bonus of 50,000 points when you spend $4,000 in the first 3 months. That will earn you at least 54,000 points, worth at least $675 in Walt Disney World tickets!
Richmond Savers has partnered with CardRatings for our coverage of credit card products. Richmond Savers and CardRatings may receive a commission from card issuers.