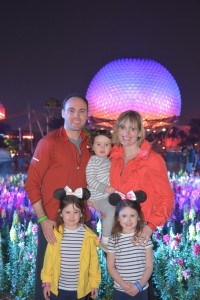 Hey, this is Brad from Richmond Savers and today I wanted to bring you the story of a real family who followed our Disney plan, took advantage of the personalized help we offer and saved big money with just a few months of planning. They actually took this trip TWICE with points. I'd love to help you in the same exact way in our free coaching program, called Keys to the Magic Kingdom Challenge. You can apply here.
Ellen and Kevin from North Carolina took their three young daughters on a dream trip to Disney World this using this plan. And they did it TWICE, which means double the savings!
Q&A with Ellen
Q: How did you first hear about the Disney Travel Rewards Coaching Service and how has the step-by-step guide and personalized plan helped make this a reality for your family?
Ellen: The owner, Brad Barrett is a friend of ours from college, though we hadn't been in touch in years.  When we noticed the buzz his website, Richmond Savers, was receiving on social media we immediately took interest.  Kevin and I have three young girls and were very eager to take them to Disney World.
With other financial obligations and overall savings goals, we thought it was going to be a long term thing.  Luckily, Brad helped us every step of the way to plan our special Disney trip within a few months and we received free hotel accommodations as well as nearly free park tickets by strategically using travel credit cards for our everyday expenses.
It was very simple with his help.  We would never have taken the time to figure out these benefits on our own, and to have someone who we trusted and who was so eager to help us guide us through the process made it so simple.
Q: Tell us about your Disney trip:  How many people went and what were you able to book using points?  How much do you think you saved in total?
Ellen: Our family of five went to Disney World for five nights.  We stayed at the Disney Swan hotel solely using credit card points.  We had one room for the five of us and it was a comfortable squeeze.  We would absolutely stay there again.  The Swan upgraded us to a room with a small balcony and a view of the Epcot Ball and fireworks every night.  It was incredible for all of us to watch fireworks from our beds!!
We were also reimbursed almost completely for four five-day Park Hopper Tickets purchased from Undercover Tourist using the Barclaycard Arrival Plus credit card. (We have a family of five but our youngest was still two, so she did not require a park ticket). We chose to drive to Disney World because the drive was manageable, but we have friends that used Brad's system and were also able to easily put their points towards flights for their families.
Q: From start to finish, how long did it take you to open all the necessary credit cards, earn the points and book all your (nearly) free travel?
Ellen: It did not take us more than six months in total.  I think we could have completed it even faster based on our regular spending but six months gave us plenty of time to earn all of the necessary points for the hotel and park tickets.
Q: Was following the plan and booking the travel easier or more difficult that you had expected when you first learned about it?  
Ellen: It was so incredibly easy and Brad was extremely responsive and helpful every step of the way.  I have referred him to other friends and all have had the same wonderful experience that we did.
Q: What advice would you give to other families who are thinking about getting started with the Disney plan?
Ellen: There is zero hesitation on my part to tell families that they are crazy NOT to do the Disney plan. We had a truly magical trip that we will never forget and we plan to continue using this plan every time we take our family to Disney World which will be often!
---
Ready to Plan Your Trip?
Wow–A big thank you to Ellen for sharing her family's amazing savings on their WDW vacation! With just six months of planning for their first trip they were able to get five nights at the Disney Swan ($1,500 savings) plus nearly a $1,800 savings on their Disney park tickets! Now, are you ready to plan your family's dream vacation, and score a Disney getaway for pennies on the dollar?
I hope you are, and I am ready to help! Our Keys to the Magic Kingdom Challenge is an absolutely free program, which provides access to detailed tutorials and videos, a private and supportive Facebook group full of other travelers, and unlimited personalized planning advice catered to your family's unique needs. I can only work with a limited number of families at a given time, so apply now!