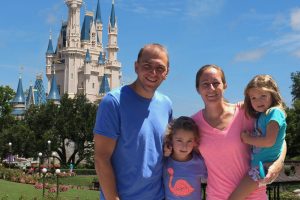 As featured in the New York Times, CBS and NBC, here's our step-by-step guide on how to take a nearly free family trip to Walt Disney World ($4,000+ savings) using credit card rewards points!
We're going to cover everything in detail below, but you can also download our checklist of the plan for your reference. And, you can sign up for our Disney Challenge, where we're helping 500 families plan their dream Disney vacations.
Are you headed to Disneyland in Anaheim instead? If so, be sure to check out our guide to visiting Disneyland for free.

What We'll Cover
Use the links below to jump ahead to a section.
The Basic Method
To make this trip happen Laura and I opened a few new credit cards and used them for our regular spending in order to earn the significant signup bonuses that were offered with those cards. Since we pay these cards off on time and in full every month, this didn't cost us anything at all. We are both CPAs, so being financially responsible is essential to us and we thoroughly researched this before getting started. If this is a new concept to you, you'll want to check out these basic tips below.
Instead of using our regular credit card that would have earned us a tiny 1% "rewards" back, we opened these new cards and saved $4,000 on our Disney vacation.
Not bad, right? And the best part is that YOU can do this too and it is surprisingly easy!
Step 1: Booking a Disney Hotel with Points
For this part of the guide I'm going to give two options: one that costs very few points, and one that's more "expensive" in terms of how many points are required. The more Disney Swan and Disney Dolphin costs more points, but they are luxury hotels right on-site and within a short walking distance (or nice free boat ride right out back!) of both EPCOT and Hollywood Studios. The option requiring fewer points is the Sheraton Lake Buena Vista Resort. It's just a few blocks away from WDW, and it has free shuttle service and lots of other perks and amenities.
What most people don't realize is that these hotels can be redeemed using Starwood points. They were formerly Starwood hotels, but even though they are now owned by Marriott, you can still use Starwood to redeem. This is a real game changer to be able to book what most people consider "Disney hotels" using rewards points at the Swan/Dolphin, but it also offers significant value at Lake Buena Vista just off-site.
The Swan and Dolphin are Starwood Category 5 properties, which means that they cost 12,000 points per night in the off-season and 16,000 per night during peak season. By opening 2 credit cards and putting your normal spending on them, you can get up to five free nights during the off-season at the Walt Disney World Dolphin Hotel or Swan Hotel, which usually cost over $300 per night.
The Lake Buena Vista Resort only costs 4,000 points per weekday night and 3,000 per weekend night. Our plan would allow you to earn at least 13 free nights at this property! Here's the thing, there's no one-size-fits-all answer. Some people will want to be on-site, others will like the value of Lake Buena Vista. Or maybe the best solution is to split your stay at both hotels. There is room for you to customize this to your needs.
Things to keep in mind:
Resort fees. You will only be responsible for a small "resort fee" each day but the room is entirely free otherwise.
Off-Season. If you want to stretch your points further at the Swan/Dolphin, then book during the offseason, when rooms can be booked for 12,000 points instead of 16,000. Here's the list of seasons for all SPG properties. Note, that Lake Buena Vista doesn't use seasons and instead has the same pricing year-round.
5th Night free. The 5th night free is an awesome perk when you use Starwood points at hotels ranked Category 3 and higher. When you book for five nights (or more) you automatically get the 5th night for free and therefore only need points to pay for 4 nights. So in the offseason, 48,000 points would get you 5 nights at the Swan or Dolphin. Remember there is no 5th night free at Lake Buena Vista.
No matter which hotel you choose, here's how you earn and use the points…
As described below, you'll earn at least 52,000 of these points, which will be enough for five nights at the Dolphin in the off-season, or 13 nights at the Lake Buena Vista Resort.
Marriott Rewards® Premier Plus Credit Card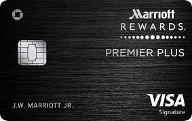 Important Note: You and your significant other will each need to open a Marriott Rewards® Premier Plus Credit Card. The current offer is 75,000 bonus points when you spend $3,000 on each card within the first three months each account is open. Note: right now there is a limited time offer of 100,000 points You'll also get a free anniversary night at any category 1-5 Marriott property after the first year. Annual fee of $95 waived the first year. It's important that you hit the minimum spending requirements on each card, as these are completely distinct accounts. The notes below are from when the bonus was 75,000, but now it's obviously even more valuable!
You'll each earn the 75,000 points plus 3,000 points for your $3,000 worth of spending, so you'll each at least have 78,000 points for a total of 156,000 points! Then, all you have to do is convert the points to SPG, where you can make your redemption. When you convert, you'll transform the 156K Marriott points into 52K Starwood points. The transfer or conversion is instantaneous!
This Marriott card is the best deal right now since the SPG cards are significantly devalued.
Click here to compare this card and learn more.
Use Starpoints to Book the Hotel
Log in online to the Starwood account with all the points and you can book the Dolphin using "SPG Free Nights!" When you book for five (or more) nights, it will automatically apply the 5th Night Free. If a standard Starwood hotel room is available for cash, it is available for points, so there are no blackout dates.
Total Savings for at least Five Free nights at a Disney hotel: ~$1,500 (assuming $300 per night)

Step 2: Booking Flights to Disney World with Points
For most families, the easiest way to get your flights to Orlando will be to each open a Chase Sapphire Preferred card. Here's a brief overview. These points are incredibly valuable since you can either use them to book travel directly through the online portal or you can transfer them to one of their rewards partners such as United, Southwest or British Airways where they become true frequent flyer miles in those programs.
The current sign-up bonus is 50,000 points after reaching the minimum spending requirement of $4,000 (of your regular spending) in the first 3 months the account is open. The $95 annual fee is waived the first year.
You'll each earn the 50,000 point bonus plus at least 4,000 points for your $4,000 worth of spending (2x points on travel and dining at restaurants, so while the minimum is 4,000, it will be more than that if you have purchases in those categories), so after meeting all the requirements you'll have at minimum 54,000 points.
If you each open this card and fulfill all the requirements as stated above you will now have at least 108,000 points and you have two main redemption options for your flights to Orlando:
The easiest and most flexible option allows you to purchase your flights through your online rewards portal. This is as simple as searching on any of your favorite online travel sites, so nothing difficult here at all! You will get 1.25 cents per point in value this way, which equates to $1,350 in free flights from your 108,000 points. That will give you a lot of flexibility to book on the airline of your choice and $1,350 should cover the vast majority of the flight expense for a family heading to Orlando.
The second option is to transfer these points to one of the partner airlines to book award tickets at that airline. You will want both spouses to send their points to one frequent flyer account and consolidate them there. Southwest Airlines is your best option by far since those miles are easy to use, and you likely will get more than $1,350 of value out of booking this way.
Southwest has no blackout dates and the award tickets are based on how much the flights cost, so this was the choice we made. We know many people who booked through the portal for simplicity and convenience, as it couldn't be easier to book that way.
You also might find some great redemption options with Jet Blue or American; it really comes down to your outbound airport. Check out our tips on finding the cheapest flights to Disney for more info and examples of prices.
For the ease of redemption and great value this is simply our top card for flights to Disney World.
Click Here to learn more about this card and compare it to other travel cards.
Total Savings for flights to Disney World: $1,350 (or more!)
Step 3: Booking Walt Disney World Tickets with Rewards Points
There are no specific credit cards dedicated to earning Disney World park tickets, but after a lot of research and phone calls we found a way to earn credit card bonuses to cover the vast majority of the expense of the Disney park tickets.
The Capital One® Venture® Rewards Credit Card is the perfect solution because it allows for flexible travel redemptions; you just pay for the "travel" purchase with your credit card like you normally would.
So nobody knows or cares that you have "miles" — you just simply pay for your travel expense with that card and after the fact you log into your online account to redeem your miles for a travel statement credit which reduces your credit card bill.
One other great things about this card is that you can retroactively apply the reimbursement to expenses you made before earning the bonus. So if your first purchases on the card are your Disney tickets (following the "Undercover Tourist" method we outline below), you can still use points to pay yourself back later, after you meet the minimum spending requirement ($3,000 in 3 months on the card).
Capital One® Venture® Rewards Credit Card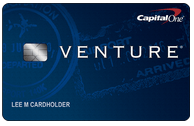 Basics: Earn 50,000 bonus miles when you spend $3,000 in the first 3 months. The $95 annual fee is waived the first year.
Favorite perk: We love that redemptions are incredibly simple. Just reimburse yourself for qualifying travel expenses (by "erasing" them). This is worth $560 of flexible travel!


Capital One is very specific about what counts as "travel" to be reimbursed as a statement credit when redeeming their miles. Buying Disney World park tickets directly from Disney will not work to get the statement credit, however, we found a way you can do this!
Using Undercover Tourist
Our top choice to purchase Disney World park tickets with your Capital One Venture is an official authorized seller, UndercoverTourist.com and buying through their site will work as a "travel" expense to redeem your Venture miles as they are coded as a "travel agency!"  We were so impressed with Undercover Tourist, as their Director of Marketing personally emailed with us and confirmed their coding for credit card purposes before we made our purchase. How's that for customer service??
We have already purchased Disney World tickets through them, so we know this works and you can be confident as well.
If you and your significant other each open one of these accounts your family will have at least $1,120 in total travel statement credits available ($560 x 2 = $920). You would then want to each purchase some of your family's Disney tickets on each card, so you can redeem the bonus points for statement credits on each credit card account (up to roughly $1,120 off in total by splitting the expenses this way across the two cards).


Undercover Tourist is highly recommended by MouseSavers.com and the famous Unofficial Guide to Walt Disney World, so you know they are reputable.
They also do not charge a shipping cost, so you are able to split your ticket purchase over multiple credit cards and it won't cost you any additional money.
Note: You can also use the Capital One® Spark® Miles for Business in the same manner for even more savings on WDW tickets. These tickets are expensive, so if you want a truly free trip you'll likely need to open one or more of these other Capital One cards.
Total Savings on WDW Park Tickets: $1,120 (much more if you include the Capital One® business cards)
10 Rules for Succeeding with your Nearly Free Trip to Disney World Using Credit Card Rewards Points:
Please make sure you are responsible with your credit cards. Responsible means paying them off on time and in full every single month and not spending more on the credit card than you normally would with cash/check/debit. No amount of "free travel" is worth getting into debt or paying interest on your credit card!
In my opinion, it's easiest to stagger the credit cards you open with your spouse so you're only working on one card at a time. For instance, I would open the first account and then Laura and I would both use it. We would both put our normal spending on the card until we hit the cumulative spending requirement (paying it off in full each month!). Once done with that account, Laura would then open the next one and we'd keep doing that until we earned all the points for our trip. In the past, adding each other as authorized users could make this slightly more convenient, but given some of the rule changes from a few banks, I recommend that you DON'T add each other as AUs. It will make it more difficult to get approved for more cards later.
As we alluded to in #2, each adult can open each of these accounts in their name and social security number, so for a couple it allows them to really double up on every single one of these bonus offers.
We think it will take most families approximately 12 months to reach the bonuses on all the cards detailed in this plan, and you generally want to book a few months in advance. That means you'll want to start at least 12-15 months before your anticipated trip if you intend to complete the entire plan. Every family has different spending levels, so if you spend over let's say $2,500 per month on your cards you can likely cut 3-6 months off the timeline.
Following this plan is not complex at all, but it does require some basic organization to keep track of your credit card accounts and rewards points. If you download our step-by-step Disney checklist we include a copy of the exact spreadsheet we used to track our Disney World trip.
Flexibility is a huge key to succeed with travel rewards points, and while we've tried to make this plan as simple as possible (no flexibility needed for the park tickets or airfare!), you will need a small bit of flexibility with booking the hotel rooms at the Dolphin. This is a huge hotel with hundreds of rooms per night that are available to be booked with Starwood points, but it does fill up during the holidays and occasionally on random days throughout the year. If you can be flexible even plus or minus a few days that will almost guarantee that you'll be able to use your Starwood points.
As mentioned in #5, the hotel is the one minor constraint in this system (VERY minor in our opinion), we suggest most people get started on the plan with the Chase Marriott Card
For your WDW park tickets you have a ton of flexibility to open up the credit cards right up until nearly the last minute. As long as you give Undercover Tourist enough time to ship you the tickets in the mail, you can open this last credit card in the month or so prior to your trip, purchase your tickets and then continue using the card on your trip and beyond. Capital One gives you up to 90 days after the travel expense to log into your account and redeem your miles, so you can continue earning to save even more!
Our family spent $159.80 out of pocket for two expenses that you can also avoid with the right planning! There is an $11.20 government fee on all frequent flyer mile flights in the US ($44.80 for our family of four) and the Swan/Dolphin charged us a $23 per day resort fee even on the award nights ($115 for the 5 nights). However, if we had planned ahead even more, we could have opened an additional "fixed value" card to use to pay for these "travel" expenses to really make the trip entirely free.
Getting to/from Orlando International Airport is one aspect of the trip that is not free, but you can use Uber promo codes to save a lot of money. What we suggest is have one of you sign up using their promo code and then refer your significant other. This referral will get each of you a $20 free ride. So that's three highly subsidized Uber rides you'll have for this trip. We personally used Happy Limo but many people use the Mears Shuttle to get to/from the airport.
Join the 'Keys to the Magic Kingdom Challenge
So there you have it, nearly a free family vacation to Walt Disney World for up to five nights at the luxury Dolphin hotel )or many more at the nearby Lake Buena Vista Resort), airfare and park tickets. Just by following the instructions in this article you can save $4,326+ on your family vacation!
We have personally helped hundreds of families plan this Disney World trip and we want to help your family succeed as well!
That's why we started the Keys to the Magic Kingdom Challenge: We're personally helping 500 families with every step of this Disney plan with the hopes that each family can save $4,000+ for a total savings for the Challenge group of over $2,000,000!
This group is completely free to join, but since it takes a lot of time to help each family, we're only looking for people who are going to follow through on the plan and take action!  If that's you, then we'd love for you to apply for one of the 500 free spots in the Challenge group.
Our family had such a great time at Disney World that we want to 'pay it forward' and help other families succeed and this Disney Challenge is the best way we can think of to do that.
Thanks,
Brad and Laura Barrett