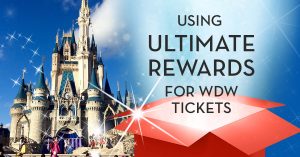 Note: The method discussed in this post is currently in flux as Chase overhauls its reward system. See this post of what we know so far about these changes and how they might affect your Disney plans. — For years, we've been telling readers how to use travel rewards to book Disney tickets through Undercover Tourist. That's still a great method that makes good use of Capital One cards, but there is also a new and exciting way to do this. You can book Walt Disney World tickets with Chase Ultimate Rewards. Yes, you read that correctly!
You can book base tickets or park hopper tickets with this method. The only catch is that you must buy tickets for 2 days or more. You DO NOT have to book a hotel room or anything extra. You can get just the tickets!
And it gets even better. Not only does this method allow you to use points, but it also gets you an additional discount on the tickets! Let's dive in and take a closer look. Be sure to see the recap at the bottom of the post, where I hope to address questions and add data points to the article over time.
You Have to Talk to Chase's Cruise Department!
First, understand that this is a bit of a "secret" method. You can't do it online, and you can't just talk to any Chase travel rep. You have to specifically speak with the Chase Ultimate Rewards "Cruise and Vacation Packages Department" via phone.
It should be fairly simple to transfer to one of these agents, no matter what number you use to call in. But the best number is 1-855-234-2542. After entering my card info, I was prompted to press #2 for the Cruise line. That may change over time, but you get the idea.
One important thing to keep in mind is that the cruise department has limited hours, as opposed to the general travel redemption department, which is open 24/7. The cruise line, as of now, is open Monday to Friday from 9AM – 9 PM ET and 9AM to 5PM ET on Saturdays; closed on Sundays.
Remember: You Can't Do It Online
It's worth drilling the point home one more time. You can't do it online; you must talk to a cruise rep. If you look for activities under Orlando in the main Ultimate Rewards redemption portal, you won't see WDW as an option.
I'm reiterating this point, because when I first saw this wasn't available online I figured it wasn't possible. Not the case!
Prices
Chase offers very fair prices on the tickets. At cash value, they are just slightly more expensive than you'd find elsewhere, but because you can redeem points you'll end up getting a better deal this way with a 1.25 or 1.5 cents per point redemption.
I'll try to get a fuller pricing table soon, but here is what I know for now.
Below is the "Cash Price" from Chase. I included 1c/pt redemptions here, but keep reading because it gets better:
3-day Park Hopper: Adult: $395 (39,500 points at 1c/pt); Child ticket: $376 (37,600 points at 1c/pt)
2-day Park Hopper: Adult ticket: $302 (30,200 points at 1c/pt); Child ticket: $289 (28,900 points at 1c/pt)
2-day Base Ticket: Adult ticket: $233 (23,300 points at 1c/pt); Child ticket: $220 (22,000 points at 1c/pt)
You can ignore the cash value, because this comes down to points redemptions. I'll explain more below, but just an example: if you and a spouse each got a CSP signup bonus, you could cover 2 adult and 1 child 3-day Park Hopper tickets. There are lots of possibilities here based on which cards you get and how many tickets you need. If you're using base tickets then, wow, you can stretch this pretty far.
Some Chase Cards Redeem at Better Rates than Others
Like with Ultimate Rewards generally, some cards have better redemption rates. The agents won't give you hypotheticals if you don't have a particular card (so I could only confirm Freedom and Ink Preferred), but here is my best guess (if you have data points, let me know!). I'm 99% sure the other rates are accurate, but it would be great to get full confirmation over time.
Chase Sapphire Reserve: This will likely be a 1.5 cents per point redemption!
At this redemption rate, a 3-day Adult Park Hopper ticket, which costs $383.73 on Undercover Tourist, would cost 26,333 Ultimate Rewards. Holy smokes!
Chase Sapphire Preferred and Chase Ink Business Preferred: I have confirmed that the Ink Business Preferred uses a redemption rate of 1.25 cents per point. The same is likely true for the CSP, but I have not yet confirmed it (please help if you have data!).
At this rate, a 3-day Adult Park Hopper ticket, which costs $383.73 on Undercover Tourist, would cost 31,600 Ultimate Rewards. Not too shabby at all!
Chase Freedom: This will redeem at 1 cent per point. You probably won't want to make this redemption because the tickets are slightly more expensive at cash value than they are on Undercover Tourist (very slight, just a few dollars). Because you can essentially cash out your Ultimate Rewards at the same rate, you're better off buying from UnderCover Tourist and then reimbursing yourself.
Your best bet is to transfer points to one of the higher cards (like the CSP) and make the redemption then.
Recap, Plus Other Caveats and Tips
Ok, here's a recap and some other tips:
Because UR are so valuable, this is a great method for getting more tickets after you've exhausted the Capital One redemption options. See the main guide for Cap One ticket tips. In other words, you might want to hang on to UR for other purposes and use Cap One for the tickets.
But don't forget the 5/24 rule. If you don't have some of these Chase cards, you'll want to plan accordingly.
This also works for Disneyland in Anaheim, CA.
Remember, you must talk to a CRUISE AGENT via PHONE.
Don't forget: just because you have points on a Freedom card does not mean you have to redeem that at 1 cent per point. You can transfer them to a card with a higher redemption rate. Do not forget this step!
I don't think we have to worry about Chase running out of inventory. I've heard this concern mentioned with tickets for other events/attractions booked through the UR portal, but the agent I spoke to indicated that shouldn't be a concern. It sounds like Chase isn't given a quota.
Best Card to Get Started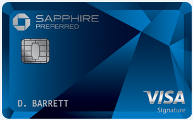 The best all around Chase card, in my opinion, is the Chase Sapphire Preferred. One signup bonus alone could fund multiple Disney tickets. The Ink Preferred is even better if you have a business, so keep that in mind too. The link below will allow you to check out the Sapphire and other Chase products for comparison.
The current sign-up bonus on the CSP is 60,000 points after reaching the minimum spending requirement of $4,000 (of your regular spending) in the first 3 months the account is open. There is a $95 annual fee.
If you and a spouse both get the card, you'll each earn the 60,000 point bonus plus at least 4,000 points for your $4,000 worth of spending (2x points on travel and dining at restaurants, so while the minimum is 4,000, it will be more than that if you have purchases in those categories), so after meeting all the requirements you'll have at minimum 64,000 points each or 128,000 total.
Click Here to learn more about this card and get started.
Richmond Savers has partnered with CardRatings for our coverage of credit card products. Richmond Savers and CardRatings may receive a commission from card issuers.