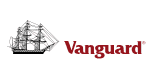 Laura and I have never been terribly sophisticated investors – we invested in our 401k accounts at work and generally in some of the '4 and 5-star' mutual funds at Fidelity, which is where we had a few accounts for a number of years, but aside from that we did very little research on precisely what to invest in, whether a financial advisor was worthwhile, what type of mutual funds performed best, etc.
We'd love to say we had some grand plan, but, like most people, we didn't – it just kind of happened haphazardly over the course of a decade.
One of the joys of running a personal finance website is that you come across articles written by brilliant people (Mr. Money Mustache and the Mad Fientist come to mind), and you are constantly learning new things.
After reading the post on Bucking the Trend's site entitled, How Vanguard Will Save Me $2,700 and the outstanding must-read Stock Series by Jim Collins, I realized I needed to learn more about Vanguard and their philosophy.
I picked up The Little Book of Common Sense Investing by Vanguard founder John Bogle and it turned my financial world upside down in the most positive way possible.  It was so elegant and compelling in its simplicity that I was instantly hooked.  I consider this book an absolute must-read, so I hope you pick it up (at the library of course).
The Basics
I'd sum up his entire theory this way:  There is essentially not one person on earth who can beat the stock market over a long-term period, and therefore the best anyone can hope for is to match the returns of the stock market.  Any fees you pay to a mutual fund, financial advisor, commission, trading fees, etc. just pull down your return as compared with the overall market.
When you hear that a mutual fund has a 0.75% expense ratio and maybe your financial advisor charges you 1.25% of your 'assets under management,' it just doesn't sound like a lot.  As we've pointed out before in our The Miracle of Compound Interest article, it is astounding how small differences in returns can make a significant impact on your account balances when compounded over a long period of time.
An Example
To illustrate, I made a wild example in the below chart showing what a $1,000,000 investment would be worth after 100 years compounded at a 9% gross annual rate.  I then reduced that 9% return in three ways: 1) by the 0.05% expense ratio on Vanguard's VTSAX Fund (Total Stock Market Index Fund) for an 8.95% net annual return 2) by the typical 1% mutual fund expense ratio for an 8% net annual return 3) by the 1% mutual fund fee plus 1% for a financial advisor's fee for a 7% net annual return:

As you can see above, these fees make an unbelievable difference when compounded over this time period!  The $1.0 million investment would be worth $5.53 billion at the 9% gross return (!), but only $867 million at 7%.  You would literally lose $4.66 billion just by using an investment advisor who had you invested in a 1% expense ratio mutual fund.  You'd lose $3.33 billion if you were smart enough to invest on your own, but for whatever reason invested in a mutual fund with a 1% expense ratio.
Or, you could buy the VTSAX index fund and own your piece of the entire US Stock Market and only pay 0.05% for the right to do so.  You'd still lose $248 million to fees, but since this is essentially the lowest expense ratio available to common investors, you can't do any better than that.
For a slightly more realistic example, let's look at someone who has $100,000 saved up and continues to invest $1,000 per month for 40 years:

With the advisor and 1% fund fee, they'd lose roughly half of their potential investment balance; with just the 1% fee they'd lose more than 25% of their potential balance, but with the Vanguard index fund they'd only lose 1.5% total over the 40-year period.
If you believe, like John Bogle and Warren Buffett do, that owning low-cost mutual funds is the best possible option for everyday investors, then it's hard to go wrong with a fund like VTSAX.
Opening a Vanguard Account
We recently opened a Vanguard account and they made the process quite easy.  We were able to fund the account through a bank account transfer, and we setup automatic investments to purchase more of the mutual fund each week.
Our only issue with them was that it costs $10,000 to initially invest in the VTSAX fund and $3,000 to invest initially in the VTSMX fund, which is the identical index fund in the "Investor" shares class (with a higher expense ratio of 0.17%).  We don't typically like plunking down as much as $3,000 in one purchase, but we didn't have any other option, so we bought the VTSMX fund in that amount.
We feel this $3,000 initial investment is a large impediment for the average investor and it seems unnecessary especially if the investor is creating an automatic savings plan.  If $3,000 is insurmountable to you, we suggest the low-cost index funds available at Charles Schwab, as they have only a $100 minimum and are substantially similar to Vanguard's funds.
The wonderful thing about Vanguard is that once you've built your VTSMX fund balance up to $10,000 they automatically transfer your entire balance to the "Admiral" share VTSAX with the 0.05% expense ratio, so that's a significant positive factor.
I like their website, I like the ease to setup automatic investments and I like everything their company stands for and that's why we're sticking with Vanguard for the long-term.  We are not financial advisors, so this is not professionally sanctioned advice, but it is how we're conducting our own financial life and that should speak volumes to how strongly we feel about this strategy.
Richmond Savers has partnered with CardRatings for our coverage of credit card products. Richmond Savers and CardRatings may receive a commission from card issuers.