So many people in today's world are now working while traveling. If you belong in this group, you need to arm yourself with the right tech gadgets to make your travels both enjoyable and productive. Moreover, you need to plan for the safety of your gadgets and security of your communications during the travels. Data theft is at its peak—and if you are not careful, you might lose your smartphone or laptop, and with that you risk losing vital personal or financial information.
Luckily, these are solvable problems. We've rounded up a few tips and recommended products to make your travel more enjoyable and ensure safety while abroad.
1. Bring a miniature power strip

Every tech gadget needs to be charged. Whether it's the phone, tablet, laptop, etc, it won't get you are without some juice. The problem is that some of the hotels around the world might not have enough charge outlets for your devices. In older hotels, for example, there are usually just three outlets: one for the TV, a bedside outlet for a light, and one in the bathroom for a razor or hair dryer.
While today's hotels tend to have more outlets, that doesn't mean you'll find enough for all your devices, especially if you're bringing your family on the trip. A mini power strip can solve the problem easily.
2. Adapters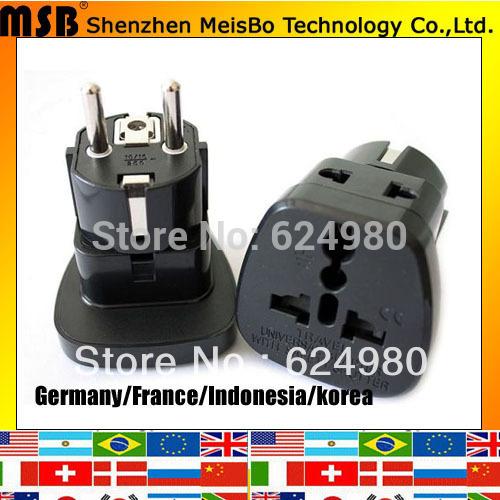 Other than a power strip, the other gadget you really need is an adapter. Some hotels don't have three-prong power outlets, which are required for most laptops.
This makes it very important to bring a universal adapter on your trip. Universal adapters like the one shown in the image above can work in any situation. If the power outlet uses a three-prong adapter, it will fit in nicely. If the outlet works with a two-prong adapter, you can just hide the third prong and the adapter will again fit into the holes without any problem.
3. Find safe browsing services

We mentioned security at the beginning. When traveling, you'll come across the message "this connection is not secure" a lot. In most cases, it means that other people might be able to see the information you're trying to send. Yet, you may be dealing with sensitive information, perhaps even providing your financial information to make a payment. Or, you could be sending confidential information back to your office.
That's where safe browsing comes into play. We recommend using a Virtual Private Network (VPN). VPNs work by making your browsing anonymous. No one will know where you're browsing from. They also encrypt your messages so no one can read them along the way!
4. Consider cloud storage

This applies to those who may be staying away for a prolonged period and need to access various documents while on the road. In the office, you can store these documents on different computers or on your local network and will be able to access them with ease. But when traveling, your local network might not help much.
The solution is to store all the documents you may need on the cloud. Services such as Dropbox, Google Drive and Apples iCloud all offer affordable storage on the go. There are many advantages of this. First, cloud storage allows you to access your documents quickly whenever you need them. Secondly, cloud storage makes it easy to collaborate on projects. You can have multiple team members accessing the same documents.
5. Bring the right travel gadgets
Finally, and very importantly, bring along gadgets that are designed for travel. Not all gadgets can withstand the rigors that come along with traveling. You need laptops, tablets, and phones that won't break or shatter on the first fall. When traveling, budget phones are often recommended as backup phones due to the increased risk of losing your phone on the road. Dual SIM cards are also highly recommended to allow calls to be received on your local number and your temporary number when traveling abroad.
For laptops, some great options include the ultracheap Lenovo Ideapad 110s, the Microsoft Surface Pro, and the 13-inch MacBook. These will handle all of your daily computing needs while offering the mobility and battery life to prevent any slowdowns on your adventures. For smartphones, the first thing you need to consider is whether or not they are unlocked. Traveling with an unlocked phone is like knowingly getting yourself in trouble. That said, some good ideas are the Motorola Moto G 4, the One Plus 3T, and the Samsung Galaxy S7.
The most important thing is to take care of these needs before you leave for your trip. Wherever you're headed, do your research about what to expect and plan ahead. If you do, you'll have a wonderful time wherever you're going, and you'll be poised to take long-term trips without feeling too stressed.
About the Author: Vigilance Chari is a freelance writer covering tech news and gadgets at LaptopNinja. She is an International presenter and published author. When not writing, she spends her time as an enthusiastic professional party planner and part-time painter.
Richmond Savers has partnered with CardRatings for our coverage of credit card products. Richmond Savers and CardRatings may receive a commission from card issuers.