Southwest Airlines has long been been a staple in my travel rewards arsenal.  In fact, the first credit card I ever got solely for the miles was a Southwest card back in the day.  And even though I've come a long way since then, Southwest is still one of my favorite airlines to rack up miles with and fly on.
I do a lot of short hops around the West Coast, often flying to San Francisco/Oakland, Phoenix, Las Vegas, etc.  A lot of these flights are only an hour but it saves me a ton of time compared to driving.  And when you book with points and the flight is free, the choice is basically a no-brainer!
Limited International Options
As you may be aware, earning miles and points for Southwest can be pretty easy as there are currently 3 different Southwest credit cards and Chase Ultimate Rewards points transfer to Southwest.  You can also earn the 'holy grail' of travel rewards: The Southwest Companion Pass to essentially double the value of your miles.
One of the biggest complaints I hear from people about Southwest though is that they don't fly internationally or to Hawaii. So, if you solely fly internationally to Europe, then even 1 million Southwest miles won't be enough to get you there because they simply don't fly to Europe.
But if you fly all over the West Coast like I do (or live near a major Southwest hub like Baltimore, Chicago, Houston, Dallas, etc.), you probably love Southwest because of the great redemption rates (1 point is worth about ~1.5 cents), flexible cancellation and change policies with no fees and no blackout dates and most of all the ease of book booking Southwest flights with miles.
I currently have over 100,000 points banked in my Rapid Rewards account so I'll often book 2-3 return flights for example.  That way, if one of my flights gets delayed or cancelled or I need to adjust my schedule, I can cancel whatever flights I don't need up until 10 minutes before departure and the points are transferred instantly back into my account with $0 of fees!
Getting to Mexico On Southwest
Since Southwest recently merged with AirTran, this has opened up a slew of Mexican travel destinations bookable on Southwest.  You will have to pay increased taxes compared to the normal $5.60 fee Southwest charges on one way domestic award flights but there are still some great deals to be had.
Southwest is also opening new routes to Central America and the Caribbean:
I love traveling to Mexico because it gives me a chance to practice my Spanish and I love all that the country has to offer.  Places like Cabo San Lucas and Puerto Vallarta are obviously resort towns but there is also a lot of culture and history in places like Mexico City that is waiting to be explored.
I'm planning on heading down to Cabo with my family so I thought I'd share the process with you guys to help you plan your own trip to Mexico.
Mexican Destinations
Southwest currently offers service to Cabo San Lucas, Puerto Vallarta, Mexico City and Cancun.  During peak travel times like summer and spring break it can get crowded and expensive but if you have the flexibility to travel off-peak there are some great hotel options.  Mexico's economy in the beach resort areas is very dependent on tourism so during low season they really go all out with the deals and accommodations compared to other places that are busier year round.
There is a very cool interactive travel map on Southwest's website that you can use to see what routes are available for booking.
Cabo San Lucas
Puerto Vallarta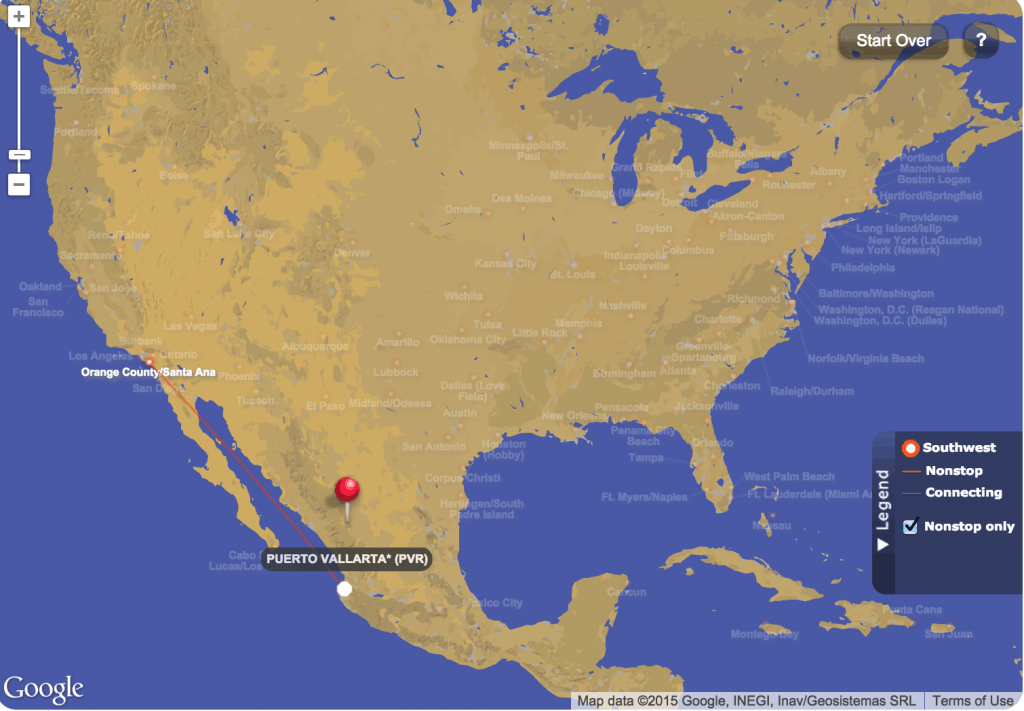 Mexico City
Cancun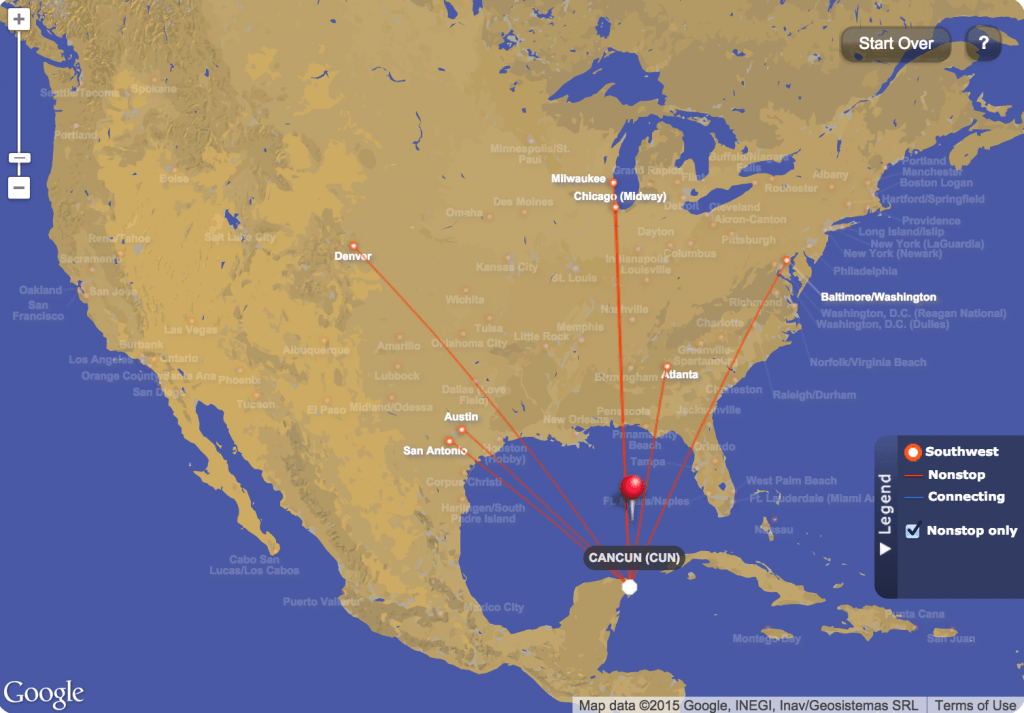 My Trip To Cabo
Since there are no blackout dates with Southwest you don't necessarily need to book 6+ months in advance but if you know your travel schedule ahead of time it can't hurt to book early since they don't charge any change or cancellation fees.  The other cool thing about booking Southwest flights with points is that if the price of the ticket goes down you can cancel your ticket for no charge and re-book at the lower fare.
Luckily, I live ten minutes from John Wayne airport so I was able to book a non-stop round-trip flight for just 18,130 points and $88.87.  The cash price of this flight would have been $387.77 so my 18,130 points saved me $298.90.  Or if you want to look at it another way, I got a 1.65 cents per point redemption value which is pretty solid!
Readers, what do you think about Southwest's new service to Mexico?  Will you be able to leverage it in your future travel plans?
About the Author:
Harry Campbell is a 28 year old retired aerospace engineer and full time blogger. He runs a blog for Uber/Lyft drivers over at
The Rideshare Guy
but has been passionate about travel since an early age. Harry loves to write about using miles and points to travel and over the past 5 years he's racked up over 2.5 million points!
Richmond Savers has partnered with CardRatings for our coverage of credit card products. Richmond Savers and CardRatings may receive a commission from card issuers.