A few years ago, we took our summer vacation to New York City and Bermuda, and it is a great example of how you can save thousands of dollars using travel rewards points.
We saved $5,500 off our luxury vacation, and only paid a net $104.79 for the hotel plus $126.50 on unavoidable flight taxes for a grand total of $231.29! Here's how we did it, though since some of the methods have changed, I'm adding in some "new" advice, so that you can go to Bermuda on the cheap, too!
Andaz 5th Avenue in New York City Using Hyatt Points
Even though we're the 'Richmond Savers,' Laura and I lived most of our lives on Long Island, NY, and the majority of our family is still up there. We drove up to NY on July 16th and Laura's parents were kind enough to watch our daughters for 5 nights starting on the 17th so we could take a 5-night getaway to New York City and Bermuda.
We booked a one night stay at the Andaz 5th Avenue hotel in New York City for the 17th. The Andaz is Hyatt's hip and trendy line of hotels, and this hotel is great: perfect location, incredible rooms with high ceilings, comfortable beds and the best upscale bathrooms I've ever seen. They offer completely free wine to hotel guests each evening, which is such a nice touch and a real money saver in NYC!
This was our second time staying at the Andaz 5th Avenue, and we just love the place. It is a hefty 25,000 Hyatt points per night (which we transferred from Chase Ultimate Rewards), but the hotel makes us feel like luxury travelers, so we felt it was worth the splurge.
The regular rate on the hotel is $400+ per night, so this was easily a savings of $400 by using our Hyatt points.
Bermuda: Four Nights in Paradise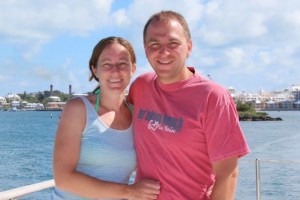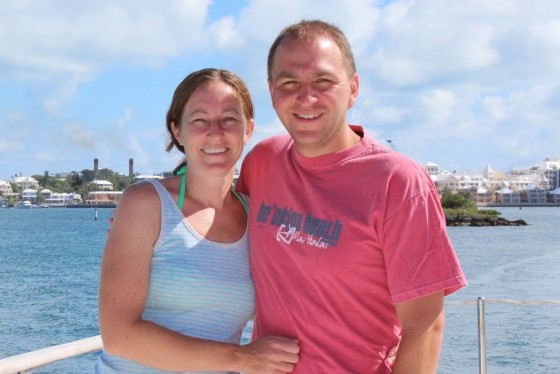 The next day we made our way to JFK airport to fly to Bermuda, and it couldn't have gone more smoothly. We used our British Airways Avios points to book this American Airlines flight (since the two airlines are alliance partners) and it only cost us 15,000 Avios plus $63.25 each in unavoidable taxes and fees (30k Avios total plus $126.50).
Using British Airways Avios this way is one of the great sweet spots in travel rewards as this would have cost 35,000 American Airlines miles each for the exact same flight!
So instead of spending 70,000 AA miles, it cost us 30,000 Avios.
This exact deal is available using Avios from five east coast cities including NY, DC, Philadelphia, Charlotte and Miami.
For your reference, you can earn Avios from the British Airways credit card, Chase Ultimate Rewards transfers, Amex Membership rewards transfers, and Starwood Preferred Guest transfers making them some of the easiest points to stockpile.
Another nice perk of using Avios on American Airlines is that you get "Priority AAccess" written on your boarding pass, so you're able to zip through security with the other priority members and you are able to board the plane early as well. This can save a ton of time at a busy airport like JFK!
These flights easily would have cost us $400+ each, so after paying the taxes we saved about $700 by redeeming 30,000 Avios.
The Fairmont Hamilton Princess
There are several great hotel options in Bermuda, but Laura and I chose the Fairmont Hamilton Princess. At the time, Fairmont had a co-branded credit card, with a really sweet signup bonus. We received 2 free nights at any Fairmont hotel in the world, $100 credit towards breakfast and $50 towards other food/drinks during the stay.
It also gave us Fairmont Premier elite status and one of the perks of Premier status is that you get one free suite upgrade per year. And we were able to apply this free suite upgrade to our free nights from the credit card, which was very surprising!
But don't worry, even without this credit card perk (which sadly no longer exists), you can still book this hotel or one like it in Bermuda (keep reading).
Upon our arrival, we were greeted at the Fairmont President's Club desk and we were told our suite was in the newly renovated Poinciana Wing of the hotel only steps away from the completely new infinity pool overlooking Hamilton Harbor!
So we walk down to Room 106 and our jaws hit the floor when we opened the door – it was seriously like something out of HGTV's dream home! I have never seen a nicer hotel room – it was perfect.
On some level I can see how people would pay the regular rate of roughly $1,000 per night for a room like this, as you felt like royalty there. It was at least the size of two regular hotel rooms with top of the line furnishings, two big screen TVs, an L-shaped couch, a huge patio with lounge chairs and a table, and an amazing bathroom with a full soaking tub. Just incredible!
Updated Hotel Tips
You too can stay at a Fairmont property, or one of the other renowned Bermuda hotels, such as the Reefs, using smart credit card rewards strategies.
To do so, you could use some combination of the following cards: Capital One Venture Rewards Credit Card (see our review here) and Capital One Spark Miles for Business.
Each of these cards have early spending bonuses that award you with INCREDIBLY flexible travel credit. So, you can basically meet the minimum spending requirements with your normal spending (and even part of your vacation expense) and then use points to reimburse the travel portion. And of course, your spouse could get the cards too.
Bermuda: A Wonderfully Expensive Vacation Destination
We loved Bermuda – it is such a beautiful country, and we've never felt safer or more welcome in a foreign nation. Bermuda is unbelievably expensive though! We seriously couldn't believe people could afford vacationing there if they were paying for their airfare and hotel.
Some examples:
The buffet breakfast at the Fairmont was $29 plus tip! That means most couples in that restaurant were paying about $70 just for breakfast. $70 for breakfast!?!
The cheapest glass of wine we could find in a restaurant was about $12 plus tip, so about $15.
You would be hard pressed to find an entrée at any restaurant in Hamilton for under $20. We had a delicious Thai dinner one night, but Pad Thai which normally costs about $10 in Richmond was $26! And if you didn't want to spend that much, you had no options other than not eating, which wasn't exactly plausible.
Checking Out: How Easy Can it Be?
The staff at the Fairmont was top-notch in every respect, and they made the entire checkout process with all of our "free certificates" a breeze!
Our bill should have been:
$4,000 approximately for four nights in the suite
$169.60 for resort fees and gratuities (unavoidable)
$195.30 for breakfast
$139.89 for assorted food and drinks and transportation
Total of: $4,504.79
Our Fairmont credit card bonus certificates got us the $4,000 room plus another $300 in food and drinks taken off the bill so after all the discounts our final bill was: $204.79!
And of course we put that charge on the Capital One Venture Rewards Credit Card so it actually cost us a net $104.79 since we were able to redeem $100 in statement credits against that expense.
To Review: It was $126.50 for the flight taxes and fees and $104.79 net out of pocket for the hotel so in total we paid $231.29 for this trip!
Our final savings tally for the trip:
$400 at the Andaz 5th Avenue
$700 on the flights to Bermuda
$4,300 from the Fairmont credit cards
$100 Capital One redemption
Total savings: $5,500!
A few months prior to our departure, our close friends Kevin and Julie decided to join us on the trip and they were also able to use some of these strategies. That saved them approximately $4,300 on the trip! This brings our total savings on the trip between the four of us to nearly ten thousand dollars!
Most importantly, we had a blast spending four days in paradise with our friends and this travel rewards strategy took an impossible trip and not only made it possible, but made it downright inexpensive.
Richmond Savers has partnered with CardRatings for our coverage of credit card products. Richmond Savers and CardRatings may receive a commission from card issuers.