We've spoken and emailed with many people through our free travel rewards coaching program and so many are astounded when they hear the deals you can get by using British Airways Avios points on actual American Airlines flights.  The same holds true for Alaska Airlines flights, which has a huge network in the western part of the US, but for simplicity we'll focus on American Airlines flights in this article.
How It Works
This is one of the great secrets of the entire travel rewards concept, but it is hard to wrap your mind around if this is your first time hearing about it:  You can easily earn British Airways Avios points, which reside in your British Airways Executive Club account.  You can then log into your BA account to access your points and book flights on American Airlines and Alaska Airlines.
So you are actually flying on American Airlines or Alaska Airlines planes and the only thing related to British Airways at all was how you booked the ticket.
Two great things about this concept:
British Airways points are available through the British Airways Visa Signature® Card, transfers from Chase Ultimate Rewards and transfers from Amex Membership Rewards points.
The British Airways frequent flyer award chart governs these redemptions, which means that shorter flights in actual distance cost dramatically less than a normal frequent flyer award flight using regular American Airlines miles.
Since #2 is essential, here's the chart showing one-way award flights using British Airways Avios points: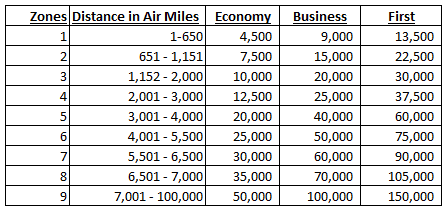 As you can see, any one-way flight under 650 miles in actual flying distance only costs 4,500 Avios points in economy, for a round-trip of only 9,000!  If you had regular American Airlines miles and wanted to book a flight using their frequent flyer miles, it would cost a full 25,000 round-trip in the US no matter the distance.
The Benefits
So you're only paying about 1/3 of the miles and the BA Avios are easier to come by in the first place, so you'll likely have a ton of them (we still have over 175,000 of them even after booking 5 flights).
Many people have bad things to say about the British Airways program because they hear about the "fuel surcharges" that BA passes along (can be over $500 per ticket). That is true on BA flights to Europe and the irony is that you never want to use BA Avios on actual British Airways flights (or American Airlines flights to Europe where they also pass along fuel surcharges.  The exceptions to European fuel surcharges are using Avios to book on Aer Lingus or Air Berlin).
However, there are no fuel surcharges on American or US Airways flights within North America or between North America and Central America, South America or the Caribbean.  So a flight that's under 650 miles in one-way distance like NY to Richmond, DC or Boston, or Miami to many places in the Caribbean, will only cost 9,000 Avios.
As you can see on the above chart, even flights that are 651 to 1,151 miles in actual one-way distance are only 15,000 Avios round-trip.  That's a full third of the way across the country, so you're getting amazing value on any American or US Airways flight that is under 1,151 miles.
And even in the case of a coast-to-coast flight like New York to Los Angeles, you're still only paying 25,000 BA Avios like you would on any standard US carrier.  Therefore if you can fly direct on American Airlines or US Airways within North America or between North America and Central America, South America or the Caribbean, you're almost always going to be better off using British Airways Avios miles to book your flights if you have the opportunity.
Who Can Take Advantage of these Deals?
Just about everyone who lives near an airport that has any AA flights.  Of course those who live near an American or (old) US Airways hub will have the most flight options:
American Airlines Hubs:  JFK, LAX, Miami, DFW and Chicago
Former US Airways Hubs:  Charlotte, Philadelphia and Phoenix
Alaska Airlines: Hubs: Seattle (main hub); Anchorage, Alaska; Los Angeles; Portland, Ore.
But we find that if you're flexible with your rewards redemptions and you want to make the best use of your points you can almost always find a way to maximize your value out of these Avios points.  This is true even if your local airport only has a few AA or Alaska flight options.
A Few Examples
 New York JFK to Bermuda for only 15,000 Avios round-trip (read about our trip)
New York to Orlando for 15,000 Avios round-trip
Dallas to Chicago for 15,000 Avios round-trip
New York to Toronto for 9,000 Avios round-trip
Dallas to Costa Rica for 20,000 Avios round-trip
One person we're working with lives in DC and has family in Birmingham, Alabama.  This normally costs them 25,000 US Airways miles, but now only costs 9,000 Avios!
Another person we're working with lives in Atlanta and wants to go to the Caribbean.  They can go round-trip to Nassau, Bahamas for only 18,000 Avios.  Because there aren't direct flights from Atlanta to Nassau on American Airlines, this would be priced out in Avios by the segment.  It would cost 4,500 to go from Atlanta to Miami.  It would then cost 4,500 to go from Miami to Nassau for a total of 9,000 Avios one-way.  The return trip would be another 9,000 Avios for a total of 18,000 Avios round-trip.
As shown in the last example, these flights are priced by segment.  That's why we say direct flights are best, but if you live a short distance from a major hub, you can still get a lot of value out of these redemptions.
There are hundreds of routes where you can get these amazing values, so Avios should certainly be on your mind when you're planning an awards strategy.  As we mentioned previously, they aren't ideal for everyone in every situation, but many people can get a lot of value out of them if they are flexible.
This concept can get complicated, especially if you don't have much time to do a lot of in-depth research.  If you want help planning a strategy, we offer our completely free travel rewards coaching program. You can sign up here if you're interested.
How Do You Determine Avios Cost and Availability of Awards?
The most important thing to keep in mind is that these award redemptions are limited by the award space that American Airlines and US Airways have available.  You will not at all be penalized for using British Airways Avios as opposed to American Airlines or US Airways miles, but you do need to be aware that these award seats are limited by AA so you have to plan well in advance.
To determine the number of Avios necessary, I use this handy British Airways Avios Calculator at the official BA site.  You just type in where you're leaving from and where you are going to and it will calculate the one-way price in Avios miles.
Another nice tool if the BA calculator is buggy is the Great Circle Mapper website.
How Do You Book American Flights Using Avios?
The next thing I do is search on the American Airlines website itself to see if they have any of their "Economy MileSAAver" award availability for 12,500 miles (one-way) for the routes and approximate dates in question.  If this "Economy MileSAAver" level award flights is available via AA then you can use your BA Avios to book these flights.
Then you just go to your BA Executive Club (BAEC) account and search for the flight using "Avios Only" and just book it directly on the BA site via your BAEC account.  When we booked our flights from RIC to LGA it cost 9,000 Avios and $11.20 in taxes per ticket and we were able to book in a matter of minutes.
If for whatever reason availability is showing up on AA's site but not on your BAEC account, you can call the Executive Club 800 number to book over the phone.  This is usually necessary when you're booking trips with multiple flight segments with their partner airlines (and is always necessary when booking Alaska Airlines and Aer Lingus flights with Avios), but I've found the BA customer service representatives to be quite helpful, so this isn't a major issue.  You should request that they waive the telephone booking fee ($25) since you couldn't book online due to their site limitations.
Note:  To book Alaska Airlines flights you have to find the availability at AA.com and call British Airways to book.  Ask them to waive the phone booking fee since you can't book online!
British Airways also partners with Air Berlin and Aer Lingus and they do not charge fuel surcharges on those flights to Europe, so there is a lot of potential value in those redemptions as well.  They also have a number of other partners like Cathay Pacific, LAN, Iberia, TAM and Qantas where you can potentially redeem these points, as well as intra-Europe flights on British Airways itself where they don't charge the massive fuel surcharges.
Richmond Savers has partnered with CardRatings for our coverage of credit card products. Richmond Savers and CardRatings may receive a commission from card issuers.