Ahhh, Paris!  The city of lights is often thought of as the ultimate romantic destination and is on many people's bucket list. People from all over the world flock to Paris to taste the amazing cuisine, see the Mona Lisa, visit the Eiffel Tower, and check out the Champ Elysees.  Oh, and how could we not mention the wines?!
Ok, all of this sounds great, but how much will it cost?  The cost of airfare, hotel stays, transportation and tours quickly adds up, even if you find great deals across the board. Luckily, it's pretty easy to leverage your credit card points and miles to make this trip much more affordable.  I'll highlight a few ways to pay very little for your flights, hotels, transportation and other travel costs by using the right travel reward currencies.
Flights
As highlighted in our London post, flying on American Airlines during off-peak dates is one of the cheapest options when flying economy to Europe. You could either use Alaska Airline miles or American Airline miles to fly to Europe for cheap.  It would cost you 20,000 Alaska Airline miles plus fees, or 22,500 American Airline miles plus fees to fly one way to Paris from the US.  Depending on which currency you want to use, you could easily have enough miles for a round trip flight with one sign-up bonus and a bit of spend with an airline rewards card that either gets you Alaska or American miles directly or uses them as a transfer partner.

Another thing I'd like to emphasize is to be flexible with your travel plans.  The rates shown above are for off-peak dates.  If using Alaska Airline miles for your flights, peak travel dates to Europe are from May 16 through October 14.  Outside of those dates is considered off-peak.  If you're planning to use American Airlines miles, off-peak travel is January 10 through March 14 and November 1 through December 14.  Do your best to have flexible travel dates and you could spend fewer miles on your travels.
Hotels
Hotel accommodations in Paris can be crazy expensive.  If you're wanting to go all out to create a memorable experience for that special someone, you could easily spend over $500 a night at a hotel, especially if it is located in a touristy area.  The good thing is that you can have your cake and eat it too with hotel points.  You can stay in a super nice hotel in the popular areas without spending any money, only hotel points.
Hyatt
Hyatt is a popular hotel loyalty program, due to their very nice properties and how valuable their points are.  For stays in Paris, you  could spend only 20,000 to 30,000 points per night at some fabulous properties.
Here's a look at three fantastic Hyatt hotels you might consider booking with points. First is the Hotel du Louvre, followed by the Park Hyatt Paris-Vendome, and then the Hyatt Paris Madeleine.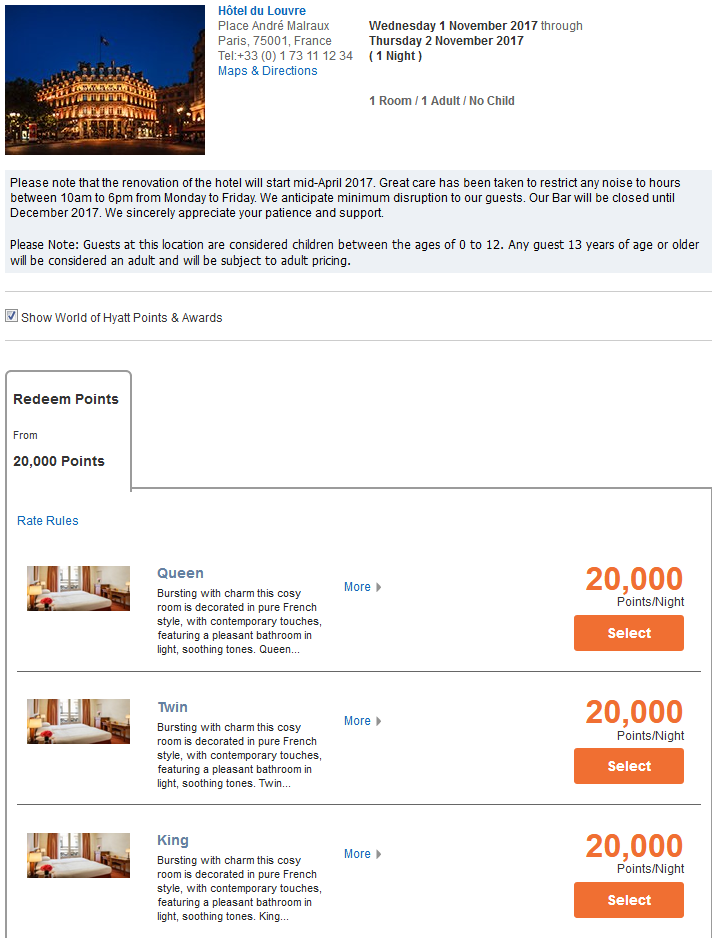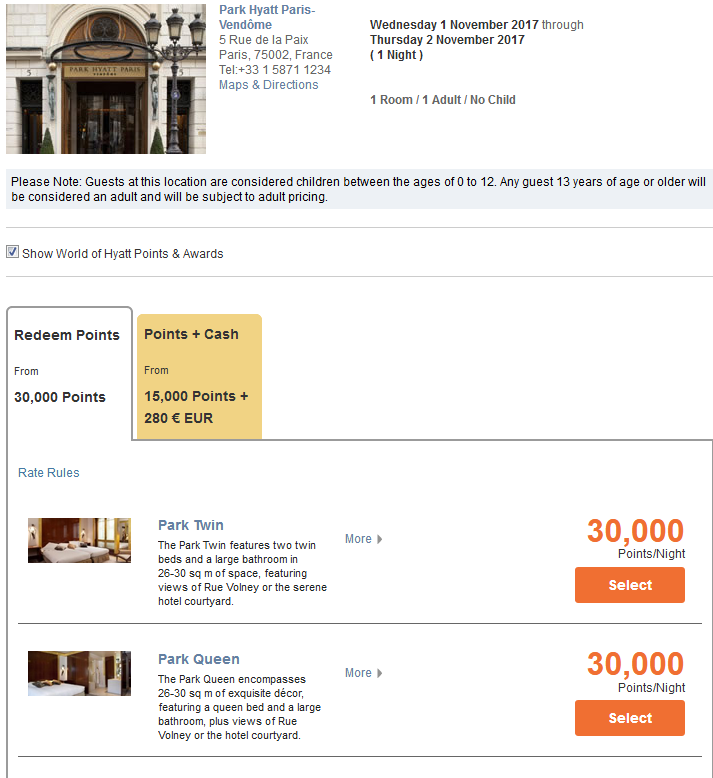 For comparison purposes, this is how much these same properties would cost per night if you would to be paying cash.  Yikes!
To recap, here is a quick points/cash comparison:
Hotel du Louvre: 20,000/$335
Park Hyatt Paris-Vendome: 30,000/$707
Hyatt Paris Madeleine: 25,000/$344
Hilton
Another great hotel option you may consider is Hilton.  A great property for an award stay is the Hilton Paris La Defense. The Hilton Paris La Defense has great reviews and stays are just 47,000 Hilton points per night.
You may be thinking that 47,000 points is considerably higher than what other hotel loyalty programs charge. The good thing is that Hilton points are super easy to earn.
Other Options
If high priced hotels are not your thing, or if you don't have enough hotel points for stays, there are other options for you where credit card rewards can be used.  You can find some very nice places to stay in very popular areas using Airbnb.  The great thing is that you can reduce your costs to zero by using flexible points such as on the Capital One Venture Rewards Credit Card (see our review here).
The nice thing about these cards is that their rewards could be used to offset anything that codes as travel.  This could be your metro ticket, Uber, taxis, bus rides, parking or tours that you book!  With airfare, hotels and other travel related incidentals, all you'd have to worry about is food, drinks and souvenirs!
Conclusion
We discussed how to travel to Paris for cheap by taking care of flights, hotel accommodations and other travel related costs with points and miles.  There are more options that you could choose as far as which hotel points to use.  You could check out other hotel loyalty programs or if you're not interested in hotel points, you could use travel search engines for a place to stay and use your flexible points to pay for your accommodations.  Either way, you're saving money that you could use for your French classes!  Are you daydreaming about Paris now?
Richmond Savers has partnered with CardRatings for our coverage of credit card products. Richmond Savers and CardRatings may receive a commission from card issuers.