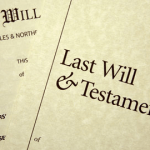 This is the first in our series of "quick tips" posts that intend to provide some short bits of at-a-glance wisdom on various aspects of your financial life:
If you have kids or are expecting your first in the near future, you imminently need to see a lawyer to have a will and trust agreement drafted.  Similar to buying term life insurance, this is not something you want to think about too often, but it's completely irresponsible to bring a child into this world and not have plans set for a catastrophic scenario.
How to Save on Lawyer Costs
As you can imagine, getting a lawyer to draft these documents is not cheap at all.  We were quoted nearly $1,000 for the set (plus an Advance Medical Directive which evidently is often prepared at the same time) which seemed incredibly expensive!
We were pointed towards the "prepaid legal" plan through my employer's benefits program and signed up during the annual open-enrollment for medical and dental benefits.  It was approximately $15 a month for this benefit, or $180 a year total.
Not only does this give you free legal services for items such as mortgage refinancing and defense of traffic tickets (see a list here), but most importantly, it covers wills, trusts and advance medical directives!
So it just cost us the $180 out of pocket for this entire set of documents, and we cancelled the benefits coverage the very next year.  That was a nearly $800 savings right there!  So look into it come the next open-enrollment period.
Click here to see all our posts in the Quick Tips series
Richmond Savers has partnered with CardRatings for our coverage of credit card products. Richmond Savers and CardRatings may receive a commission from card issuers.