Hello RichmondSavers.com readers!  It's Laura here. This is my first post in a series about cooking efficiently to save you both time and money.  Each time I post, I will feature one of our go-to, easy to make, leftover-yielding, delicious recipes.
I truly love cooking and I love scouring cooking magazines and cookbooks for new recipes to try; the day my Food Network Magazine comes in the mail is one of the best days of the month!
I consider myself an above average cook, but by no means am I an expert!  I rarely am willing to try a recipe with multiple ingredients I've never heard of or anything crazy that involves me purposely lighting the frying pan on fire while I'm cooking.
With two kids running around while I'm trying to prepare dinner, I try to keep it fairly simple and I always make enough so that we have leftovers.  It just isn't worth the time to make a home cooked meal for just one night and it is such a nice feeling when I can just pull the leftovers out of the fridge two nights later for a low-stress dinner!
Pretty much any recipe is easy to double and in most cases it won't take any longer to cook twice the amount.  You can also often save money or get a better "bang for your buck" by making double because, for instance, when a recipe calls for 4 oz of cheddar cheese, you usually can only buy it in 8 oz blocks, so if you don't use that extra amount in the next week or so, you are wasting that cheese and the cost of your one meal is higher.  If you double your recipe, you're now using all of the cheese you bought and reducing your cost per meal.  When you do that with many ingredients for many meals, you're saving some real money.
Below is my mother-in-law's recipe for Soy Chicken. We've been making this for years and it always gets rave reviews and it's the easiest recipe in the world!  This is a great one because you can literally make as much as you'd like — just figure out how many pieces of chicken you would need for each person for each meal and go from there.  I'll often make enough for 3 family meals.  We'll have it the night I make it, then leftovers a few nights later and then I'll throw the last meal into the freezer to have a month after that. We've found that an adult usually eats about half of a bone-in chicken breast per meal when served over rice.
You can increase the sauce too, if you are making significantly more than the amount of meat below.  Just keep it equal parts soy sauce and brown sugar.  The recipe below is probably good for a family of four to eat and have one night of leftovers.  Enjoy!
Soy Chicken
3 bone-in chicken breasts (or roughly 4 bone-in chicken thighs + 8 drumsticks)
1 cup soy sauce
1 cup brown sugar
Garlic powder, to taste
Mix the soy sauc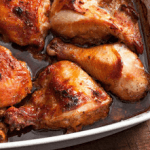 e and brown sugar together in a bowl. Place chicken in a roasting pan or casserole dish large enough to fit all of the chicken.  Cover with soy sauce/brown sugar sauce.  Sprinkle with a generous amount of garlic powder.  Cover the dish and cook at 350 degrees for 1.5 – 2 hours.
After 2 hours the chicken will be so tender it will basically fall off the bone!  We pull the chicken off the bone, serve it over white rice and then pour some of the delicious sauce over the chicken.  Put that together with a vegetable side-dish or a salad and you have a delicious dinner for about 5 minutes of prep time.
Richmond Savers has partnered with CardRatings for our coverage of credit card products. Richmond Savers and CardRatings may receive a commission from card issuers.