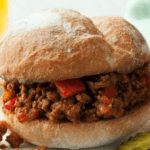 Sloppy Joes have a horrible reputation as being some less than impressive meal served out of a can that you would only feed to an 8 year old.  I thought that too until I saw Rachael Ray making her version one time on TV; I just had to try it because the sandwiches looked insanely delicious.  And let me just say, it did not disappoint!  Below is her recipe, tweaked a tiny bit.
This is a great stress-free, economical meal because the recipe below easily will feed 4 adults, so if it's just 2 of you, you definitely have 2 nights of dinner taken care of (and of course, the leftovers freeze well if you can't get to them within a few days).  There is a lot of extra juice/sauce in this recipe (we always need a slotted spoon to serve it), so you could easily add an extra half pound of meat and that would make an extra couple sandwiches for a child or two.
Also, though it's a slightly longer list of ingredients than most of our meals, I have most of the ingredients on hand and usually just need to buy the beef and maybe the rolls, so this works out to be a really inexpensive meal.  Take this hearty sandwich and add a side salad and you have a great, easy meal.
Ingredients
1 TBS olive oil
1 ¼ pounds ground beef
¼ cup brown sugar
1 TBS steak seasoning (such as McCormick Montreal Seasoning)
1 medium onion, chopped
1 small red bell pepper, chopped
1 TBS red wine vinegar
1 TBS Worcestershire sauce
1 can tomato sauce (15 oz can)
2 TBS tomato paste
Big, crusty wheat rolls to serve on
Directions
Heat oil in large skillet over medium high heat.  Add beef and begin to break it up (you'll want to break up the beef so it's very fine & crumbled).  Combine brown sugar & steak seasoning and add to the skillet and combine with beef.  When the meat has browned, add onions & peppers. Reduce heat to medium, add red wine vinegar & Worcestershire sauce and cook about 5-8 minutes. Add tomato sauce & paste and stir to combine.
Reduce heat to a simmer and cook at least 5 minutes more (I will usually let mine simmer for about 20 minutes).  Using a slotted spoon, pile the Sloppy Joe mixture onto a buttered, toasted wheat roll.  Enjoy!
Richmond Savers has partnered with CardRatings for our coverage of credit card products. Richmond Savers and CardRatings may receive a commission from card issuers.