This Cauliflower & Pepperoni Pasta is one of the easiest meals you'll ever make! We love it because it's different than most pasta dishes in that it's not served with a sauce. It easily makes enough for you to have a meal of leftovers and it seriously takes about 5-10 minutes of prep time. I really like this meal, but Brad, his mom, and brother LOVE it! They can't get enough whenever I make it. Here's the recipe — can't beat it with only 4 ingredients!
Ingredients
One 13 oz box of pasta (I usually use whole wheat penne)
One head of cauliflower, cut into small pieces, about 1 inch in size
One onion, sliced thin
One 7 oz bag of thin sliced pepperoni (Or you could order ½ lb from the deli section of your grocery store)
Directions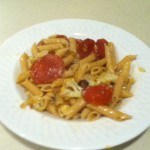 Cook the pasta and drain. Meanwhile, preheat your oven to 400 degrees. Arrange cauliflower flat on a baking sheet, sprinkle generously with salt & pepper and toss with olive oil. Bake in oven for 20 minutes. Remove baking sheet from oven and spread out the sliced onions on the sheet with the cauliflower. Bake for another 8 minutes. Remove baking sheet from oven and place all of the pepperoni on top of the onions & cauliflower. Bake for another 8 minutes. At this point the Pepperoni will be just getting crispy. Put the pasta in a big bowl and transfer the cauliflower/onion/pepperoni mixture to the bowl, with all of the oil from the baking sheet. Mix well. You can even add some extra olive oil if it looks a little too dry after you've mixed it. Enjoy!!
Richmond Savers has partnered with CardRatings for our coverage of credit card products. Richmond Savers and CardRatings may receive a commission from card issuers.