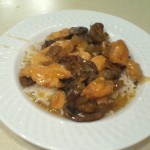 This chicken marsala meal is the perfect stress-free meal.  It's easy, delicious, makes a large quantity and is perfect for putting leftovers in the freezer to enjoy again a few weeks later.  It's a little different than the typical Italian restaurant-style chicken marsala in that I cut the chicken into small pieces about 2 inches long and we serve it over rice.
My mother-in-law said she has served it over pasta and that it was equally delicious, so you could certainly try that if you like.  The recipe below will make 2 nights of dinner for 2 people.  I often stretch it to 3 meals by using 2 lb of chicken, about 1/2 cup extra broth & wine and extra mushrooms.  Then we'll eat it twice that week and put the 3rd portion in the freezer.  Enjoy!
Ingredients
1 stick of butter
1.5 lb boneless skinless chicken breast
3 cloves of garlic, minced
8 oz sliced mushrooms
1 onion, sliced
½ tsp Italian seasoning, or more if you like
2 cups chicken broth (I make my own by dissolving 2 chicken bouillon cubes in 2 cups of water)
2 cups marsala wine (I use real marsala wine, not the cooking wine, which doesn't have much flavor. The real wine isn't any more expensive than the fake stuff anyway ($6 usually for a bottle of marsala wine vs $3 for the cooking wine, which is half the size of the real wine anyway).
2 TBS cornstarch, mixed with ½ cup cold water – used to thicken the sauce at the very end
Directions
On medium high heat, melt butter in large sauté pan.  Cut chicken into small pieces 1-2 inches long.  When butter is melted, put chicken in pan and cook about 5-6 minutes until chicken is just about cooked through, turning once.  Add garlic to the pan and cook for 1 minute.  Add onions, mushrooms and Italian seasoning. Mix everything together and cook for about 10 minutes, until the onions and mushrooms have cooked down a bit.  Add chicken broth, cover and reduce heat to low so that it is just simmering.
Cook like this for about an hour — longer is fine as the chicken will just be extra tender.  About 15 minutes before serving, add the wine and put the heat back up to medium.  Gradually stir in the cornstarch mixture, until the sauce is thickened to your liking.  Serve over rice or pasta with salad or vegetable on the side and you've got a great meal!
Click here for our entire stress-free cooking recipe list
Richmond Savers has partnered with CardRatings for our coverage of credit card products. Richmond Savers and CardRatings may receive a commission from card issuers.