Here's a fantastic travel rewards success story from Zina Kumok of the personal finance blog DebtFreeAfterThree.com. When I met Zina last September at the FinCon conference in New Orleans, she was engaged to be married and they hoped to spend their honeymoon in Croatia.
Zina was familiar with credit card rewards points and had used them to great success in the US, but after we got talking about the potential for using points for her honeymoon, she saw how she could put together a nearly free European honeymoon.
---
Zina's Story
When I met Brad last year at FinCon, he told me about his blog RichmondSavers.com. He helps people – anyone, from regular families to personal finance bloggers – travel for nearly free with rewards points.
I love this concept and the fun of figuring out how to fly for nearly free; when I told Brad I was engaged and hoping to go to Europe on our honeymoon, he said to let him know when we planned to go and he'd help us go there. For as close to free as possible.
I'm a skeptical person by nature, so when Brad said a nearly free honeymoon to Europe, I found it hard to believe. Sure, I'd gotten domestic flights for free before and had found good deals when I paid cash for trips abroad, but I didn't believe anyone could fly abroad for just some taxes and fees.
Here's how we did it in a few steps:
Open the right credit cards:
Brad explained that for the trip we wanted (round-trip to Croatia in mid-May), we needed 120,000 total United Airlines miles for two round-trip flights.
I already had some points in my United account, and I was able to get enough Chase Ultimate Rewards points to get us to the 120,000 total United miles needed.
Plan the Trip of your Dreams:
When Brad and I first talked about the honeymoon, he told me about the "free stopover" that United offers on round-trip international flights. Basically you can add an extra flight to your itinerary where you get to "stopover" in another destination for zero additional miles!
He mentioned London as an example. We could fly from Indianapolis to London and visit that city for as long as we wanted (our "free stopover"). We could then fly to Croatia and stay there as long as we wanted, and then fly back home.
My fiancé and I started dating in London while on a study abroad trip so we both dreamed of going there for our honeymoon. Now it was possible!
Transfer the points:
Now we each had Chase Ultimate Rewards points in our separate accounts and we just had to transfer the necessary 120,000 total points to one of our United accounts before we could book the award flights.
The most complicated part of this process was changing my fiance's login password since I had forgotten what it was when I set up the account. All in all, it still only took about 15 minutes, and was extremely easy to transfer the points to United.
Be Flexible:
It took us about three months to earn all the points we needed for the two European flights. If you want to book a trip for free, planning early is key. The earlier you start, the better chance the flight you want will be available.
Initially Brad warned that the exact flights and dates we wanted might not be available, as it is always based on award availability. I prepared myself that we would have to change our dates or delay our trip. But in the end, we were able to book our trip exactly how we wanted.
Two weeks in mid-May. Four days in London, 10 days in Croatia. The high season usually starts in June and lasts until August so it helped that we were going at a less popular time (this will also make other costs cheaper, like hotels).
Book your flight:
Brad has some great, concise videos on how to book a flight on United with a free stopover. After watching the video once, I realized just how easy it was to book a flight. A lot of people have this misconception that if you want to fly for free, all the good dates are blacked out or you have to fly a red-eye at 2 a.m.
In my experience that isn't true at all, as there were plenty of flights available when we went to book in January. We didn't have to book more stops than necessary and we aren't flying any earlier than 10 a.m. (still too early for my night owl personality).
Our total cost? $279. That's the total. Not for each of us, not just for the flight to London, the combined total. I couldn't believe it. When I first looked at the costs, I was amazed. I was sure that there would be some catch when I went to pay, but there wasn't.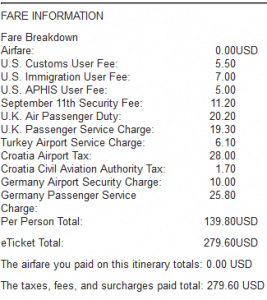 Sam and I love to travel. We lightly backpacked around Europe after graduation and took a trip to Spain last May. We knew we wanted to go to Croatia for our honeymoon, but I was worried that adding London would be unreasonable. In the end, it was as easy as can be, and very inexpensive!
I could not be more grateful for Brad's help through this process. He answered any questions I had about the trip and reassured me that there were plenty of flights available, when I freaked out one day after incorrectly searching on the United website.
If you love to travel abroad, Brad is a great resource for how to do it on the cheap. Or even if you just want to fly home more often to see your family in the US, Brad can help you do that too!
Richmond Savers has partnered with CardRatings for our coverage of credit card products. Richmond Savers and CardRatings may receive a commission from card issuers.