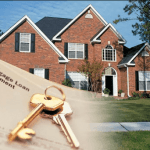 The Bankrate.com Mortgage Calculator is one of the most valuable tools I've found to help you calculate the impact of prepaying your mortgage each month.  You can plug in different scenarios for your mortgage and it spits out a full amortization table in a matter of seconds.  It also helps highlight the value of prepaying your mortgage principal each month.
Most people dutifully pay the normal amount on their mortgage coupon each month and aren't even aware that they can also voluntarily send additional principal payments each month.  These principal payments will decrease the amount of interest you owe on every subsequent mortgage payment and shorten the term of the mortgage, so there's significant value in prepaying.
You don't need to sign up for any of those fancy programs banks offer (for a fee of course) where you make one extra payment each year or you pay a portion of your mortgage every two weeks; just send a small amount of additional principal each month with your payment and you'll be amazed at how much time it cuts off the back end of the mortgage term.
Pre-Payment Example
Here's an example:  Let's say you take out a $200,000 mortgage at 4% interest in August 2013.  Your monthly principal and interest component is $954.83 and you'll pay off the mortgage in August 2043 and you'll pay $143,739 just in interest alone over those 30 years.
If you started paying $100 in additional principal right from payment #1 you'll pay off the loan in September 2038 and will pay $116,884 in total interest.  So, sending $100 extra a month, which you won't really feel in the course of your life, will save you nearly 5 years in total payments and $26,855 in interest!
If you decided to start paying $200 in additional principal from the outset, you'll pay it off in March 2035 and will pay just $98,810 in total interest.  This cuts off 8.5 years from your original term and $44,929 in total interest.
Some financial gurus out there will say that this is a bad idea; since you're only paying a tax-deductible 4% interest rate and you could surely do better than that in the stock market over the long-term.  While that's probably true on some level, this is a nice strategy to ensure you'll save this money, which otherwise could get frittered away on miscellaneous garbage since it's "only" $100 a month.
Mentally it's wonderful to be able to pay off your mortgage 5-10 years early while still having the flexibility to stop these additional payments at any time.   There are some people who desperately want to pay down their mortgage as quickly as possible by paying many hundreds of dollars extra a month; while I'm not a proponent of that, I think paying $100-200 extra a month is a valuable part of a diversified investing strategy where you're guaranteeing yourself a set return and some peace of mind.
We'd love to hear your thoughts on prepaying your mortgage, so be sure to comment below…
Richmond Savers has partnered with CardRatings for our coverage of credit card products. Richmond Savers and CardRatings may receive a commission from card issuers.