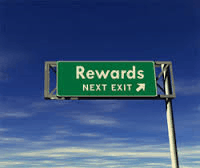 I've racked up tons of free travel and thousands of dollars in statement credits over the years, and it's all due to my complex relationship with credit card rewards. Basically, I'm obsessed with them. Family members and friends see me taking weekend trips, traveling abroad, and landing free hotel rooms, yet remain skeptical that any of it is really "free" or easy to earn. Sometimes they'll feign interest and ask half-heartedly, "so…how exactly does it work?" Other friends and relatives have announced that I'll "completely ruin my credit" eventually. My favorite, though: "Nothing is really free."
That's why I thought it would be wise to create a "Beginners Guide to Credit Card Rewards." Any time a family member or friend becomes interested in the hobby and wants to know more, I can avoid the awkward drama by directing them to this page. And the good news is, so can you!
And so it begins.
How Credit Card Rewards Work
Most credit card reward newbies begin by signing up for a new rewards credit card and we'll use the Capital One® Venture® Rewards Credit Card as an example.
This is how it goes down:
Suzie M. signs up for the Capital One® Venture® Rewards Credit Card and meets the requirements for the offer.  The deal is this: Spend $3,000 within 90 days of card ownership and earn 40,000 bonus miles in addition to 2 miles per $1 spent ($3,000 x 2 = 6,000 miles). Your 46,000 miles (40,000 bonus plus 6,000 for $3,000 spending) are worth $460 in travel statement credits that can be redeemed for airfare, hotel stays, and more. The card does have an annual fee of $59, but it is waived for the first year.
So, let's say that Suzie puts things like groceries, gas, and utilities on her card for three months and meets the $3,000 spending requirement with ease. Let's also say that she pays their statement in full each month (or several times per month), and never pays interest.
After meeting the card's requirements, the 40,000 bonus miles plus 6,000 regular points (2 points/$1 spent) will be safely deposited into Suzie's account with no action required on her part. Let's say that Suzie then books a round-trip flight to Orlando for $460. She puts the expense on her card then uses Capital One's online interface to apply the travel credit. The end result: Her airfare is free.
Credit Card Rewards: The Rules
I could go on and on for hours about the various rewards programs and their intricacies. However, there are some basic rules that you must follow:
Know your offer- Every card has specific requirements that must be met if you want to earn the reward. For example, does the card have an annual fee? If so, is it waived for the first year? What is the spending requirement? How long do you have to complete it? It's important to understand every detail of your offer so that you can execute it properly and earn your reward without collateral damage. The bottom line: Read all the terms of each offer from top to bottom. And more than that, make sure you actually understand them.
Use cards for regular spending- A lot of people look at a $3,000 spending requirement and think there's no way they could meet it. However, they may not be taking their monthly spending into account. For example, many people who put things like groceries, gas, insurance, and incidentals on one rewards card, or who otherwise would pay with cash/debit card/check could meet a $3,000 spending requirement well within 90 days without any significant additional effort. The bottom line: You likely do not need to pay for a big expense to earn big rewards. 
Don't pay interest- This should go without saying, but it makes zero sense to pursue credit card rewards while carrying credit card debt. Why? Because the interest you're paying will likely cancel out any rewards you earn. Remember, this is about getting free stuff! Instead of falling into that trap, make sure to only sign up for offers that are well within your reach. Many people can spend $3,000 within three months, but few can spend $10,000 within the same time frame. Think long and hard before signing up for a new rewards card and make sure you're not getting in over your head. The bottom line: Only charge what you can afford to pay off each billing cycle, and do not use rewards as an excuse to spend more.
Use common sense- Pursuing credit card rewards requires a certain amount of self-restraint and common sense. When it comes to rewards, your best bet is to take it slow. Don't feel like you need to sign up for more than a few offers every few months and don't get greedy. The bottom line: Ease into this hobby by testing your boundaries first and making sure that using credit doesn't knock your budget off track.
Monitor your credit- One of the most common concerns I hear from people is that they're worried what having so many cards might do to their credit. That makes sense to me. After all, depending on where you're at in life, you may need to use your credit to buy a house, get a business loan, or more. Even though I'm not particularly concerned about my credit, I still monitor my credit at Credit Karma and suggest you do the same. Doing so means you'll be notified any time your credit report receives a hard inquiry and any time your score dips. The bottom line: If you're worried how your credit score might be impacted, sites like Credit Karma can ease your fears and provide you with proof that all is well in the world.
Credit card rewards are not all that complicated, but that doesn't mean that this hobby is for everyone. In fact, if this all seems too complicated, it's probably best to steer clear of credit card rewards altogether. Some people don't like to mess with it and others just don't feel they have the time. There's certainly nothing wrong with feeling that way.
On the other hand, if you're financially stable and want to earn free stuff for your regular spending, you're in luck. Credit card rewards create the perfect scenario for responsible and organized individuals to get rewarded for their good habits. That's why the pursuit of credit card rewards is truly an awesome hobby for people who want to see the world on a budget or earn free stuff.  And that's the whole point, right?
And if you're thinking about starting off with credit card rewards, but could use a little guidance, Brad offers a completely free (no gimmicks, seriously!) travel rewards coaching program where he comes up with an individualized plan for you and helps you every step of the way.  Sign up below if you're interested!
What do you wish people knew about credit card rewards? Any rules or tips to add to the list?