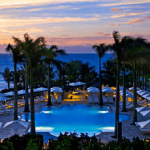 We recently discovered the concept of using credit card sign-up bonuses to maximize travel rewards and it opened up a world of possibilities for us to travel like royalty while paying just about nothing for flights and luxury hotel rooms.
It sounds hard to believe, but it's completely true and incredibly easy to do.  For instance, in just about a year, we've earned enough British Airways Avios points to fly American Airlines (their alliance partner) from New York City to Bermuda round-trip 25 times!  At $400 per round trip flight, that's worth $10,000 right there.
How We Did It
We just had to open up two credit cards, put our normal spending on them each month and then pay them off at the end of the month.  So the total expense to us was $0 and we now have over 230,000 British Airways Avios points to use wherever we want.
When we take our kids to Disney World next year, we're going to stay at the Luxury Swan and Dolphin hotels on-site at the park using our Starwood points.  Here is our step-by-step guide to take your own free Disney trip.
Here's a link to our Top Credit Card Offers page that will always have the absolute best travel rewards bonus offers available at any given time.
What you Need to Know before Starting
In order to really earn major travel rewards point balances, you have to be willing to open a few credit cards each year to get the big bonuses, and to put the vast majority of your monthly expenses on that card.
If you're someone who has credit card debt or gets into trouble with credit cards at all, then please do not even think about reading this guide.  Refer to our tips on the benefits and potential pitfalls of credit cards and once you've mastered that, come back here to explore.
So this should only be used by people who: have zero credit card debt, aren't looking to get a mortgage in the next two years, have a credit score over 700 and can fully pay off their credit cards each month.  If you're one of those people, you're going to absolutely love the thousands of dollars of free benefits the credit card companies lavish on people like us!
We do recommend that you take this slow and ease into it, as the lure of the next sign-up bonus can be intoxicating, but you need to make sure you can cover the minimum spending requirements in order to earn the bonuses, or it makes no sense to open the card in the first place.
Since the minimum spend requirements are often over a 3-month period, it's reasonable to assume you can do this process about four times each 12-month period without having to go crazy to meet the requirements.  As long as you plan in advance of your next big trip, this should give you more than enough time to earn the necessary points.
The Three Different Types of Reward Credit Cards
Transferable Points Cards:  There are two main transferable points programs currently in existence.  They are the American Express Membership Rewards (MR) program and the Chase Ultimate Rewards (UR) program.  You earn these reward points and then are able to transfer them to many different partner airlines and hotel rewards programs.  The UR and MR transfer partners differ, but they generally include Delta, British Airways, Starwood Hotels, Hyatt Hotels and many more.  This flexibility is very valuable, and sometimes the programs, especially MR, offer transfer bonuses.  We recently took advantage of a 35% transfer bonus from MR to British Airways that turned our 81,000 MR points into 109,350 British Airways Avios points.
Airline & Hotel Branded Cards: These cards are branded with a specific airline or hotel and you earn points for that exact program.  Your credit card is linked to your award account and the points are deposited directly into that account.  For instance, Laura and I each opened up a Delta branded American Express and we each now have enough points for a round-trip ticket in the continental US.  With these rewards cards you often get additional bonuses such as a free checked bag and priority boarding on that airline or upgraded status at the particular hotel.
Cash Back Rewards Cards:  These rewards cards essentially give you a discount on every purchase, as you'll get actual cash back (usually 1% or 1 cent per point) upon redemption.  These cards are not usually the best way to earn rewards, as you can easily get more than 1 cent per point value out of the airline or hotel rewards, but if you don't travel that often, you can get some nice additional cash in your pocket this way.
Other Benefits and Important Information
Miles and points DO EXPIRE, so you have to use them.  Each program has a different expiration date, and any account activity will reset the expiration clock, so if you have a card that you're going to close, it couldn't hurt to put one small purchase on it to get a few miles credited to your account to reset the clock.
It's important to note that once you've transferred points to your airline or hotel rewards account, they cannot be taken back by the credit card company.  But if somehow you close your MR or UR accounts before transferring out to a partner, then you will lose those points.  This is very rare, but we wanted to point it out.
You will want to keep a simple spreadsheet that lists when you opened each card, what the bonus was and how many points you have in your account.  This will help you know when to call to close an account.  You'll also likely want to include your login info for each rewards program here, as it can get confusing when you have multiple accounts (one account for each spouse) for each program.
We really would be happy to work directly with you to get you on your dream vacation, so if you're interested please sign up for our completely free travel rewards coaching program.
Richmond Savers has partnered with CardRatings for our coverage of credit card products. Richmond Savers and CardRatings may receive a commission from card issuers.