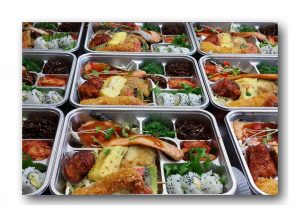 I've always been bad at turning healthy eating into a habit. In the past, I've been able to do it for short time periods, but then I fall off the wagon for one reason or another. That reason is usually this: I become so busy that I take shortcuts. These are unhealthy shortcuts, like a pizza here, a handful of donuts there.
Last year, this became a problem with my lunch in particular. I was so busy that I often ran out of time to pack my lunch and had to rush out of the door empty handed. Then I would end up purchasing gross food later in the day, costing me money and undermining my health goals.
Solution: Meal Planning
Like many smarter people before me, I have figured out that meal planning is the answer. I can't believe I didn't figure this out sooner! Since the turn of the new year, I've been implementing a plan where I spend a little time on Sunday to make every lunch for the entire week. I'm going to break this out into a longer post later, but wanted to share the progress so far. Is this a humblebrag? Maybe.
But there are many ways to achieve this goal. I'm sure some people will think this is not healthy enough, or not exciting enough (eating "boring" food is hard). But it has been a very good solution for me thus far. It's helped a ton with portion control, getting a good calorie/nutrient distribution, and has left me feeling more energized throughout the day.
The Process and Goals
The process takes place each Sunday night. I spend about 1.5 hours (very little of that is active time), making all the food and packing it for the week. I actually make a few other things at the same time, which we use for dinners throughout the week. My meal plan involves boiled eggs, quinoa, and lentils, which makes for a pretty packed stove. (I usually have something in the oven to plan ahead for the week's dinners, too. The stove looks like this: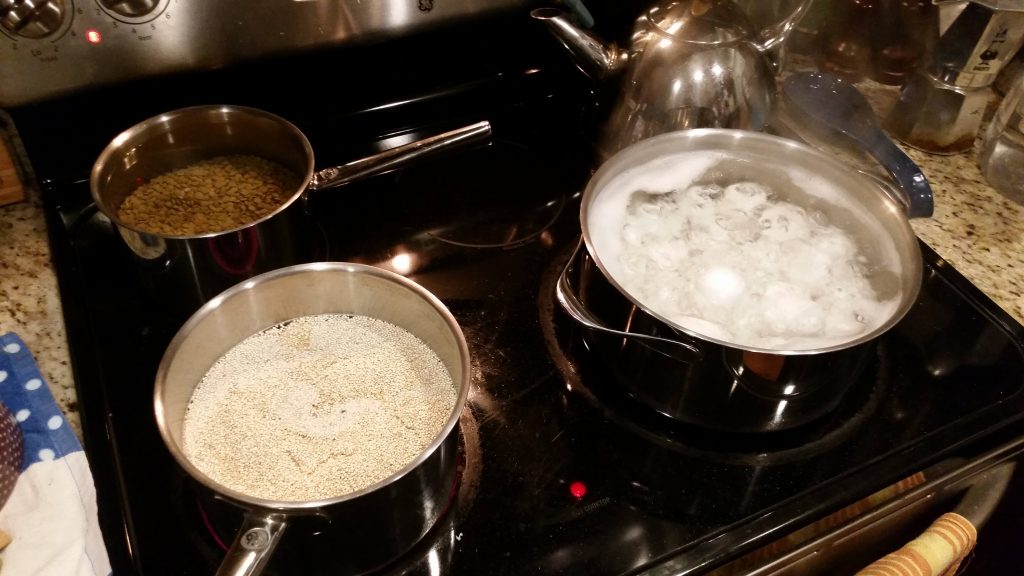 My goals here are to produce healthy, cheap food and to have a lunch that doesn't have to be microwaved. That was actually a big point for me. It sounds silly but the microwaves at my school are about a 5 minute detour, and I don't have time for that every day. So I wanted to make foods that could be eaten cold.
I made two very important purchases on Amazon that help me implement this plan: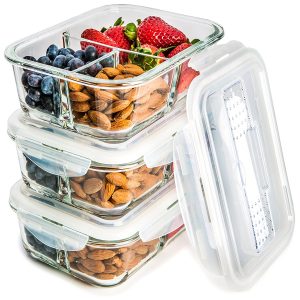 Glass meal containers. These things are amazing. I've seen lost of people use plastic (and that's totally fine). But I like that these aren't throwaways and will retain their quality over time. I also like that they can be microwaved if ever needed (my wife does microwave hers quite often). It comes with silverware too, which is helpful.
A small grain colander. If you're like me you have colanders for draining vegetables, but the holes are too big for grains like quinoa.
Quinoa is much cheaper, in my experience, if you buy the bagged kind. It has a natural coating which is fine to eat but tastes soapy. So rinsing it off is a good idea, and this is a cheap tool to do just that.
The Breakdown
Ok, here's the breakdown of how much I'm spending currently. This is actually without optimizing the grocery purchases as much as I probably should. I'm on the lookout for ways to get the staple items at better prices. Now that I know this process will stick and I will keep it up, it's time to optimize at the margins–stay tuned!
Menu:
2 boiled eggs = 160 calories = 19 cents
1/3 cup (dry) of green lentils = 120 calories = 33 cents
1/4 cup (dry) of quinoa = 140 calories = 27 cents
4.5 ounces of baby carrots = 50 calories = 25 cents
Both the calorie and cost metrics here are estimates–this isn't exactly a perfect science. But, it's a very educated guess, and it looks like on average I'm getting about 470 calories for $1.04. I'll take it!
Like I said, I hope to post more about this because it's a very simple method to eat healthier and save money. If you do meal planning or having any sort of similar "efficient" system to make meals in advance, I'd love to hear about it!
Richmond Savers has partnered with CardRatings for our coverage of credit card products. Richmond Savers and CardRatings may receive a commission from card issuers.