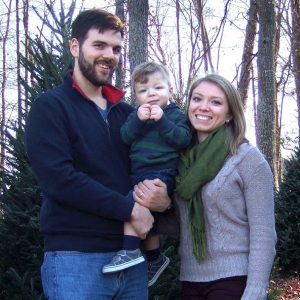 As you know, from time to time we have guest writers on the site who share our financial outlook and pass on great information to our readers. Today, I'm excited to announce that we'll have a new writer joining us on a more regular basis, and I'd like to introduce him.
I first met Thomas before Fincon 2014, where he was a speaker. He's from Richmond, but has recently moved to Charlottesville, where he'll be pursuing law school next fall. He has done a lot of writing and research in his previous work on topics like credit cards, student loans, and consumer protection issues. But, he's also a "Saver" and plans to share lots of tips and tricks for optimizing your budget to make and save more money.
He's a really smart guy and I think a new perspective on the site will be useful to all of our readers; as an introduction, I thought it would be fun to ask Thomas a few questions. So here we go!
Q & A
Q: Tell us about you and your financial background: Have you always been more of a "Saver" than a spender, or was there an 'aha moment' for you when it all came together?
A: I'm really lucky that saving was passed down to me from my family. When I was young, my parents were realizing how important saving was, and I learned a lot about financial sacrifices. Also, my grandparents were incredible influences. My grandfather was a child of the depression (his father even lost his farm), so he has this frugality ingrained in him and definitely passed that on to me in a very positive way.
Q: What are your financial goals and why do you save so much?
I'm hopeful that saving will give me flexibility. My wife, Jena, and I always talk about becoming "givers." We are saving to adopt kids but hope to just be charitable people in general. I hope that doesn't sound soap-boxy. It's definitely not our only motivation, but it's a big one. How great would it be to have everything we need, not have to worry about money, and then make as much of an investment as possible into other people. That's our goal, really.
Q: What are some fun and interesting ways your family saves money each month?
I wish I had a really unique answer, but our tactics are pretty straightforward: we maximize our credit card rewards when we have to spend money, we don't have cable, we have low-cost, contract-free cell phones, we ride together (ie to the gym) as much as possible to save on gas–that sort of thing. Oh, I guess my "fun" answer is that I never use a whole paper towel. Most spills in the kitchen are fixable with half a paper towel, and I think paper towels are annoying to buy. But honestly, it drives Jena crazy.
Q: How do you typically invest your money? Do you focus on retirement, college savings, regular savings, or all of the above?
This is something we're actively working on. We need to get much better at retirement savings (which should be obvious since it's the most important). Our retirement has just been on autopilot without giving enough thought to taking it to the next level. We're really good at regular savings and also pretty good at college savings (and our family helps us with lots of 529 contributions while our son is young).
Q: Are there any financial mistakes you've made in the past that you think our readers would benefit from knowing about?
I've had a lot of close calls. The biggest is definitely the new car that I "almost" purchased, but thankfully pre-emptive buyer's remorse saved the day. I guess the main mistake is the one we just mentioned–not taking retirement as seriously as we should.
Q: Have you ever been in debt? If so, how did you work your way out of that debt?
Jena and I got married one week after she graduated from college, and we instantly had $42,000 in debt and no jobs. As we found employment, we paid off that debt super aggressively, despite not making much money initially. It's probably one of our proudest accomplishments together.
Q: The decision to go to law school is a big one financially. How did you think through this decision from a financial perspective and did the cost factor into your decision on where to go (or to go at all)?
So, I always knew law school was an option for me after I graduated with a degree in Philosophy. I knew lots of folks who went right after undergrad, but I wasn't ready and at the time didn't think it would interest me. I'm glad I took time to think through it a bit more generally. But financially, yeah law school is tough in that regard. One of my top priorities was affordability, and I probably wouldn't have gone to law school without a sizable scholarship. I'm happy with where I'll be studying law for a number of reasons, but affordability is definitely one of them. There's still this opportunity cost where I'll be giving up three years of income, but I'm hopeful that this will work out over time, financially and otherwise.
Q: Since you have a young son, I'm curious if you and your wife have thought about how you'll teach him to be smart financially?
Ha, that's a great question. I'm embarrassed to say that we haven't talked enough about this. We definitely want him to learn the value of saving, working for the things he wants, and avoiding too much materialism. He's gotten lots of hand-me-down clothes and toys so hopefully some of those lessons are already sinking in. Thanks for the reminder that we need to be much more intentional here as he gets older!
Q: Tell us one or two things that most people would be surprised to learn about you!
Wow, that's tough. I'm a pretty laid back person, so some people might be surprised to know that I was the captain of my high school football team. I also love to cook!
Richmond Savers has partnered with CardRatings for our coverage of credit card products. Richmond Savers and CardRatings may receive a commission from card issuers.