I visited the Capital One Banking Reimagined Tour at the Short Pump Town Center in Richmond, VA on Saturday March 18th as part of their ten-city tour. It was an impressive operation – they had an entire exhibit setup at the entrance of the mall to draw people in and there were at least a dozen Capital One representatives there to help answer questions and keep it running smoothly.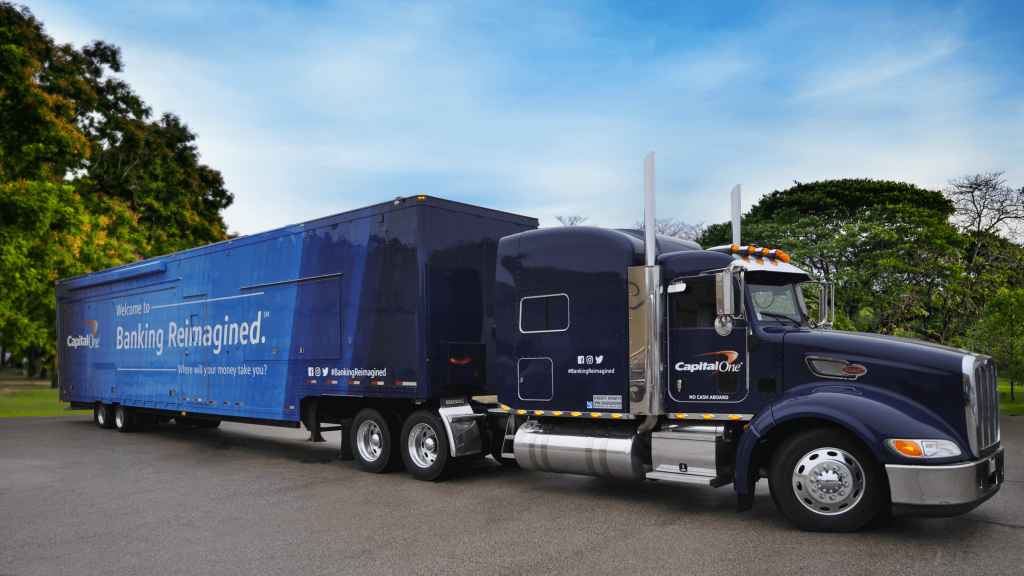 It was a really cool experience – a digital, hands-on exhibit to walk you through topics related to money and your long-term goals. They are clearly trying to make this topic much less taboo and a lot more fun. While everyone can benefit from this information, I imagine it is geared towards a millennial audience who grew up around technology and are now growing up financially.
Highlights
I really enjoyed the interactive displays and I got to use this awesome HoloLens "augmented reality" headset for the first time!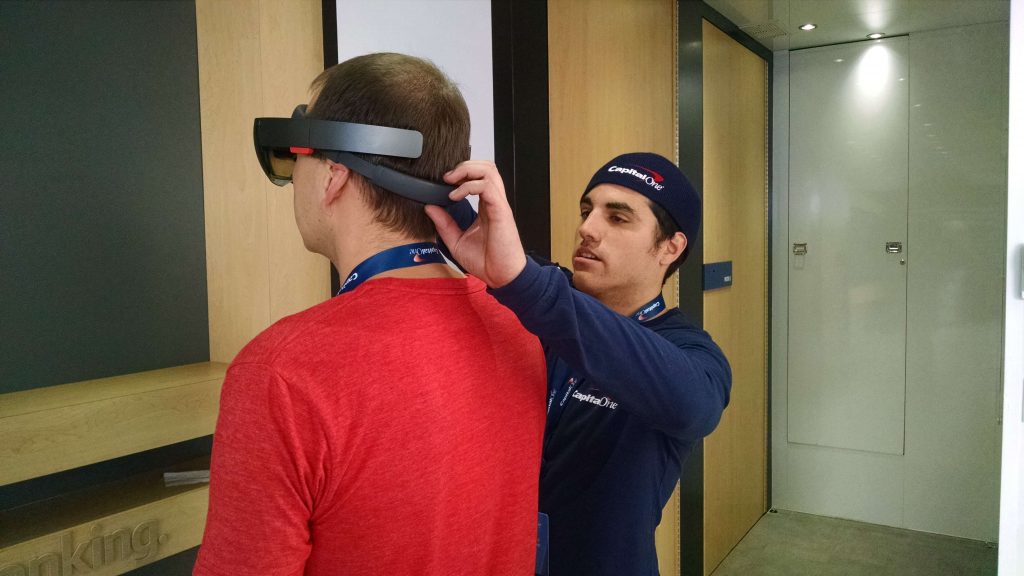 It was like glimpsing the future and it was one of the coolest things I've seen in a long time. While wearing the glasses, I was still in the "real world" but I got to watch this fun money presentation appear within my normal reality.
I'm a huge proponent of long-term thinking with finances, so I especially liked how they let us record a video to our "future selves" that they would email us automatically in a few months.
The Capital One Café
The highlight of the tour for me was the new Capital One Café, a permanent location in the heart of the Short Pump Town Center. This mall is the epicenter of the Richmond metro area and they situated their café in the most highly trafficked area of the mall; to put it mildly, the location is perfect.
I didn't know what to expect, but I was really pleasantly surprised by how nice it was. It certainly didn't feel like a "bank" at all – just a hip café with Peet's coffee, locally sourced food and pastries and a nice open-air feel to it.
The Richmond-inspired mural painted by a local artist was a nice touch, as are the open-mic nights they hold regularly.
They even offer 50% off coffee if you pay with your Capital One debit or credit card! Even though this isn't a huge dollar savings in the grand scheme of things, it already got me back to the café as I went to the mall with my daughters on Sunday and visited the café for a delicious iced coffee.
Sean Skelly, the Market Leader for the Richmond-area locations showed me around the facility and I learned a lot:
ATMs are free for everyone, not just Capital One customers
There's a nice meeting space/conference room available for free for local non-profits
Interactive touch-screens throughout the café provide local info and fun interactive financial content
You can pay your credit card bill here, open new accounts, work with your Capital One 360 account and more
They even offer 3 completely free "money coaching" sessions with a Certified Life Coach
Sean said the café is set up as, "a place to be comfortable talking about money."
Courtney Rhodes, another Capital One employee I spoke with said they are trying to make you more "confident with your relationship with your money."
I was impressed at the vibe in the café – while there were a few Capital One employees working there, it certainly didn't seem like any "bank" I've ever stepped foot in and they were by no means overbearing at all. They are there to help if you need it, but if you're just there to grab some coffee and enjoy the free wifi, then nobody is going to bother you.
Recap
I feel like Capital One is really on the forefront of thinking and engaging people about personal finance differently and it's very impressive. I don't see much innovation from other major banks, so it's cool to see them really trying to approach this problem differently.
Thank you Capital One for sponsoring this post; we value intellectual honesty and since we are Capital One banking and credit card customers we feel this is info that would add value to you. But it is important you know this is a paid endorsement. All opinions are my own and were not directed by Capital One. To learn more about Capital One, visit www.capitalone.com/cafes OR www.capitalone.com/bankingreimagined
Richmond Savers has partnered with CardRatings for our coverage of credit card products. Richmond Savers and CardRatings may receive a commission from card issuers.